Join the Conversation: NCUF Holds Youth-Focused Twitter Chat
As part of National Credit Union Youth Month, the National Credit Union Foundation (the Foundation) is hosting a Twitter chat for credit unions on Wednesday, April 20 at 3 pm. (CT).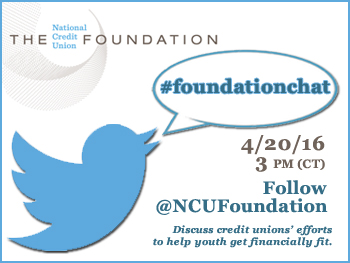 The Foundation invites credit unions to discuss their activities to help youth get financially fit.
"The National Financial Educators Council (NFEC) recently tested teens on areas covered within national financial literacy standards," said Christopher Morris, Foundation Director of Communications. "The results were shocking; while only 4.7% of participants got an A on the test, 62.4% got a D or an F. Thankfully, credit unions are making strides in this area, which is why the Foundation is pleased to facilitate this discussion."
During the Twitter chat, credit unions and their staff are encouraged to share best practices and examples of their efforts to reach youth such as financial literacy programs, community outreach, products and services, in-school branches and more.
Click here to view the list of questions to be asked during the Twitter chat.
For the chat, the hashtag will be #foundationchat. Twitter users can either type #foundationchat into the Twitter search box or utilize other tools such as Tweet Chat to follow the conversation.
Credit union professionals and organizations are invited to follow the Foundation at @NCUFoundation for news and updates. The Foundation account will be leading the Twitter chat discussion. Questions will be tweeted using a Q1, Q2, etc. format, which can be replied to with a corresponding A1, A2, etc. format. All questions and answers should contain the #foundationchat hashtag.
To see wrap-ups of past Foundation Twitter chats, click here.
Go to main navigation