Compelling Training Leads Attendees to AC&E in June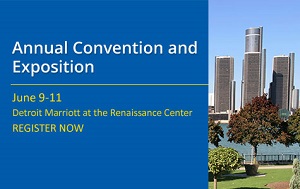 Dozens of training topics are scheduled for credit union attendees at this year's MCUL/CUSG Annual Convention and Exposition and details are now posted on the event website.
The popular event takes place June 9-11 at the Detroit Marriott at the Renaissance Center and is expected to live up to its reputation as Michigan's Best Association Meeting and Exposition, as awarded with a 2015 Diamond Award by the Michigan Society of Association Executives.
Speakers will travel from across the country to address Michigan credit union professionals on a wide variety of topics ranging from "Business Intelligence," which will look at gaining insights into critical operations, to "Risk, Uncertainty and Behavioral Finance" that will examine the multi-dimensional components of risk management.
Personal development training such as "Creating Connections with Success" will help attendees learn to make the most of networking, and strategy sessions such as "How to Stay Relevant in a Disruptive Lending Environment" will show leaders ways to identify their organization's niche.
The agenda is packed with insights based on CUNA's Environmental Scan, including a breakout session on "What Keeps Credit Union Leaders Up at Night: Opportunities & Challenges." Full convention registration is $339 for the first five attendees and $284 for the sixth registrant and beyond. One- and two-day registration options are available. Any credit union with a full convention registrant also qualifies for a complimentary registration for another staffer to attend INSIDE Credit Union Compliance, being held in conjunction with the AC&E on Thursday, June 9. Guest registration and activities are also available.
Attendees who need to secure hotel rooms should email Janet Ormsby with their name(s) and arrival/departure dates or visit the event website for more details.
Go to main navigation