In Brief...
MSUFCU Reaches Milestone: $3 Billion in Assets
MSUFCU is excited to announce that it has reached $3 billion in assets as of year-end 2015. MSUFCU reached $2 billion in assets in 2011. This milestone comes with significant loan, member, and facility growth throughout the last several years.
In 2015, the credit union reached $2 billion in loans and 208,000 members. Additionally, it celebrated the groundbreaking of its second building on the headquarters campus and the opening of its 15th branch. Last year, the credit union also announced its plans to open an intern center, the Financial Innovation and Education Center, in East Lansing near MSU's campus. The opening is planned for this April.
"Thanks to the incredible efforts of our employees, the Credit Union saw tremendous growth and innovation in 2015," said April Clobes, MSUFCU's President and Chief Executive Officer. "We look forward to an outstanding year as we grow beyond $3 billion in assets and will soon reach 700 employees. We have exciting projects planned to fulfill our mission of helping our members be financially successful and achieve their goals and dreams."

Credit Union Member Wins $1,000 with Save to Win CD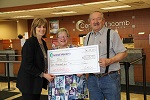 John Carlson from Columbus, Mich. won $1,000 in the Save to Win CD multi-state quarterly drawing last week.
The Save to Win CD, offered to credit union members, can be started with as little as $25 with additional deposits accepted throughout the term of the one-year CD. For every deposit of $25, the member's name is entered electronically into a drawing for prizes. Savers can win monthly and quarterly cash prizes valued up to $5,000.
Carlson, a member of Central Macomb Community Credit Union for more than 40 years, participates in the credit union's Save to Win CD program 'religiously' and has won several of the monthly prize drawings, too.
More information on the Save to Win CD.

Advantage One Federal Credit Union Announces Promotion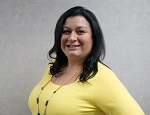 On November 19, Jessica Loewe was promoted to the position of Branch Manager at Advantage One Federal Credit Union's Southgate branch located at 13050 Fort St, Southgate, MI.
She will be responsible for overseeing daily operations and growth at the branch, including management of frontline staff, banking services and member support provided through that location.
A Dearborn native, Loewe began her career with Advantage One in 2005, and most recently held the position of Payment Solutions Partner where she was instrumental in contributing to the service culture of the credit union. Loewe holds a Credit Counseling Certificate (CCUFC) and Certificate of Completion from Rex Johnson's Collections Institute.
Go to main navigation