Offer Casual Days in Conjunction With a Lapel Pin Campaign
The State PAC Lapel Pin program is the top funding source for MCUL & Affiliates' political efforts to support credit union-friendly candidates and create a positive change for credit unions in Michigan.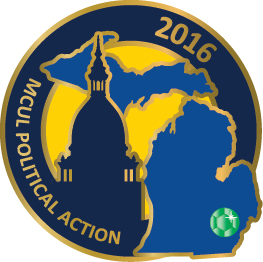 A great way to incentivize credit union employees and volunteers to purchase a lapel pin is to tie casual days to their lapel pin purchase. Any pin level can be attached to a number of scheduled casual days throughout the year. It's easy to design this program to fit any credit union.
Lapel pins are available at contribution levels of $30 (Capitol Club), $60 (House of Representatives Club), $125 (Senate Club), $250 (Governor's Club), $500 (Chairman's Club), $1,000 (Michigan Club), and $1,500 (Credit Union Champion Club). Order forms can be found on the lapel pin website as well as links to order your lapel pin online. To receive lapel pins for your credit union casual days, contact Political Affairs Coordinator Haleigh Krombeen at Haleigh.Krombeen@mcul.org. Go to the MCUL PAC fundraising website to learn more about PAC fundraising programs.
Go to main navigation