MSUFCU Breaks Ground on Headquarters Expansion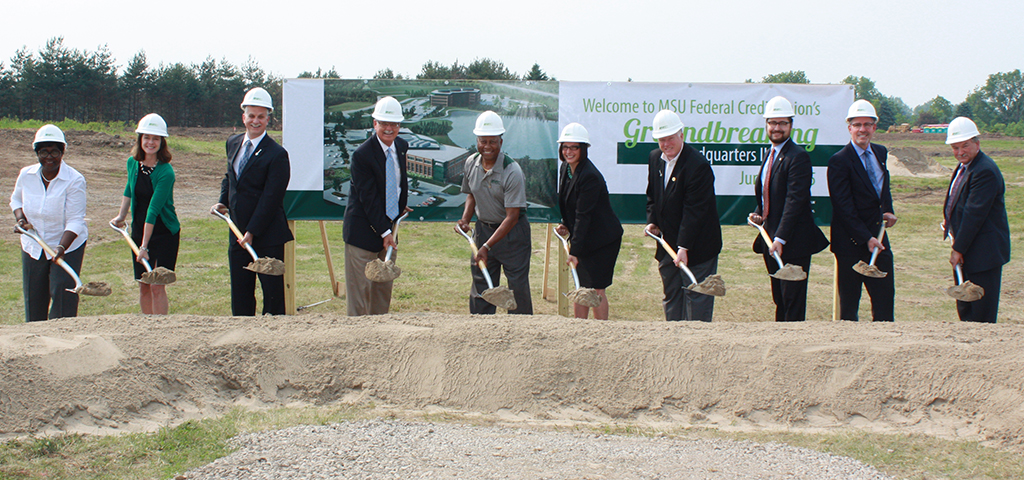 MSUFCU executives celebrate the groundbreaking for a second headquarters campus building with local officials.

MSUFCU broke ground June 9 for the construction of a second building on its East Lansing headquarters campus.
Speakers at the ceremony were: Deidre Davis, MSUFCU vice president of marketing and sales; Bill Beekman, MSUFCU Board of Directors chairman; Nathan Triplett, East Lansing mayor; Greg McKenzie, Daniels and Zermack AIA; Glen Granger, Granger Construction Co. president; state Rep. Sam Singh, D-East Lansing; and April Clobes, MSUFCU president and CEO.
"The building is designed to create a positive working environment for our employees that help our members each and every day," Clobes said. "This building not only represents the credit union's future but it is also representative of the credit union's continuing commitment to our members and the community."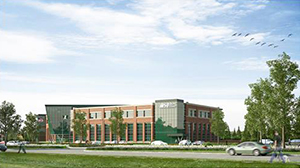 An artist's rendering shows the design of MSUFCU's second headquarters campus building.
The expansion is part of the credit union's long-term growth strategy to meet the demands of its growing membership base. MSUFCU membership has increased significantly over the years, with an average of 5 percent growth each year. Increasing membership has led to increases in employees, adding many jobs to the local economy. The credit union projects that its staff will outgrow the current headquarters by 2017-18. The building will be 186,350 square feet, three stories high with a basement, and will house 564 employees over the next 10-12 years. The building will sit next to the original building on MSUFCU's headquarters site and double the credit union's space on the campus.
The additional building will allow the credit union to continue to foster relationships with current members and the community, expand its suite of innovative products and services, and grow its many internal divisions.
Go to main navigation