Two Credit Union Members Celebrate Save to Win Grand Prize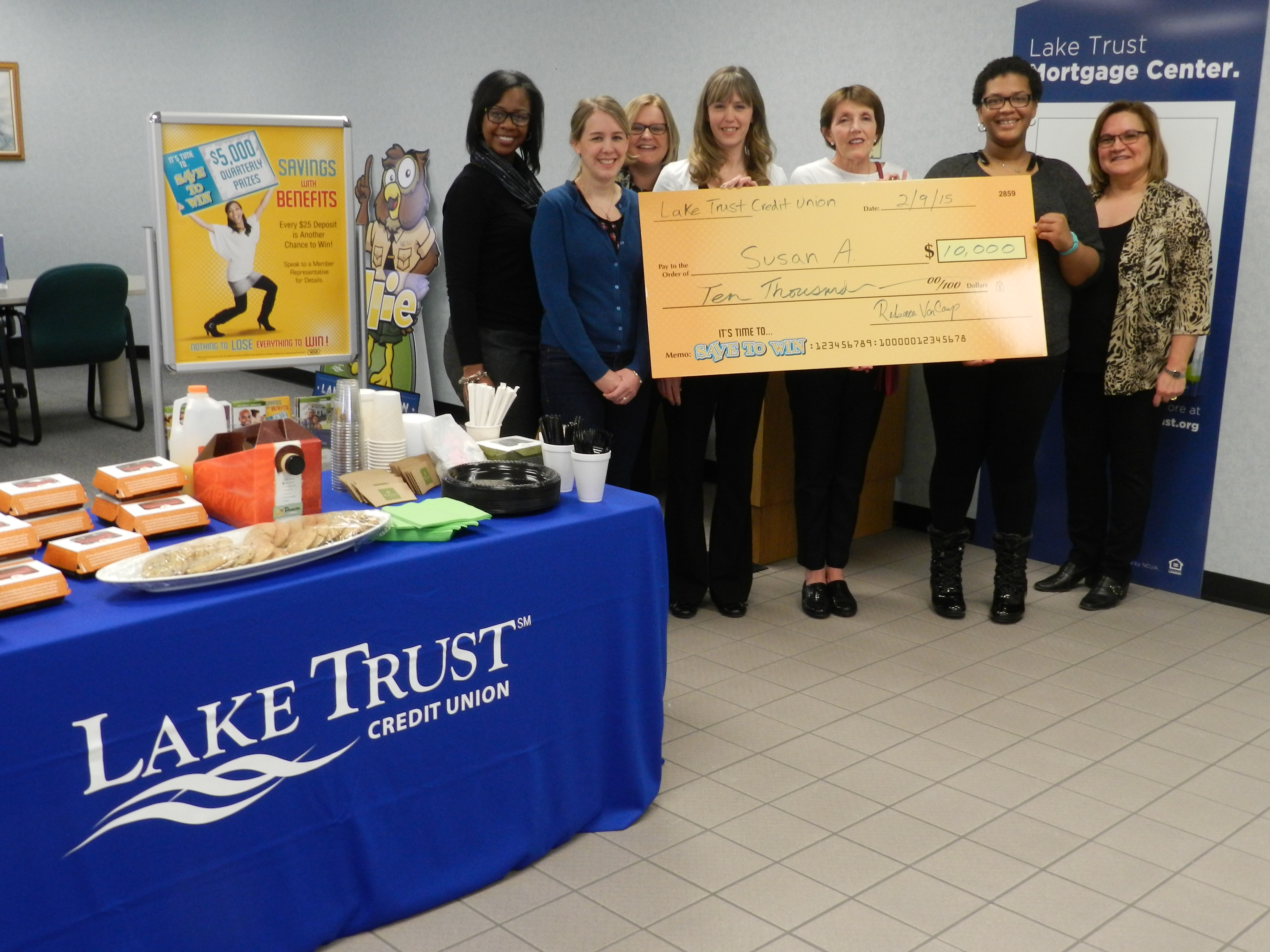 Susan A. has been a member of what is now Lake Trust CU for 40 years.
All week, from Feb. 9 – Feb. 13, MCUL & Affiliates is traveling the state honoring the Save to Win Grand Prize winners during the Week of Winning.
First up was Susan A., a Lake Trust CU member. She says she's been with the credit union for 40 years dating back to when Lake Trust was State Employees CU. Susan learned about Save to Win after she saw a media report about a previous winner taking home the grand prize.
"I love Save to Win, especially now," she said, "For me, it just promotes saving."
Susan says she has no immediate plans for the money. Instead she gets a kick from watching money accumulate in her account.
Save to Win deposits total more than $7 million at Lake Trust. Eleven Lake Trust winners have won $50 and three have won grand prizes.
"We're thrilled that our members have the opportunity to be part of this outstanding program – they love the program and the option they have to make smaller deposits to start a bigger savings, which is different than what you would see with a traditional CD," Lake Trust President and CEO David Snodgrass said.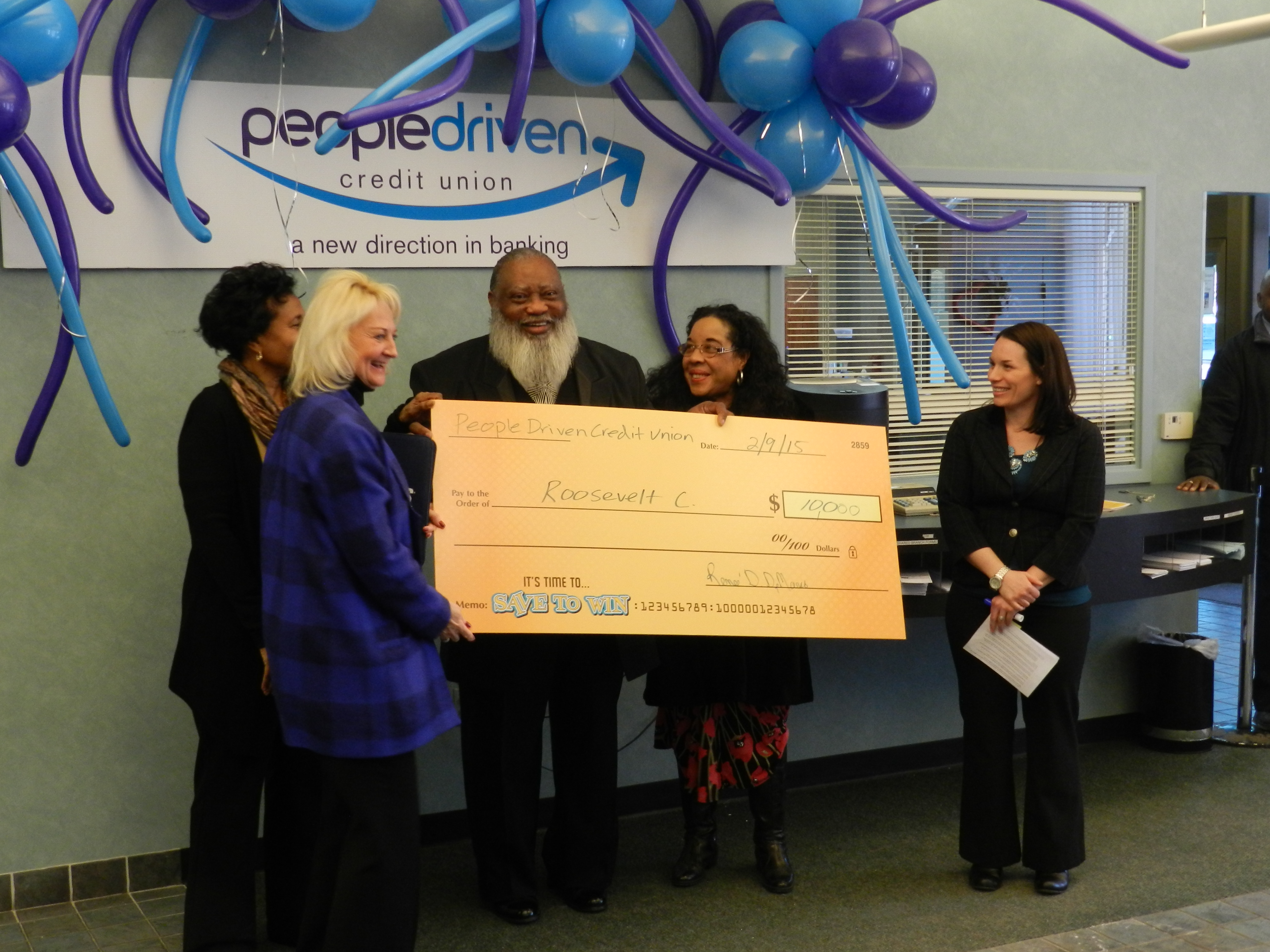 Roosevelt C. was surprised that he won $10,000.

Next up, the Week of Winning team traveled to People Driven CU in Southfield. The winner, Roosevelt C., was only told he was a finalist. He is a retired federal police officer with the Department of Justice, and has been a member of the credit union for about 25 years.
"I didn't know what a finalist gets, but I was hoping big," Roosevelt said.
During the presentation, $100 was "mistakenly" written on the giant erasable check. Save to Win Product Coordinator Jessica Thelen changed the number to $10,000.
"That's something to smile about!" Roosevelt said. "I don't think there's anything better than a credit union."
Roosevelt doesn't have any immediate plans for the money.
"Right now, we're just going to let it rest for a while," Roosevelt said.
People Driven CEO, Renee' DeMarco said rewarding members is the best part of Save to Win.
"It's a great way to promote saving," Demarco said. "It gives options for our members."
This year's other winners, who are scattered throughout the Lower and Upper peninsulas, are members of credit unions in Dewitt, Escanaba, Houghton Lake, Ishpeming and Muskegon. They will receive their grand prizes at celebrations at their credit unions this week.
How Save to Win works: Members open Save to Win accounts by making opening deposits of $25. That contribution gives members their first entry into the drawings, and every subsequent $25 deposited gives them another chance to win. Members can contribute up to $250 a month, and winners are drawn every month.
Winners are being honored at the following dates and times:
Feb. 9, 10 a.m. - Lake Trust CU, 12750 Escanaba Drive, Dewitt
Feb. 9, 2 p.m. - People Driven CU, 24333 Lahser Road, Southfield
Feb. 10, 11a.m. - North Central Area CU, 2665 South Reserve Road, Houghton Lake
Feb. 11, 10 a.m. - TruNorth Federal CU, 1419 N. Second St., Ishpeming
Feb. 11, 2 p.m. - Peninsula Federal CU, 301 North 30th St., Escanaba
Feb. 13, 11 a.m. - First General CU, 589 E. Ellis Road, Muskegon
Save to Win was launched in 2009 as a collaboration between the MCUL & Affiliates, the Filene Research Institute and the Doorways to Dreams Fund. Designed to appeal to credit union members and to encourage consumers to save, Save to Win has helped more than 50,000 credit union members save more than $94 million. Up to 81 percent of those members setting aside some savings are considered financially vulnerable.
Save to Win recently shifted to a multi-state format in which Michigan, Nebraska and Connecticut are combining their resources to expand the program to a larger national platform. With this new model, more members will win money with monthly and quarterly prizes ranging from $25 to $5,000.
Go to main navigation