In Brief, May 31
MCUL & Affiliates 2019 Executive Summit
Now is the time to register and secure accommodations for the popular MCUL & Affiliates 2019 Executive Summit, taking place Sept. 11-13 at The Inn at Bay Harbor, near Petoskey. Rooms are being held at The Inn at Bay Harbor until Aug. 16 on a first-come, first-served basis by calling (800) 462-6963 and asking for the Michigan Credit Union League Executive Summit or online here.

MCUL & Affiliates 2019 Lending School
The MCUL & Affiliates 2019 Lending School, will take place Oct. 22-23 at the MSU Henry Center in East Lansing. Don Arkell, a consultant with CULendingAdvice, will lead the two day event, with the first day geared toward frontline topics and the second day focused on management issues. Registration is $438 per person for the full conference and $219 per person for one day. Accommodations are being held at the Candlewood Suites East Lansing, which is connected to The Henry Center.

Auto Financial Group Achieves Double-Digit Results in Q1 2019
Auto Financial Group (AFG), one of the nation's leading sources of residual based financing and vehicle remarketing for financial institutions, announced results for Q1 2019 today, increasing the number of new customer signings compared to every quarter in 2018.

In this quarter, AFG signed 11 new credit unions to the AFG Balloon Lending Program: Cinfed CU, Traverse Catholic FCU, Financial Builders FCU, Velocity Credit Union, MountainCrest CU, CapEd FCU, Ray FCU, Forest Area FCU, Med5 FCU, PenFed CU and LifeWay CU. These eleven credit unions represent combined assets of over $26.5 billion and a reach increase of over 333 million consumers across ten states.

"Velocity Credit Union has long been a leader in automotive lending in our market and we are always interested in new products that benefit our members and our indirect dealer group. Auto Financial Group's balloon loan program provides a great way to expand our lending services, offer a compelling alternative to leasing, provide a new way to address the rising cost of vehicles and meet consumer demand for more flexible loan terms," said Velocity EVP/COO Jack Jordan. "Auto Financial Group is, hands down, the leader in balloon lending in the credit union industry. They have years of experience and staying power in this business, along with excellent technology and service to support the program. AFG is a very good fit to help Velocity meet its financial and service goals for years to come."

"We welcome these financial institutions to the growing AFG family," said AFG CEO Richard Epley. "The geographic diversity of these newly signed credit unions demonstrates that the demand for residual based financing solutions continues to rise across the United States."

MCCU Donates to Miles for Memories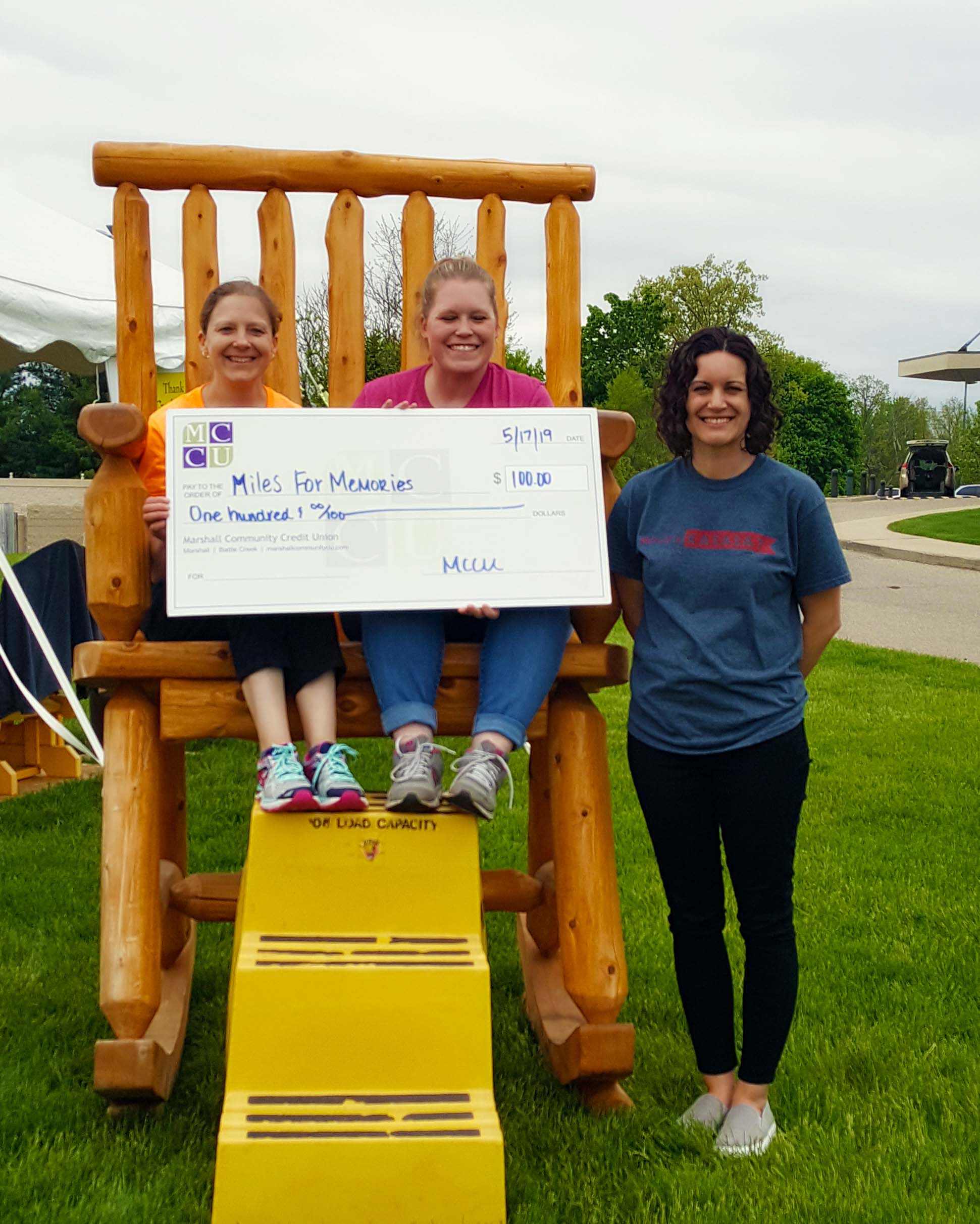 Marshall Community Credit Union recently donated $100 to Miles for Memories, a grassroots effort to change the face of Alzheimer's disease and other dementias in Calhoun County, through movement, programming and research.
"Our branch is located directly across the street from Calhoun County Medical Care Facility, where the event took place, so it only made sense for us to donate in some way," said Andrea Tucker, MCCU Financial Education Coordinator. "Our office has worked on several events with the CCMCF staff and we are honored to be able to support their cause" she continued.
Miles for Memories volunteers rocked (in rocking chairs) for 27 straight hours from Friday, May 17th, until Saturday, May 18th at the medical care facility. Twenty-seven hours, one hour for each town, city and village in Calhoun County.
PFCU Makes Donation to the Portland Backpack for Bellies Program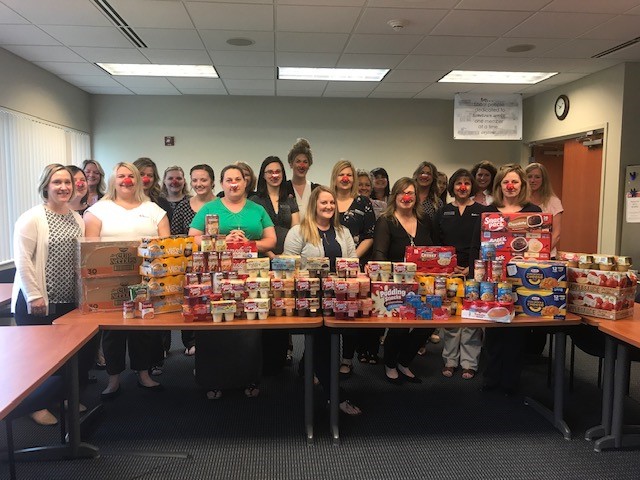 Employees at PFCU came together to provide a donation of food to the Portland Backpack for Bellies program. Portland Backpack for Bellies is a non-profit organization based in Portland that collects food to provide meals for children over the weekend.

PFCU is proud to have joined other area businesses in the fight against hunger, including collecting soup and JELL-O pudding cups to be included in the backpacks being distributed to Portland Public School students. PFCU employees went above and beyond and collected additional non-perishables including macaroni and cheese, apple sauce and Ramen Noodles. PFCU employees are active in all the communities they serve and collecting food for this program just made sense.

"So many of our staff and their families reside in this community, we know the positive impact this program will have and we are so proud to take part in this fight against hunger," said PFCU President/CEO Harvey Hoskins.

Financial Plus Credit Union Breaks Ground on New Davison Branch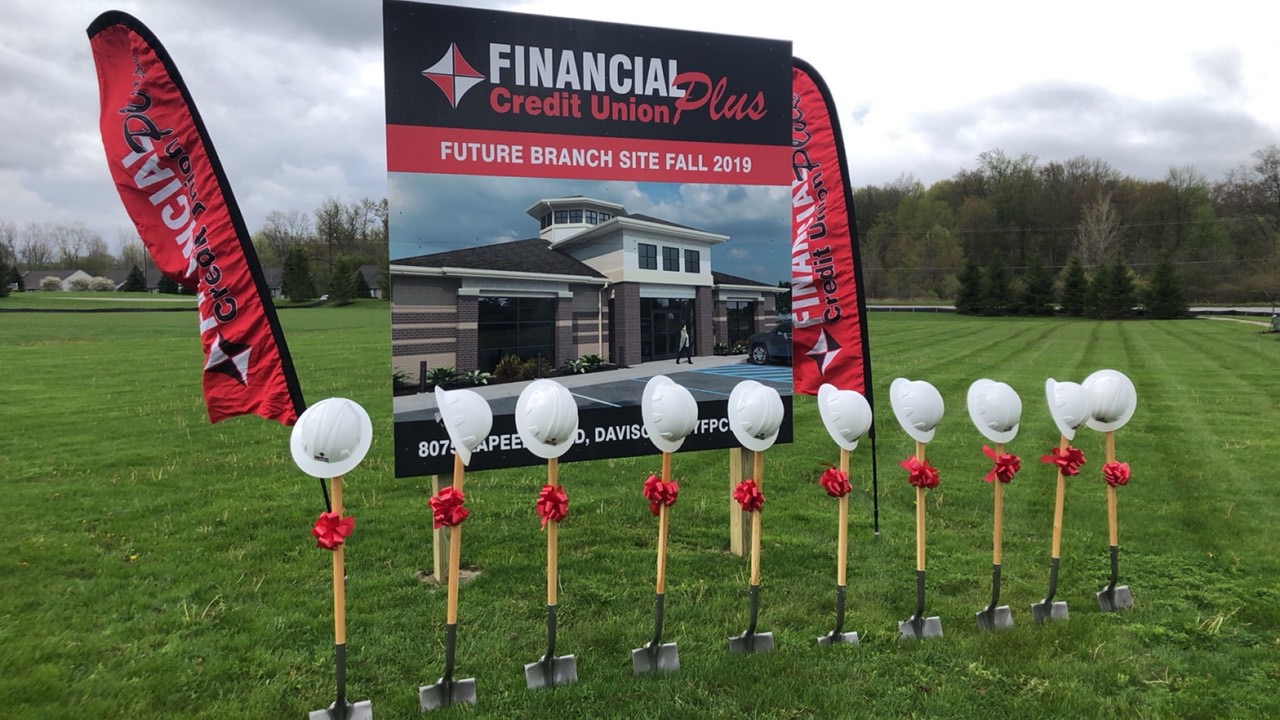 Financial Plus Credit Union broke ground Friday, May 10th on their 8th full-service branch. The new Davison Branch will be located on 8075 Lapeer Road in Davison, Michigan (located in the Meijer outlot near the corner of Lapeer and Irish roads). The opening of the new branch is anticipated for fall of 2019.

"We are so moved by the sincere welcome we have received from the Davison community. This new branch will enhance our presence in the community to better meet our existing members' needs, as well as establish relationships with new members. We are here to serve our members, and potential new members. Joining Financial Plus Credit Union is very easy and there is no fee to become a member," remarked VP of Strategic Growth and Marketing Olga Long.

The 3,800 square foot branch will be equipped with three drive-thru lanes and an exterior drive-thru ATM. The new branch will serve thousands of existing members who reside in the area, as well as, potential new members. Financial services offered by Financial Plus Credit Union include a wide variety of loan products including commercial, mortgages, home equities, and consumer loans, and deposit products and services including Elite Checking — a 4.15% APY high rate checking account.
Go to main navigation