In Brief, Jan. 11
NAFCU Announces Support For Federal Employees During Government Shutdown
Northland Area Federal Credit Union announced that it is offering a loan for federal employees and their families affected by the government shutdown. Northland Area is issuing a no-fee, low-interest loan available for up to $1,500.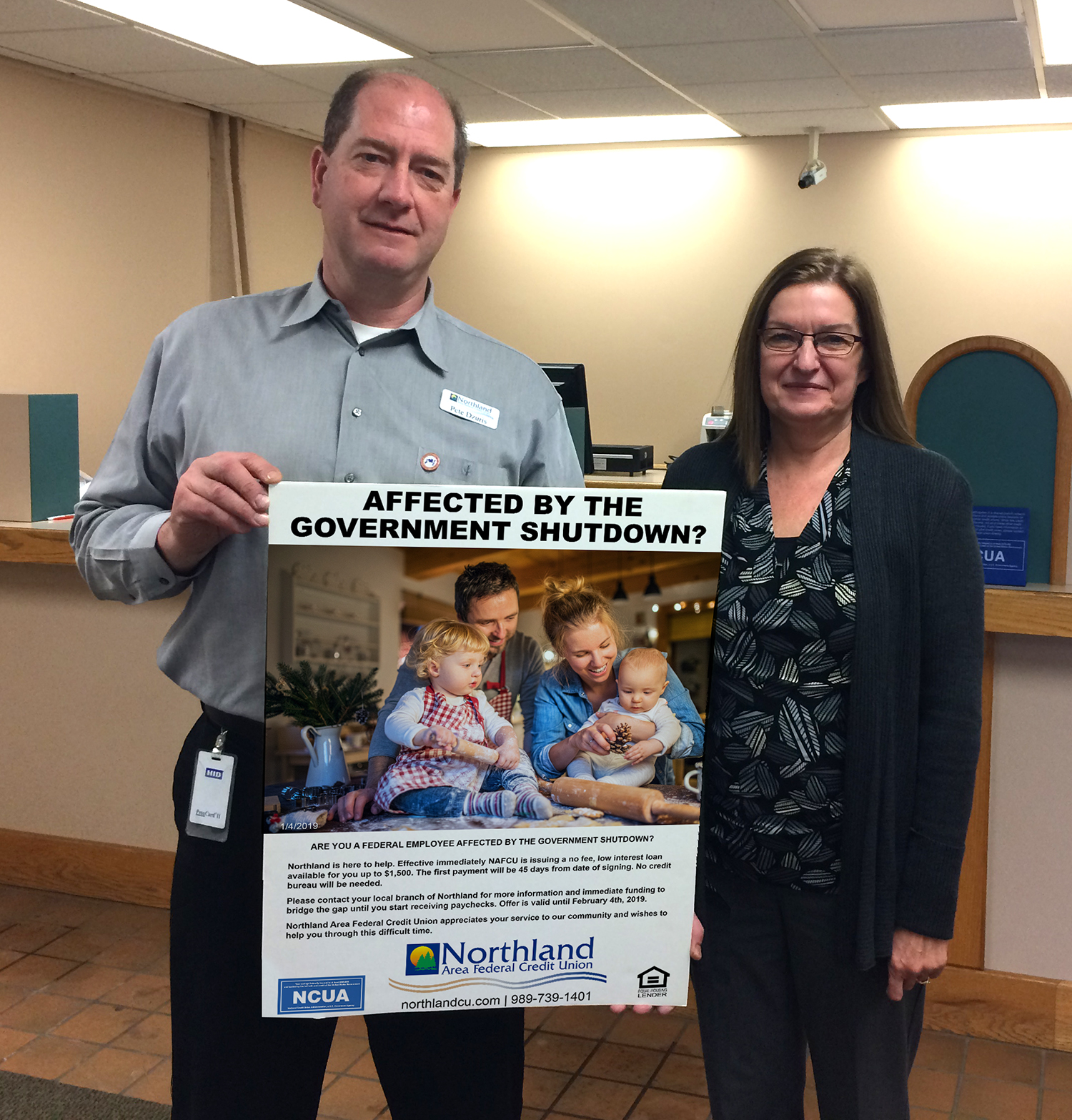 "Northland [Area] appreciates the service of our federal employees to our community and wishes to help them through this difficult time," said CEO Pete Dzuris. "At Northland [Area], we live out the credit union motto of 'people helping people.'"
OUR Credit Union Gives Back in 2018 in Impactful Way
New in their effort to give back during the holidays, OUR Credit Union adopted several families through the Volunteers of America Michigan's Adopt a Family program, donating more than $5,000 in Christmas gifts and meals. Credit union staff picked out gifts like bedding, kitchen essentials, warm clothes and even a new bike.
Since establishing the OUR Credit Union Charitable Foundation in 2017, they've raised more than $25,000. As a result, numerous organizations have been impacted, such as: Gilda's Club, The Boys and Girls Club of Oakland County, Teen Clean Closet, Turning Point, Troy Community Coalition and Gleaners Community Food Bank.
OUR Credit Union's largest annual fundraiser is a golf outing in June, where business sponsors, members and employees donate their time and money to create a successful and memorable event. This year's outing is schedule for June 9 at Cracklewood Golf Course in Macomb.
Make Plans Now to Attend the CUES Michigan Future Summit
Congratulations to Emily Roberts of People Driven Credit Union. Emily was randomly selected from early registrants of the Future Summit and won a suite at the MGM Grand during the conference.
There is still time to register for the conference taking place February 5-7, 2019, at the MGM Grand in Detroit.
This year's event is going to feature technology, cyber security, the future of member engagement and more. The Future Summit will also have networking opportunities throughout the event to provide valuable time to share ideas with other attendees. In addition, there will be a silent auction to benefit the CUES Scholarship Fund.
Click here for more information.
TBACU Donates to Children's Advocacy Center
On Dec. 19, 2018, TBA Credit Union (TBACU) presented a check for $1,500 to Traverse Bay Children's Advocacy Center.
The donation will help benefit the organization, a regional response center for the protection and well-being of children. Since 2010, the center has been the first stop for children who are suspected victims of sexual and physical abuse or who have witnessed a violent crime. Their mission is to protect children by providing prevention education and multi-disciplinary intervention in an environment that is child-sensitive, supportive and safe.
The donations were comprised of raffle ticket sales from TBACU's annual holiday party as well as separate, direct donations. Every year, staff members select a non-profit to benefit from the ticket sales and the Children's Advocacy Center was selected as the 2018 recipient.
"We are so excited to be able to present this check to Traverse Bay Children's Advocacy Center," said Rachel Priest, a member of the TBACU Holiday Party Planning Committee. "Since serving the community is part of our mission, we like to give back to surrounding organizations who do so much to serve the needs of others, especially during the holiday season!"
SMFCU Donates Hundreds of Hats and Mittens to Salvation Army
Saginaw Medical Federal Credit Union (SMFCU) donated almost 300 hats, mittens, socks and scarves to the Saginaw Salvation Army. Winter items were donated by credit union members and employees through SMFCU's Giving Tree campaign in December.

"The participation in this year's Giving Tree campaign was overwhelming," said Laura Crase, president/CEO of SMFCU. "We are very proud of our members and our staff for helping give the gift of warmth this winter."
Go to main navigation