NCACU Brings Superhero September to Michigan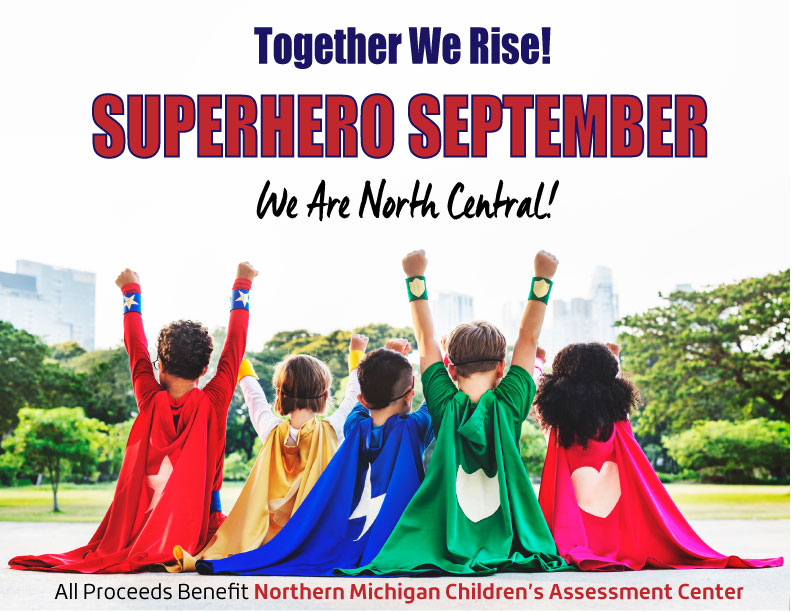 An idea that started more than 2,000 miles away in a huge urban area is coming to Northern Michigan on a small town scale. Tracy Wilson, the marketing director at North Central Area Credit Union (NCACU), has watched this idea grow and evolve over the last four years as one of her high school classmates started an effort to empower child victims of violence and abuse.
Superhero September was born in Phoenix, Arizona by Sean Reavie, a Michigan native and now detective with the Phoenix Police Department's Crimes Against Children Unit. Reavie was looking for a way to educate the public about child abuse, to end generational cycles of abuse and to empower the child victims during their recovery. Superheroes were the perfect answer, as superhero mythology sees sometimes ordinary people who overcome terrible circumstances to become heroes and help others.
"Someone took away their right to be a little kid," Reavie said. "Superhero September is a way to help give it back to them."
Superhero September is a month-long awareness, fundraising and educational campaign for the Childhelp Children's Center in Phoenix. Wilson was looking for a way to spread this fun and educational program to Northern Michigan and the "people helping people" philosophy of credit unions offers that platform.
North Central Area Credit Union will host their own Superhero September at their branches in Grayling, Roscommon and Houghton Lake to benefit the Northern Michigan Children's Assessment Center of Roscommon (NMCAC). The Standish Branch will benefit the Arenac County Office of the Child Abuse and Neglect (CAN) Council Great Lakes Bay Region.
Superheroes will take over the branches for the month and community members are invited to get involved. NCACU will collect cash donations that will support these prevention programs and community members and families can also donate superhero-themed items like t-shirts, backpacks and toys that will be given to children who receive services at these centers. Along the way, NCACU will also share prevention information for children and families through social media platforms.
Superhero September will boost local support as required by grant funding. All proceeds will benefit the children of Northern Michigan. For more information about NMCAC visit nmcac4kids.org or CAN Council at cancouncil.org/cac
Go to main navigation