Credit Unions for Kids Awards More than $36,000 on Day of Miracles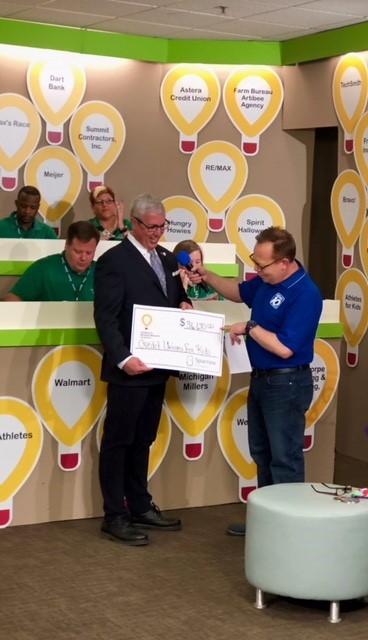 On April 20, Michigan Credit Union League (MCUL) President/COO Ken Ross attended the 30th anniversary Day of Miracles live telethon. Day of Miracles, benefitting the Sparrow Children's Center, is an annual day of giving to support sick and injured children in Lansing. All donations stay at Sparrow, building and strengthening the programs and facilities that care for young patients in our communities.
Ross presented a check for more than $36,000 on behalf of Credit Unions for Kids, a nonprofit collaboration of credit unions, chapters, leagues/associations and business partners from across the country. Credit unions are the 3rd largest sponsor of Children's Miracle Network (CMN) Hospitals, and Credit Unions for Kids engages in fundraising activities to benefit 170 CMN Hospitals.
Over the past 30 years, Day of Miracles has raised more than $21 million to help the 54,000 children who visit Sparrow's Children's Center each year. This year's Day of Miracles featured patient stores from 4:30 a.m. to 11:30 p.m. on WILX TV–10, in addition to an inside look at the renovated children's center and a feature on the 2018 Miracle Child, Luci Cichocki.
"The credit union community here in Michigan has a long history of being incredibly generous to CMN and we were proud to make this contribution as part of our annual effort," said Ross. "Credit unions know the value of CMN in making dreams come true, and are so very proud to be strong supporters of CMN."
Go to main navigation