Compliance Conference Day 1: How Compliance Offers Protection
The Michigan Credit Union League's Compliance Conference, a two-day event filled with insight on up-to-date compliance issues, started this morning. The event's first day featured two experts, Chuck Holzman and David Reed, who spoke to credit unions about some of the risks associated with compliance oversights.
What is Happening with Overdrafts?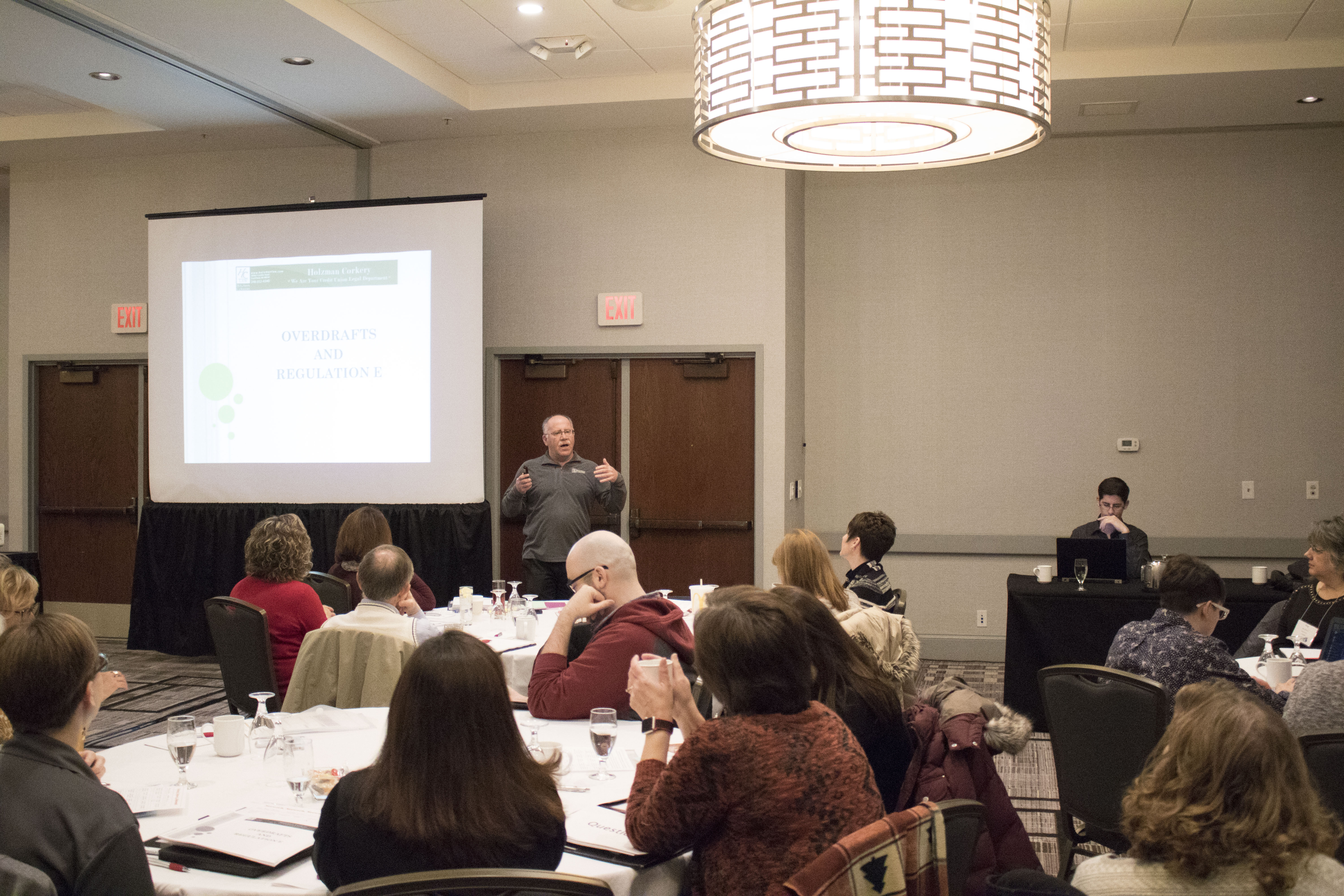 Chuck Holzman, the managing partner of Holzman Corkery, PLLC, has been representing credit unions since 1983, acting as legal counsel to over 200 credit unions with both state and federal charters. At the Compliance Conference, he spoke to attendees about overdraft issues and Regulation E — a Federal Reserve regulation regarding electronic funds transfers and electronic debit cards — in his presentation, "What is Happening with Overdrafts?"
Holzman specifically talked about the recent class action lawsuits that have targeted credit unions due to overdraft practices and disclosures, and how credit unions can protect themselves through compliance practices.
"Compliance is extremely important for the safety and soundness for our institutions," said Holzman. He said compliance protects credit unions from "sleazy lawyers" sticking their hands into credit union pockets.
"Credit unions need protection from the frivolous, high-cost lawsuits going around," he said before showing attendees an example of a law firm's advertisement in a Detroit newspaper explicitly seeking out credit union members with multiple overdraft charges.
Holzman spoke about specific regulations wherein violations give consumers the right not only to file lawsuits, but class action lawsuits, which pose the most risk for credit unions. In class action lawsuits, "the gloves come off" in ways that non-class action lawsuits don't allow for.
"All of you folks here today have to be more and more careful and knowledgeable about these issues, and the compliance regulations that will allow credit unions to avoid tons of legal fees that you would need just to win," he said. "Even though you may be 100 percent in the right, litigation has risk. Make sure you are compliant!"
The presentation touched on Regulation E's opt-in process and distinguished available balance from actual balance. Holzman detailed how these issues applied to compliance. Attendees were given an opportunity to ask him specific and detailed questions regarding compliance concerns throughout the session.
Holzman's main point was to make it known that law firms are trying to create an incredible amount of cost and risk for credit unions so they end up paying attorneys in order to "make them go away."
eSign for Everyone (Unless They Say No)
David Reed is an author, consultant and nationally recognized speaker, as well as an attorney and partner in the law firm of Reed and Jolly, PLLC. He is also the founder of CUDoctor, a full-service credit union consulting practice, with experience providing guidance to credit unions on policies and procedures, organizational compliance, collections and more. During his presentation, "eSign for Everyone (Unless They Say No)," Reed spoke about the many details surrounding electronic signature (eSign) technology and the basics of its regulations, opportunities and potential problems.
Reed introduced his presentation by broadly speaking about the rapid changes in technology. As an effect, credit unions are constantly adopting new practices like eSign. "Whenever we implement new practices, we have to make sure we are compliant," he reiterated throughout the speech.
"We have more to fear from the litigator than the regulator," said Reed. Touching on a similar point that Holzman made. "Liability from the attorney will cost credit unions major amounts of money. If someone finds out you have a broken process, then you have a target on your back."
To avoid litigation, Reed suggested that credit unions keep a fully updated list of how they are using eSign. "Vendors can come in and offer new products for new processes, but they are looking at the big picture. Credit unions, when using them, need to look at the fine details."
Further, he stressed the importance of re-verification, in regards to eSign and any other new technological implementation.
"It's easy to take things for granted, but we need to keep checking to make sure that our processes work. Sometimes processes that look really polished from the outside can often have missing pieces that are important for compliance," he said. "If you have an issue with eSign, it's going to become public in a big way."
Credit unions will be much better off discovering issues themselves, through internal checks and balances, rather than having members discover them.
"If you have one member who has a problem with eSign, you can trust that you have many other members that have the same problem."
This is particularly important when changing vendors, said Reed, who continued to mention the importance of checking and double checking to make sure processes meet up-to-date compliance standards.
"Every process is covered by regulations that, if violated, can cause risk of litigation. If [lawyers] can identify an area that has a problem, they can sue."
Before closing, Reed said you can be given the perfect car, but you still have to know how to drive it, summing up his point: you may have a great product or service, but the responsibility is still on you to make sure it's used properly.
Go to main navigation