Arbor Financial Credit Union Brings a Dose of Reality to Students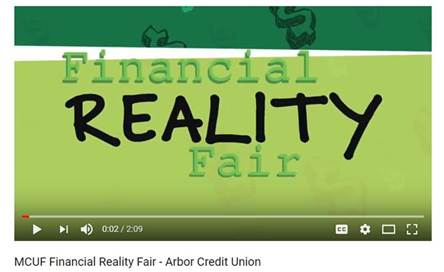 Arbor Financial Credit Union helped bring area high school students in southwest Michigan a small dose of financial reality.
More than 100 students from Kalamazoo Central, Loy Norrix and Schoolcraft Community Schools participated in a Financial Reality Fair at Western Michigan University's (WMU) Haworth College of Business. The fair was designed to give students a look at purchasing homes and vehicles, working out a budget with the income constraints of a post-graduate job and more.
Students spent the first half of the day participating in Cash 'N' Careers, a WMU financial literacy program designed to help young people make wise career decisions, understand the cost of college and develop budgeting skills. Each student developed their own customized career, including a starting salary and appropriate deductions. The second half of the day included the Financial Reality Fair, where each student actively made choices to procure housing and transportation and put together a budget including expenses like groceries, furniture and leisure spending. The fair helped students simulate one month of independent adult living in just 90 minutes. Materials, funding and implementation guidance for the program came from the Michigan Credit Union Foundation (MCUF).
"The feedback from students and teachers has been overwhelmingly positive," said Judy Swafford, Arbor Financial's Community Relations Manager. "We believe that the more we equip our young adults to handle finances now, the better they'll be in the long run. Partnering with WMU on this project really lent itself to a complete success."
Go to main navigation