Employee & Building Updates
Community Choice Credit Union Announces Three New AVP Leadership Positions
Farmington Hills-based Community Choice Credit Union announces the addition of three new assistant vice president positions to its leadership team.
Jenny Ludwigsen is the new Assistant Vice President of Marketing, where she will be responsible for the management and execution of the credit union's brand. She oversees the institution's marketing, communications, and public relations efforts.
As a marketing and communications professional for nearly 20 years, Ludwigsen has served in the credit union industry for last the 15 years at Dort Federal Credit Union where she was the director of marketing and business development, overseeing the nearly $800 million in the institution's marketing, eCommerce, and community development functions. Ludwigsen is a resident of Grand Blanc.
Karen Myers, has been named Assistant Vice President of Member and Community Engagement. In this position, she will be responsible for creating and sustaining a positive member and community experience. As a member of the marketing leadership team, Myers will oversee the functions of digital marketing, social media, community outreach, member engagement as well as lead the Member Experience Council.
A resident of Livonia, Myers brings more than 13 years of financial industry experience to the team in a variety of roles including member service, product management, and member experience. With a bachelors from Oakland University and a master's in Organizational Communication and Public Relations from Wayne State University, she is pursuing her designation as a Certified Customer Experience Practitioner.
Carol Truesdell will serve as Assistant Vice President, Member Contact Center, where she will oversee the team that handles more than 300,000 member interactions per year received by telephone, chat, online banking and mobile messaging. She is also responsible for working closely with credit union leaders on new products, services and initiatives with a focus on communication and overall impact to the membership and Member Contact Center.
A Livonia resident, Truesdell has more than 30 years of experience in the financial services industry, including consumer lending and residential mortgage loans. She has been interim manager of the Member Contact Center since November 2015 while simultaneously managing Member Solutions at CCCU.

Honor Credit Union Celebrates Ribbon Cutting in Battle Creek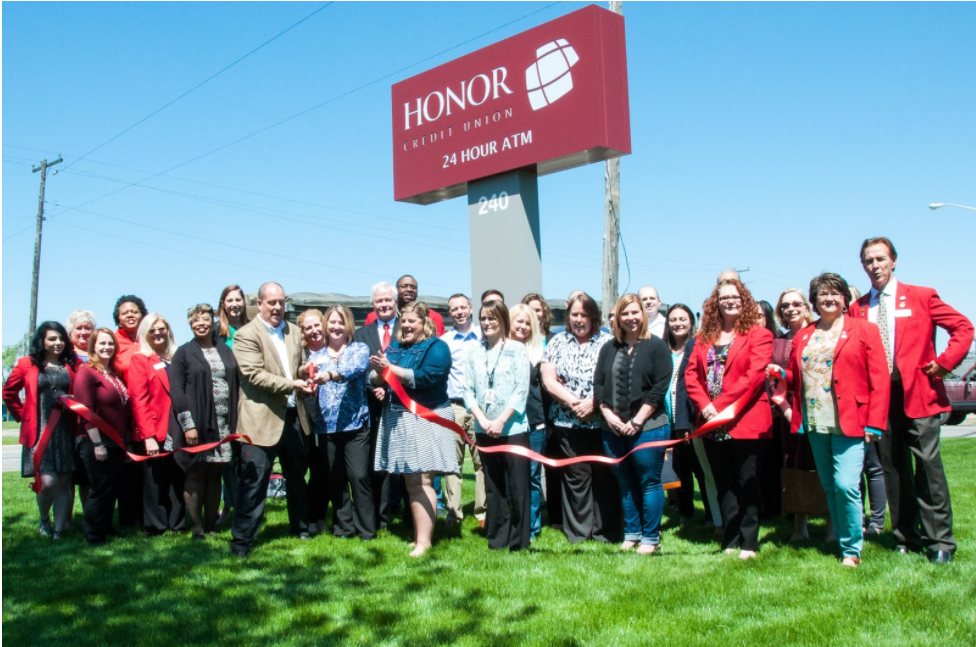 Honor Credit Union celebrated the ribbon cutting of its newest branch location in Battle Creek Friday May 12 alongside the Battle Creek Area Chamber of Commerce. With the recent partnership between Honor CU and Battle Creek Area Community Federal Credit Union (BCACFCU), the BCACFCU branch location on Helmer Road cut the red ribbon to make the transition to Honor Credit Union official. BCACFCU selected Honor Credit Union to align resources to offer even greater opportunities for both memberships.
Joining the two successful credit union's together allows for an increase in expanded services, product enhancements, and lending opportunities for members, as well as a continued superior member service commitment. Both BCACFCU and Honor have a long standing dedication to providing solutions for financial success and reinvesting in their local communities. The level to which the combined credit unions are able to reinvest in the communities they serve will only continue to increase.
"We are excited to move forward with the partnership with Honor Credit Union," states Liz Amundson, former CEO of BCACFCU and new Market Manager of Honor Credit Union. "Combining forces with an organization that shares our core beliefs and values is key. We are thankful for our Battle Creek members and the continued support of the community and the Battle Creek Area Chamber of Commerce."
The merging partnership was complete as of April 1, 2017. Honor Credit Union is a $725 million dollar organization with more than 65,000 members across the State of Michigan. Additional information is available at honorcu.com.
Go to main navigation