Employee & Building Updates
Vibe Credit Union Eyes the Future with Three New Board Ambassadors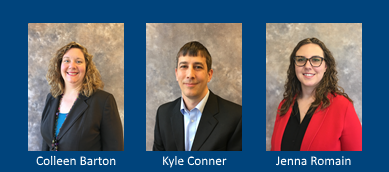 Credit unions are always looking towards a stronger, brighter future for their members. Vibe Credit Union is fortunate to have three proud members who are eager to be an integral part of that future. We welcome Colleen Barton, Kyle Conner and Jenna Romain as new Board Ambassadors.
Chairman, David Cowles shared, "It is wonderful to have three highly credentialed, insightful ambassadors with a real commitment to the future of Vibe Credit Union." All have deep Michigan roots with bachelor's and/or masters degrees from our state's strong universities and bring diverse work experiences.
Ms. Barton, is an application analyst at Oakland Schools. As a 20-year Vibe member, Colleen has experienced, first-hand, the growth and energy of our credit union and is eager to be a part of the next 20 years.
Mr. Conner is a Business Intelligence Administrator with Plante Moran. Kyle, a four-year Vibe member understands our "people helping people" philosophy and brings experiences of compassion, as a former US Peace Corps volunteer.
Ms. Romain, CPA is an Audit Manager with Yeo & Yeo. Jenna has valuable experiences relating to the unique financial management of a not for profit organization and a fresh perspective of what Vibe members need from their credit union.

Ribbon Cutting for United Financial Credit Union in Chesaning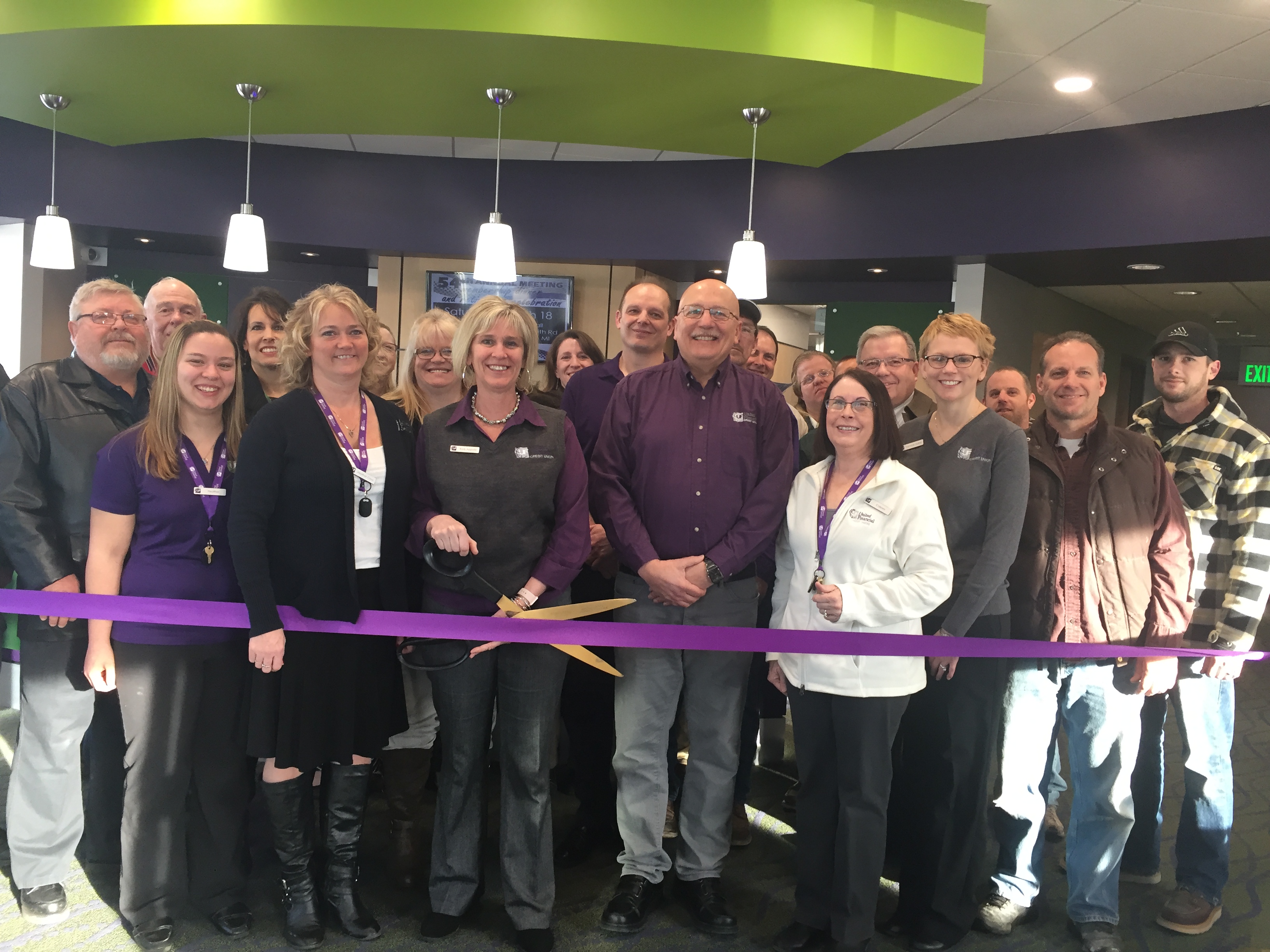 United Financial Credit Union opened their new Chesaning office at 1720 W. Brady Road (M-57) with a ribbon cutting ceremony on March 15.
The one level, 2,000 square foot building on Brady Rd. replaced the office located at 124 N. Third Street.
"United Financial Credit Union has been located in the Chesaning community since 2003. We are looking forward to the new branch office and to be able to continue our commitment to the Chesaning area for many years to come. The new Chesaning office features some of the newest technology in member service delivery. The new lobby design, that has a retail look and feel, includes glass walls separating the offices and teller pods in the lobby. This new design creates a welcoming environment for our members. We also have a new Personal Teller system in our drive thru, where you are able to speak to one of our tellers or use these machines as an ATM," said Barbara Appold, President/CEO.

Kellogg Community Credit Union Announces Team Promotions and Senior Solutions Manager
Kellogg Community Credit Union (KCCU) is excited to announce four internal promotions and an additional Senior Solutions Manager, as the credit union continues to develop and grow.
Rori Ross has been named vice president of marketing. Rori has been part of KCCU's amazing team for more than 11 years. Rori started her career at KCCU as a business relations developer. Her continued dedication and success with KCCU led her to a manager position and later to be an essential member of KCCU's leadership team as senior marketing manager. During her tenure, KCCU has doubled their assets from approximately $240 million to more than $490 million today.
Lindsey Ostrowski has been named vice president of lending. Lindsey started her career at KCCU on the retail team in May 2009 as a part time teller, and progressively climbed the ladder to retail management. She realized she fell in love with loans and transitioned to lending manager in October 2014, and most recently senior lending manager overseeing mortgages, indirect, and consumer lending. Lindsey and her team had significant success in growing KCCU's lending portfolio.
Amber Swain has been named vice president of human resources. Amber has more than 2 years of dedicated experience with KCCU's successful team, with a total of 10 years of experience working in human resources. Amber started her career at KCCU as the human resource manager, and with a strong work ethic and desire to grow the organization, she became the senior human resource manager where she also oversaw training and development. Amber is committed to continue to enhance KCCU's positive work culture as she transitions to her new role as vice president of human resources.
Holly Hancock has been named vice president of financial operations. Holly has been with KCCU for more than 12 years. Her duties in her most recent role as the senior financial operations manager was overseeing Accounting, Quality Control, Operations, Facilities, and Card Services. Holly plays a critical role in many projects and committees for KCCU. In her new role as vice president of financial operations, Holly will be focusing on internal processes, directly overseeing the accounting and support services teams.
Keith Hooker recently joined the KCCU team as a senior solutions manager focusing on development of the Kalamazoo, Three Rivers and Grand Rapids markets. Keith has more than 12 years of experience in the financial industry, and is excited to develop new relationships, as well as to strengthen existing ones, throughout these communities. He will also be working closely with KCCU team members to continue to build upon the excellent member service that has long been the foundation of KCCU's success.
Go to main navigation