In Brief...
Saginaw Medical Federal Credit Union Collects Books & Art Supplies for Covenant Kids
Saginaw Medical Federal Credit Union is collecting new or gently used books and art supplies during the month of March for Covenant Kids, Covenant patients ages 17 and under.
"Covenant Kids supports so many of our children and their families in the Great Lakes Bay Region," said Laura Crase, SMFCU President and CEO. "We are happy to help ease the time spent in the hospital by giving these children a book to read or a craft to make and hopefully they'll miss home a little less."
Covenant Kids is a fund managed by the Covenant HealthCare Foundation dedicated to enhancing the care for all Covenant kids, which includes any Covenant patient under the age of 18 and their families. All books and art supplies donated during the month of March will be given to Covenant Kids. To donate, bring a new or gently used books or art supplies to one of our locations; 4550 State St or 1430 N Michigan.

American 1 CU Jackson Women's Expo Continues to Grow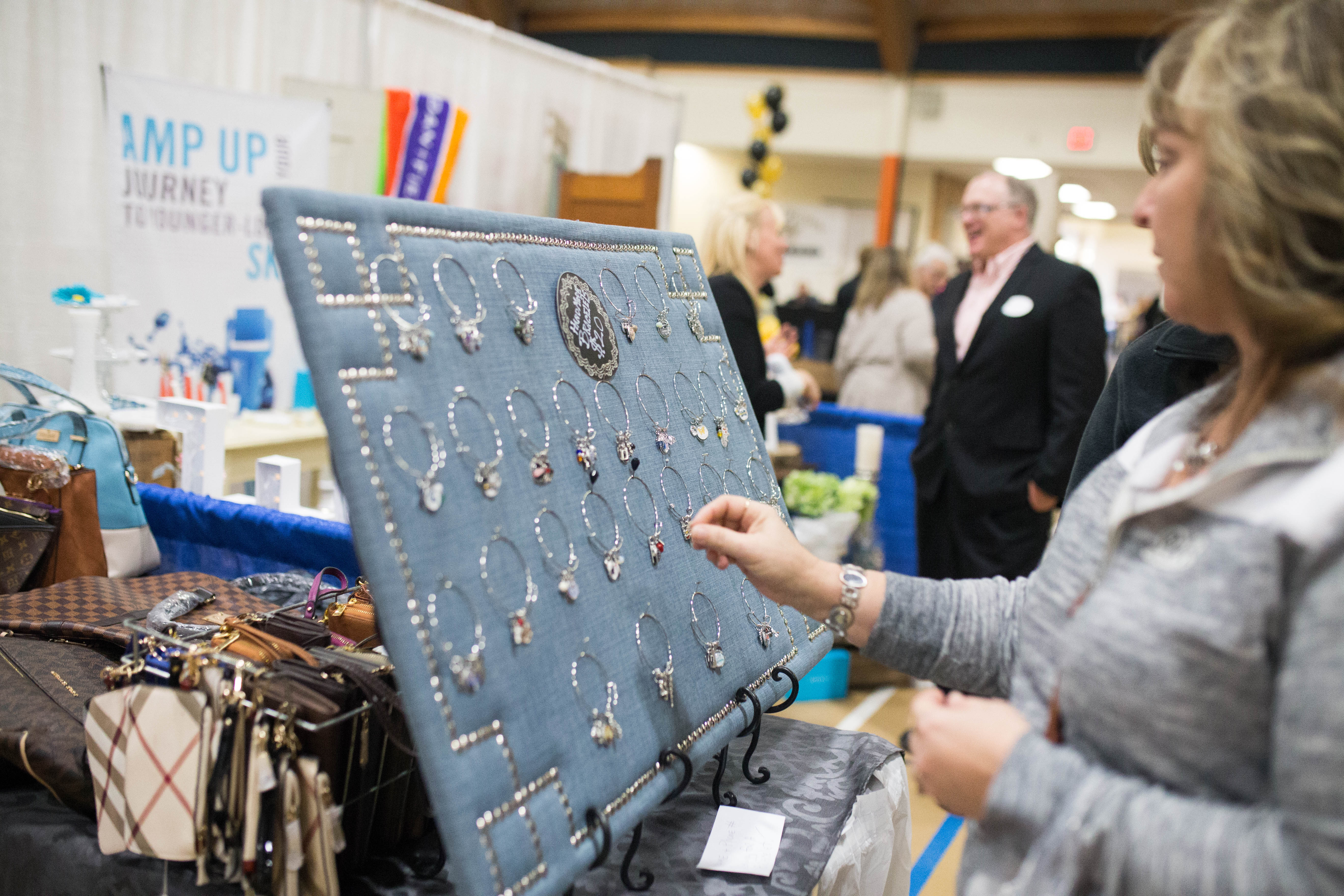 With over 3,000 guests in attendance, 2017 proved to be another successful year for the American 1 Jackson Women's Expo. Now in its 15th year, American 1 Credit Union has hosted 22 Women's Expos during that time. Attendees were able to browse products and learn about businesses and services from nearly 170 vendors–30 of which were new to the event.
Women were lined up to see booths featuring beauty, fashion, and jewelry, as well as visit with organizations that were educational or provided services for women. A special highlight of the event included the annual Grand Prize Raffle, which included three pieces of jewelry donated by Gold Crown Jewelers as part of the prize package of nearly $2,500 that was given out by American 1 Credit Union.
Charities that benefited from the event included Girl Scouts Troop #60196 and the Hanover-Horton American Legion. Other businesses that contributed to this year's Jackson Women's Expo included Westwood Mall, Polly's Country Market and Jackson Public Schools.
As with all American 1 events, the primary focus of the event was giving back to the community. American 1 Credit Union is proud to host positive family events like the Jackson Women's Expo as a way to give back to their communities.

Arbor Financial Donates $3,000 to Bronson Children's Hospital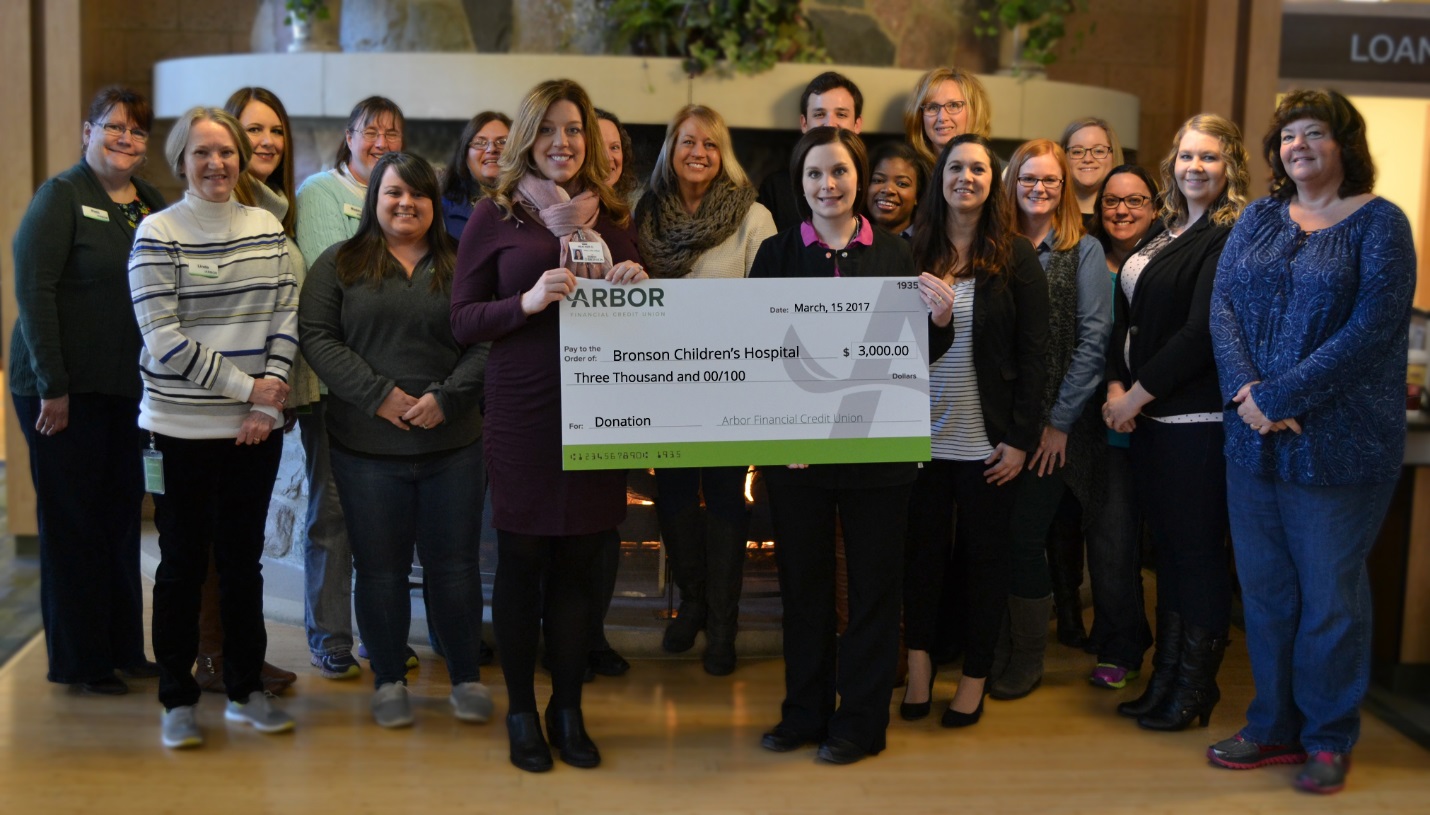 The staff at Bronson Children's Hospital care for preemies to 18-year olds in need of special doctors, nurses, equipment and treatments. The road to recovery is often hard for these patients and their families. On March 15, Arbor Financial Credit Union's Caring Committee presented Heather O., major gifts officer, and Cory R., child life specialist, of Bronson Children's Hospital a check in the amount of $3,000 to enhance programs and the experience for the patients and their families.
"This is one of the largest donations we have given to an organization," said Tammy Phelps, the vice president of operations and member of the Caring Committee "and we couldn't have done it without our wonderful staff."
The Caring Committee is made up of Arbor Financial employee volunteers who select, organize and execute philanthropic initiatives in our communities The committee created a silent auction for all Arbor Financial staff. What resulted was more than just a friendly competition, but the awareness of how much employees were willing to give to support this cause.
The silent auction raised $1,800 and was combined with other funds raised through Jeans Days and an employee cookbook sale to total $3,000. The donation will benefit many of the Bronson Children's Hospitals programs, including Art Therapy, Music Therapy, Child Life Specialist and Journey Beads.
"We cannot wait to help more organizations, and spend more time with our community," said Heather Siegwart, core systems project coordinator and President of the Caring Committee. "It feels so good to give back."
To donate or learn more about Bronson Children's Hospital visit their website.
Go to main navigation