CUNA CEO Jim Nussle on CNBC's Squawk on the Street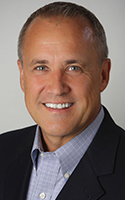 As the 2017 CUNA GAC wraps, CUNA CEO Jim Nussle appeared on CNBC's "Squawk on the Street" program to chat about President Trump's joint session speech to Congress, last night. Of the topics the President covered, Nussle was particularly interested in discussing budget and spending.
As the former director of the Office of Management and Budget, Nussle was able to speak with CNBC with authority and knowledge about these issues.
Per CUNA, the President's budget includes decreases in entitlements and increases in defense spending, which Nussle acknowledged with some concern.
"I've told the credit union members [at the CUNA GAC] to be aggressive. That now is the time to act by talking to their legislators," Nussle said on the program. "Credit unions are the folks that sit across from people every day and help them balance their checkbooks and get out of debt. And they have the same question for the president. How are you going to pay for this? How are you going to balance the federal check book and make it all fit together?"
Watch the interview here.
Go to main navigation