MCUL Receives Education Excellence Award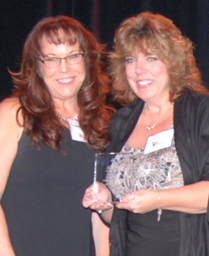 The Michigan Credit Union League (MCUL) recently received the BEST of MichBusiness Award for Education Excellence during an awards presentation at the MGM Grand Hotel in Detroit. The BEST of MichBusiness awards program is dedicated to recognizing companies and individuals that make Michigan a great place to do business, and this year's was attended by over 300 participants.
The League was nominated by Karen Dahl, CEO of Northern United FCU in Escanaba for its outstanding training and networking lineup.
"This is a tremendous honor for not just the League, but for credit unions throughout the state," said Renee Werth, vice president of Education and Events. "We believe all we do is geared to the success of helping Michigan credit unions serve, grow and remain strong and this award recognizes the commitment of our members to be the best they can be."
MichBusiness positively impacts more than 150,000 businesses in Michigan through a social media community whose mission is to celebrate and promote both success and opportunity within Michigan businesses. More than 100 honorees were recognized in various categories at the awards program, representing all types of businesses in Michigan.
Pictured are is MCUL Meeting Planner Monica Strucinski (left) and MCUL Events Manager Janet Ormsby accepting the BEST of MichBusiness award for Education Excellence on behalf of the League during an awards presentation at the MGM Grand Hotel in Detroit.
Go to main navigation