In Brief...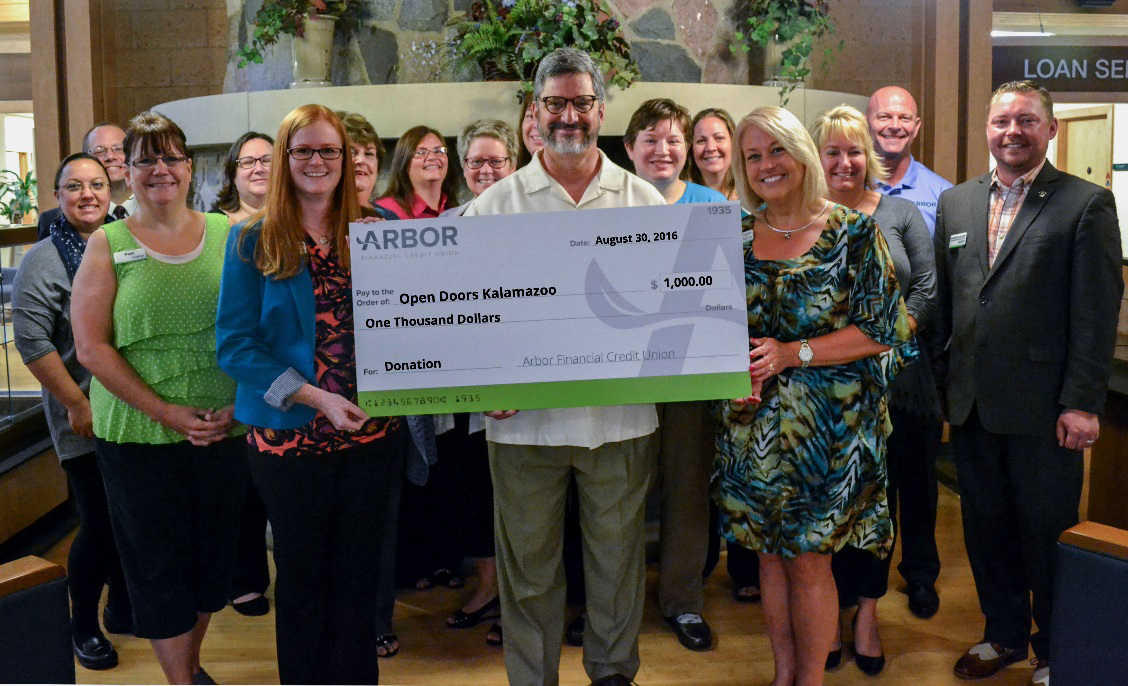 Arbor Financial Credit Union Donates $1,000 to Open Doors Kalamazoo
Each night as many as 400 people stay in one of Kalamazoo County's emergency shelters or on the streets. At Open Doors Kalamazoo, local families are provided affordable housing options, as well as help in gaining employment, education and sobriety. On Tuesday, Aug. 30, Arbor Financial Credit Union's Caring Committee presented a $1,000 check to Rick Stravers, the Executive Director of Open Doors Kalamazoo.
"We are honored to support Open Doors Kalamazoo in their mission to provide their residents with caring support, education and a place in our community," said Tammy Phelps, a member of the Caring Committee and also the Vice President of Operations at Arbor Financial.
The Caring Committee is made up of Arbor Financial employee volunteers who select, organize and execute philanthropic initiatives in their communities.
The committee sponsored a "Donate to Wear Jeans Day" for staff that raised $500 for the organization and Arbor Financial matched that amount. The committee also collected personal care items for shower kits to give to the residents at Open Doors Kalamazoo.
To donate or learn more about Open Doors Kalamazoo, visit their website.
Alpena Alcona Area Credit Union Teach Financial Education Alcona Summer Camp Kids

Team members from the marketing department at Alpena Alcona Area Credit Union recently traveled to Alcona to teach students the importance of financial literacy.
Students ranging from 10-16-years-old from Alpena, Alcona and Oscoda spent a week in August at Alcona Community Schools participating in various hands on educational presentations, where students had the opportunity to learn a variety of life skills.
LeAnn Schultz, director of marketing, explained the variety of ways to pay for everyday purchases and the additional expense that can be involved when using a credit card or not having funds available in your account. She also showed students how to write out checks and balance a checkbook. Alison Jakubcin, marketing clerk, taught students the importance of creating a budget, different ways students can save money, and the importance of starting to save at a young age.

The students were very excited about the financial education, one student commented the main reason she attended the week long summer camp was her mom wanted her to learn about financial literacy.
Catholic Federal Credit Union Presents Saginaw Valley State University Community Youth Sports Clinics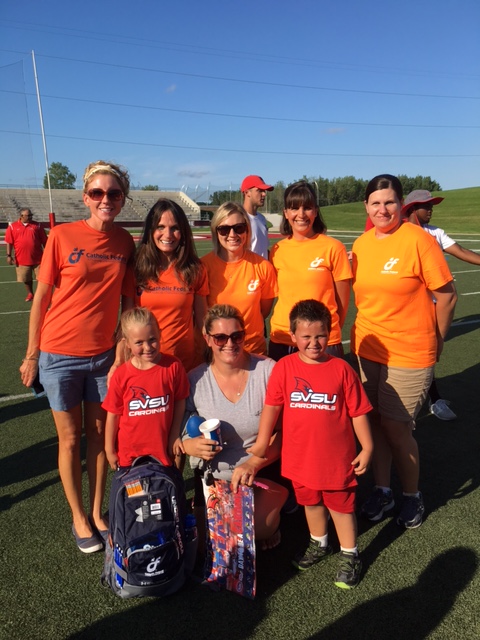 Close to 200 young people were in attendance at Saginaw Valley State University on Aug. 28, 2016 for a free 90 minute football Community Youth Sports Clinic presented by Catholic Federal Credit Union. This was the first of five free sports clinics that will be offered free to boys and girls grades K-8.
The Community Youth Sports Clinics bring families with young children in the Great Lakes Bay Region to the campus of SVSU to engage in the Cardinals Athletics experience. This is the third year that Catholic Federal has sponsored this event.
"Catholic Federal is thrilled to sponsor this NCAA award winning event," Bridget Looby-Staffileno, VP Community Development said. "Kids learn great skills from exceptional coaches and student-athletes. Plus, they and their families are exposed to the university's campus which helps to plant the seed for them to attend college."
Committed to investing in the communities it serves, Catholic Federal staff volunteered more than 800 hours of service to local organizations, charities and events last year.
Go to main navigation