Powered By Honor Supports Benton Harbor Girls Academy with $7,000 Grant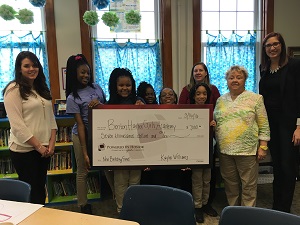 The Benton Harbor Girls Academy put out a plea to the community with a goal of building a new school for the 4th through 8th grade girls that they serve and Powered By Honor, Honor Credit Union's community foundation, answered with a $7,000 grant. The donation will go towards the school's $1 million fundraising goal to build a new facility that will allow them to positively impact more than double the capacity their current location and resources allow.
The Benton Harbor Girls Academy has been able to accomplish amazing things with the students they have helped since opening in 2010. That was a cause Powered By Honor was excited to stand behind. The Benton Harbor Girls Academy is dedicated to enriching the education opportunities of middle school girls in the Benton Harbor community and aims to foster growth and development in girls who are at a high risk of disengaging in education.
"When Dr. Quattrin reached out and shared all the great things that the school has been able to do for current and past students, it was a cause that Powered By Honor instantly knew we wanted to be involved in," commented Samantha Roe, Honor CU Benton Harbor branch manager and volunteer Powered By Honor board member. "Truthfully, one of the most rewarding aspects of this grant was talking with the students at the academy when we presented the check and seeing how much good the school is currently doing in their lives."
Find out more about the Benton Harbor Girls Academy and see how you can help here.
Go to main navigation