Order Your 2016 Lapel Pin Today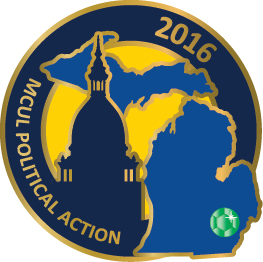 The lapel pin program is the single largest source of funding for our State PAC. The league encourages credit union participation in this important program, as purchasing a 2015 MCULAF lapel pin is critical to ensure we have the necessary resources to support credit union-friendly lawmakers in Lansing. All funds raised from the sale of pins are applied towards your credit union's annual MCULAF fundraising goal.
We are offering credit union employees, volunteers and directors a variety of donation levels, ranging from $30-$1,500. Employees can make a one-time contribution or sign up via payroll deduction to spread the cost of their contribution over six or twelve consecutive months. You are not required to run the twelve month payroll deduction period in conjunction with the calendar year. For example, if you wish to start your campaign with staff in February, you can run the campaign through February of the following year to deduct the full twelve months of contributions.
Purchase your 2016 State PAC Lapel Pin online by clicking here. Click here to access the 2016 Lapel Pin contribution forms for your credit union campaign.
Encourage your credit union's executives, board members, and employees to buy a 2016 pin. MCUL Government Affairs staff are available to answer your questions or to schedule a presentation. Please contact Director of Government Affairs Jordan Kingdon at 734-793-3475 with any questions.
Contributions to MCULAF are not tax deductible. Contributions to MCULAF are completely voluntary and will be used for political purposes.
Go to main navigation