Cybersecurity Day at Compliance Conference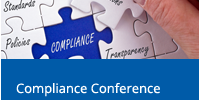 The MCUL & Affiliates 2016 Compliance Conference will be held Feb. 11 & 12 at the Radisson Plaza Hotel in Kalamazoo, and the first day of the event will be focused exclusively on cybersecurity.
Sessions on "Cybersecurity: There is No Gambling with Member Data!," "Cybersecurity Exam: Examiners Perspective," "Building Effective Internal Cyber Policies and Procedures," "FFIEC Cybersecurity Self-Assessment: Critical Tool or Another Pointless Risk Assessment?" and "Third Party Technology Contracts: Understand the Risk" will be offered.
The Compliance Conference takes place immediately following the Lending and Marketing Conference, Feb. 9 & 10 at the same venue. Registration is $310 per person for those who have registered by Jan. 18; a one-day reIgistration is also available for $169 per person.
Go to main navigation