Third Graders Learn Finance Through Acting Thanks to Credit Union Grant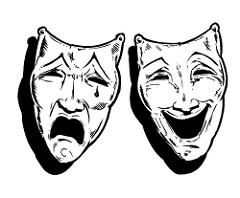 Grayling Elementary is teaching some of its students about money in a unique way. North Central Area Credit Union is using the Michigan Credit Union Foundation grant to bring in the Acting Up Company.
Acting Up teaches students how to pay bills on time, how to save, how to earn interest and how to manage money appropriately.
"We basically write a play with the kids," said Chad Patterson, Acting Up Theater Company owner. "We ask them for their ideas and then we write dialogue for them out of their ideas. They have a personal ownership of it, then. I love coming into a school and working one week at a time, giving them a new way to look at education. By building it through theater, by building a play, they remember it for a long time."
"We are super excited to put the three together," said Gina Brunskill, Grayling Elementary School principal. "Now we have the business, we have the credit union and we have education. So, this is the perfect chance for us to all partner together and do something great for kids."
Tracy Wilson, North Central Area Credit Union marketing and business development coordinator, said kids will have a good foundation for when they're old enough to apply for loans and get mortgages at a credit union if they're taught now.
"Credit unions are passionate about helping kids learn financial literacy at a young age because that helps them be successful adults," said Wilson.
Grayling third graders are already building that foundation to handle their money wisely by learning practical financial habits.
"I've learned do the right thing, don't just do the wrong thing," said Nick, a Grayling third grader. "You should pay your bills. You should pay a lot of things like food and water."
"Let's say you go buy a moped and then you can't pay your bills and your water gets turned off," said Carly, another third grader.
"Or you buy 20 electric blankets and then you forget to pay the electric bill, they're not going to work," said Danny, Carly's classmate.
"If we grow up and we don't learn it between these other grades, we might not know what to do with money," said Brayden, Carly and Danny's classmate.
"It really helps us to build a well-rounded student which, in turn, is a well-rounded citizen," said Brunskill.
The students performed the financial play they've been working on all week in the Grayling Elementary cafeteria.
The grant came through the Michigan Credit Union Foundation. Acting Up will be at Roscommon and Houghton Lake schools in January as part of the grant for schools in Roscommon and Crawford Counties.
Go to main navigation