How Black Friday Loans Benefit Michigan Credit Unions and Members
With the holiday season underway, credit unions are getting into the shopping spirit by offering "Black Friday" loans to help members pay for holiday expenses. But every credit union is putting its own spin on this increasingly popular holiday offering.
This will be the third year that Catholic Vantage Financial (CVF) has held its "Black Wednesday" sale the day before Thanksgiving. According to Emma Teller, director of marketing and business development, the sale is so popular that members started calling in October to ask if it would be making a comeback this year.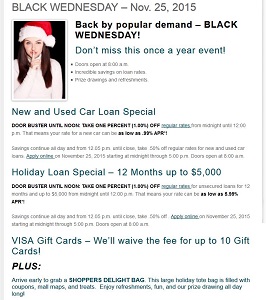 Catholic Vantage Financial was expecting a big response to its third annual "Black Wednesday" sale, which is promoted on its website (seen here).
Starting at midnight through 12:05 p.m. on Wed., Nov. 25, CVF offered one percentage-point reductions on auto loan rates. The CVF's current rate for A-paper borrowers is 1.99%, and qualified members could get that rate knocked down to 0.99% both for new loans and refinancing. After 12:05 p.m., loans were only one-half percentage point lower. Along with auto loans, CVF offered similarly reduced rates on 12-month unsecured loans, with rates as low as 5.99% for a $5,000 holiday loan. Visa gift card fees were also slashed.
"We're expecting to do $1 million in one day," Teller said advance of the sale. "We've done that in the past." Teller predicted the credit union would have a busy morning, and she planned to have music, refreshments and gift drawings available for members, who usually line up outside the building well before the credit union opens its doors.
'Friday B4'
Alpena Community CU also got into the spirit ahead of time with a "Friday B4 Black Friday" loan. The credit union opened its doors at 7:00 a.m. on Fri., Nov. 20 with loan rates starting at 0% APR. While the credit union always opens at 7:00 a.m. on Thursdays and Fridays to accommodate members working early shifts, it offered offering the 0% special for just the first hour of that day.
Alpena Community CU used Facebook to promote its "Friday B4 Black Friday" loan.
"Each hour after that the rate goes up until it reaches 2.25%, which continues until the end of December," CEO Mary Nefske explained before the big day. "If you came in the following week, you'd still get the loan, but at a flat rate of 2.25%."
This is the first year Alpena Community has offered any kind of Black Friday loan, and Nefske said the idea came from networking with other credit union executives at a Michigan Credit Union League & Affiliates marketing conference earlier this year.
The loan is also part of the credit union's push toward instituting a sales culture, and Nefske said staff have been encouraging members to get pre-approvals. While pre-approvals aren't necessary, they will help ACCU get a better idea of how many loans they'll be making.
The loans have a one-year term and a maximum loan amount of $5,000, but applicants must meet certain criteria to qualify, including credit score and debt-to-income ratio requirements. With just a few days to go before the loan went live, the credit union had issued about 20 pre-approvals.
"We're a $22 million credit union, so we're not planning to give out $1 million in money here," said Nefske. "We expect it to be a hopping morning. We expect to generate some fun and excitement." Staff are set to wear long-sleeved black shirts with red vests to promote the sale, and Nefkse said the CU might even take a cue from the New York Stock Exchange and ring an opening bell to start the day.
According to Assistant Manager Ann Boyk, the credit union has promoted the Friday B4 Black Friday sale via Facebook, on digital signage outside its headquarters, radio advertising and more. And if it's a hit, she said, Alpena Community might find a way to expand on the idea.
"Who knows—maybe we'll do a temperature sale in March" and raise rates throughout the day as temperatures rise.
A Holiday Tradition
Credit unions advertise these specials via their websites and social media, but word of mouth and repeat business are also significant drivers. According to Sarah Ermatinger, VP of marketing at Jackson-based CP FCU, last year's Black Friday loan was such a hit that the credit union decided to bring it back for 2015.
The credit union also offers a holiday loan for members who need more than just the $1,000 available for Black Friday, but both offerings are available until the end of December. Traffic was reportedly "booming" in the lead-up to the sale, with an increase in both Black Friday and holiday loan applications. One week before Black Friday the credit union already had 81 loans processed for a total of more than $188,000.
When asked why CP and other credit unions keep the product available beyond Black Friday, Ermatinger said that "It takes some time for people to figure out that they need these things. Maybe they get partially through the holidays and decide maybe they need a little bit more."
Catholic Vantage's Teller said that one way CVF keeps staff and members excited each year is by always doing something different.
"Consumers are savvy today and have a lot more information available to them," she said. "They're always looking for good deals, so it has to be competitive. You don't have to give the shop away, but it has to be worth their time and effort. And of course bring the members into the fun. That's really what it's all about."
Go to main navigation