National Credit Union Foundation Hosts Twitter Chat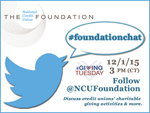 To celebrate Giving Tuesday, Dec. 1, the National Credit Union Foundation is hosting a Twitter chat for credit unions through Dec. 3.
To offset the previous days recognized for mass consumption, Black Friday and Cyber Monday, Giving Tuesday is a global initiative to find a way for families, companies, organizations or communities to spend some time and resources giving back to a worthy cause.
The NCUF invites credit unions to join in their discussion to chat about the charitable events they have dedicated their focus to for Giving Tuesday.
"Giving Tuesday is a day dedicated to giving back," Foundation Director of Communications Christopher Morris said. "Credit unions everywhere are incredibly generous to further the financial well-being of their communities, which also aligns with our work at the Foundation. We're pleased to facilitate this discussion around such an important and timely topic."
Credit unions are encouraged to share examples of philanthropic events and best practices along with donation policies, scholarships, special holiday programs and communications around community giving. First Financial Credit Union will be featured as a special guest in the Twitter chat.
Use the hashtag #foundationchat to tweet out information or to follow the conversation. Credit union professionals and organizations are invited to follow NCUF at @NCUFoundation for news and updates.
Click here to download/view the list of questions to be asked during the Twitter chat.
To see wrap-ups of past Foundation Twitter chats, click here.
Go to main navigation