Represent Michigan and Crash the 2016 CUNA GAC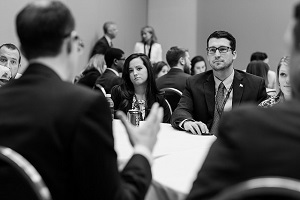 The Cooperative Trust, in partnership with CUNA, is currently accepting applications for Crash the GAC 2016. Credit union leaders have until October 31st to submit applications and we would really like MCUL to be represented! Those interested in the program—which provides scholarships for up-and-coming credit union professionals to attend the CUNA Governmental Affairs Conference—must submit their applications by Oct. 31. New this year, is the requirement that applicants submit a 60 second video instead of an essay.
"The Cooperative Trust Crash events give young adults the opportunity to experience the power of the credit union movement in a dynamic, eye-opening environment," says James Marshall, manager of The Cooperative Trust. "Selected participants for Crash the GAC 2016 will return to their credit union full of ideas, new industry connections and the motivation to create positive change."
Only one state missed out on the crasher program last year. This year, CUNA and The Cooperative Trust will be taking one Crasher from every state, plus one wildcard.
Go to main navigation