Michigan CU Leaders Lobby for Legislative and Regulatory Priorities at Hike the Hill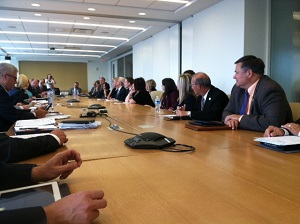 On September 29-30, 32 Michigan CU leaders joined MCUL staff in Washington, D.C. for this year's Hike the Hill grassroots lobbying event. On Tuesday, participants had the opportunity to meet with Debbie Matz, chairman of the NCUA, Jennifer Stockett, Senior Advisor in the Office of Financial Institutions & Business Liaison at the CFPB, and Ed Skala, Policy Director for the U.S. House Committee on Financial Services.
Wednesday included an update on federal legislative priorities by CUNA's CEO Jim Nussle and Chief Advocacy Officer Ryan Donovan. Attendees then participated in office meetings on the Hill with Michigan's entire Congressional delegation – 14 U.S. House members and 2 U.S. Senators. Legislative issues included regulatory relief, data breach, business lending authority, and the credit union tax exemption. Credit union leaders shared their stories of how these issues are impacting their members. The majority of members in Michigan's congressional delegation were supportive of these issues and several new co-sponsors are likely in the coming weeks.
The MCUL's Hike the Hill continues to be an important grassroots event in advancing the league's federal regulatory and legislative priorities. Several credit union attendees utilized scholarship funds made available through the Michele Myrick ASFM Scholarship Fund. Please consider registering for CUNA's annual Government Affairs Conference (GAC) scheduled for February 21-25, 2016. Register for the conference by clicking here. Click here to access the scholarship fund application. Michigan's CUNA GAC hotel block can be accessed by clicking here. The hotel registration password is "Tango2016".
We hope to see you next February in D.C.!
Go to main navigation