Frankenmuth CU Connecting with the Community at Downtown Saginaw Farmer's Market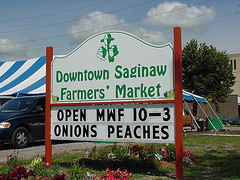 Recently the recipient of a grant from MCUF, Frankenmuth CU was able to collaborate with the Downtown Saginaw Farmers' Market (DSFM) and Michigan State Extension during Harvest Days to promote healthy eating to those in need. Specifically, the credit union started a food voucher program to educate participants on how to cook and prepare healthy food while maintaining a thrifty agenda.
Frankenmuth CU will offer food vouchers valued at two dollars each for individuals and families that participate in events such as MSU Extension's "WIC Project Fresh."
"The food voucher program will impact families by providing access to locally grown fruits and vegetables along with family nutrition education appropriate for all ages. This is a wonderful opportunity to encourage our community to visit our local farmer's market and fall in love with all our community has to offer. A win-win for all involved!" Said Keri Kenny, Nutrition Program Associate for MSU Extension.
More than 35 vendors bring the freshest, highest quality produce to the DSFM weekly through Oct. 31. The Market is open Monday, Wednesday and Friday from 10am to 3pm and Saturdays from 9am to 1pm.
Along with accepting debit/credit cards, the Market accepts SNAP/Bridge cards, participates in Double Up Food Bucks (DUFB), WIC Project FRESH, Senior Project FRESH/Market FRESH, and HoopHouses for Health programs.
"We are excited to partner with the Frankenmuth Credit Union and MSU Extension by offering this food voucher program to our patrons. It will help area families stretch their food dollars even further, promoting healthier eating while supporting local family farms and businesses with their purchases at Market." states Shelley McGeathy, Executive Director of the DSFM.
Frankenmuth CU CEO Vickie Schmitzer felt the collaboration was a win-win for the credit union. "This food voucher program is special for us because we're always looking for ways to leverage grant funds by working with local organizations to help them accomplish their goals."
Go to main navigation