Save to Win Winner: It's a User Friendly Way to Save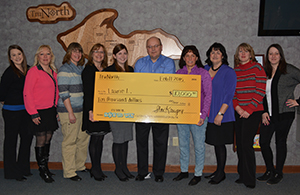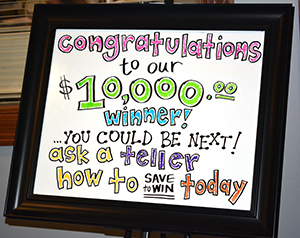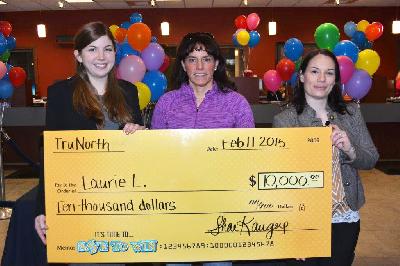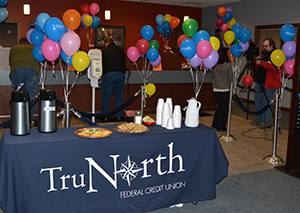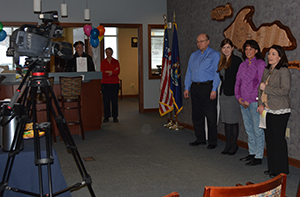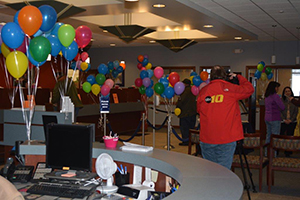 ISHPEMING – TruNorth FCU member Laurie L. thought it might be bad news when she recently received a call from her credit union. Turns out it was just the opposite. She was a $10,000 Save to Win Grand Prize winner.
"It was totally unexpected and I was in shock," she said.
Laurie who has a prize-linked savings account through Save to Win since 2010 was honored at TruNorth Wednesday. The program rewards people for saving by entering them for a chance to win up to $10,000 for each $25 they save. Members can contribute up to $250 a month.
"It really pays to save this way," Laurie said.
This is TruNorth's second grand prize winner. George Isola, general manager at TruNorth, said one of the most rewarding aspects of offering Save to Win is seeing members who staff know well receive the money.
Members open Save to Win accounts by making opening deposits of $25. That contribution gives members their first entry into the drawings and every subsequent $25 deposited gives them another chance to win.
The MCUL & Affiliates Prize Patrol is traveling across the state to hand out checks to six Grand Prize Winners during the Week of Winning. The team has already visited Lake Trust CU's Dewitt branch, People Driven CU in Southfield and North Central Area CU in Houghton Lake. Visits to Peninsula FCU in Escanaba and First General CU in Muskegon are yet to come.

Save to Win was launched in 2009 as a collaboration between MCUL & Affiliates, the Filene Research Institute and the Doorways to Dreams Fund. Designed to appeal to credit union members and to encourage consumers to save, Save to Win has helped more than 50,000 credit union members save more than $94 million. Up to 81 percent of those members setting aside some savings are considered financially vulnerable.
Save to Win shifted to a multi-state format for 2014. Participating credit unions in Michigan, Nebraska and Connecticut are combining their resources to expand the program to a larger national platform. With this new model, more members will win money with monthly and quarterly prizes ranging from $25 to $5,000.
Go to main navigation