2022 MCUL Year in Review

As we put a bow on 2022, MCUL would like to take a moment to look back at some of the year's accomplishments, none of which could be done without the hearty trust and support from our member credit unions.
First off, we want to thank everyone who appeared on the Credit Unions, Coffee & Conversation podcast. Nearly 20 wonderful guests came on this year and shared their stories, advice and invaluable insight with listeners, and we can't wait to see who we'll hear from in the coming year.
Take a minute to see what we hope to build on in 2023…
Advocacy
On the advocacy side of things, MCUL hosted its two in-person events, MCUL GAC and Hike the Hill, and attended this year's CUNA GAC.
The League's GAC welcomed a new record high of registrants with 163 people! Michigan credit union chapters hosted an additional 19 individual events, inviting local legislators to talk industry topics.
The Advocacy team was able to send 40 professionals this year to key events in Lansing and DC via scholarships through A Stronger Financial Michigan's Michele Myrick Scholarship Fund.
We are putting an emphasis on cultivating our advocacy leaders of tomorrow, and the future is bright.
Additionally, here are some wins we celebrated on the advocacy front this year:
Secured $75 million in state funding for Michigan CDFI programming.
Enacted financial literacy high school graduation requirement.
Enacted Michigan Uniform Assignment of Rents Act.
Defeated payday lending product expansion.
Defeated harmful interchange amendments in Congress.
Helped advance the first meaningful federal Field of Membership Reform in decades through the U.S. House.
Education
This year, MCUL's Education and Events team provided a mix of virtual and in-person training events to provide members valuable information while balancing their staff's needs and remaining concerns regarding COVID.
Two new in-person events were added to the training lineup in 2022. The HR&R Conference for HR professionals was excitedly received by participants in Traverse City, and the CUs4All Conference addressed DEI topics for an enthusiastic crowd in Frankenmuth.
Overall, more than 1,800 participants attended MCUL training this year, with overall participation from 78% of League-affiliated credit unions, up 5% from the previous year.
Michigan Credit Union Foundation
In 2022, the Michigan Credit Union Foundation (MCUF) raised nearly $290,000 from credit unions, chapters and businesses. These funds helped the Foundation support the credit union missions of financial health, community enrichment and leadership development.
MCUF granted nearly $60,000 in Community Enrichment Grants. In financial health efforts, the Foundation supported 123 Financial Reality Fairs, all of which reached more than 8,000 students. Additionally, 13,000 books were provided on behalf of Michigan credit unions through 150 public libraries during Money Smart Week.
The Foundation also made possible the financial counseling certification of 121 new participants from 35 Michigan credit unions, while sending 15 young professionals to the Annual Conference & Exposition through scholarships.
We can't wait to see what we do together in 2023. Until then, have a safe and happy holiday!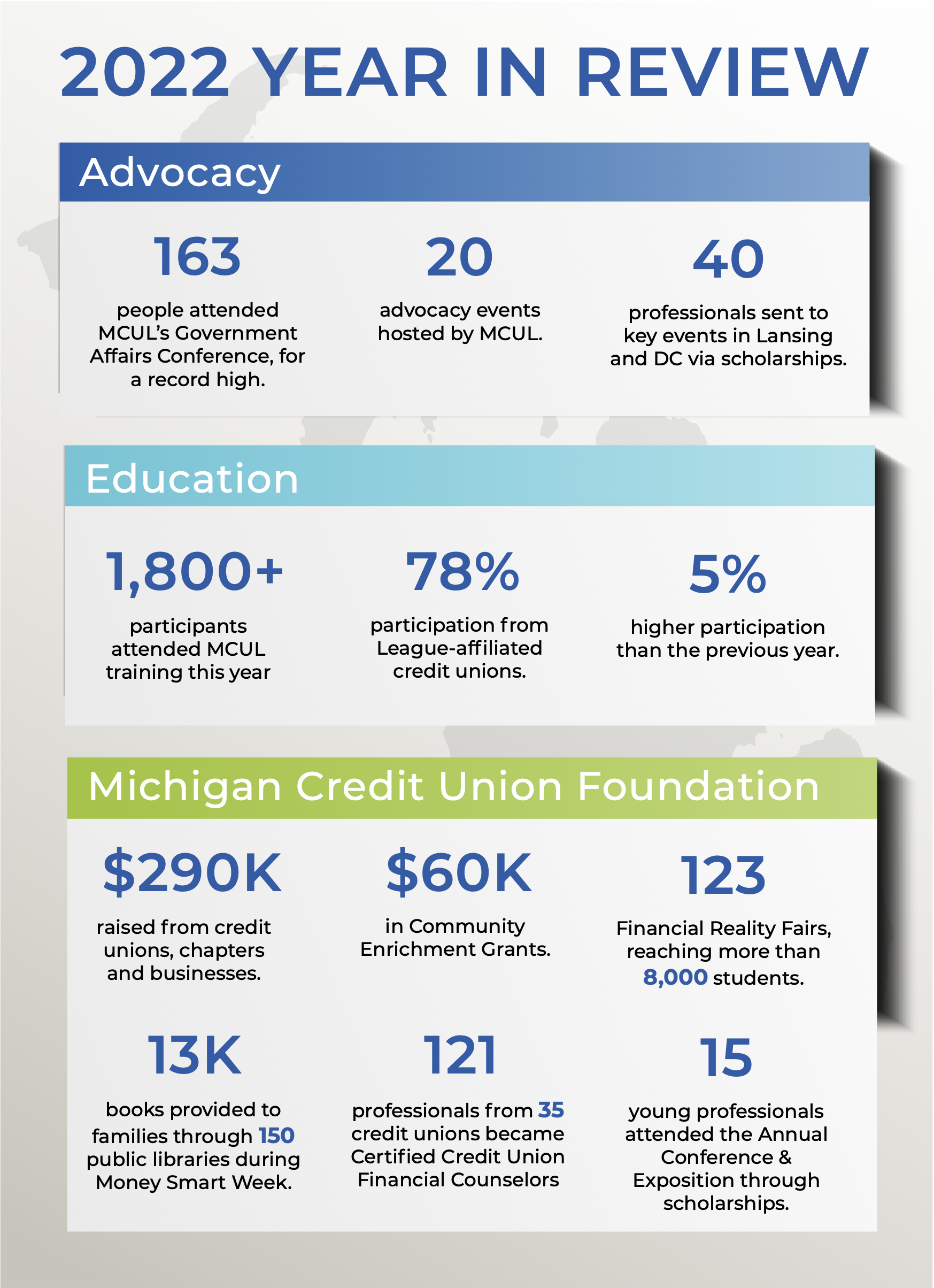 Go to main navigation