A Look at Michigan's First CU Kind Day: $150K Raised
74 credit unions and 3,500 volunteers impacted 24,000 Michiganders.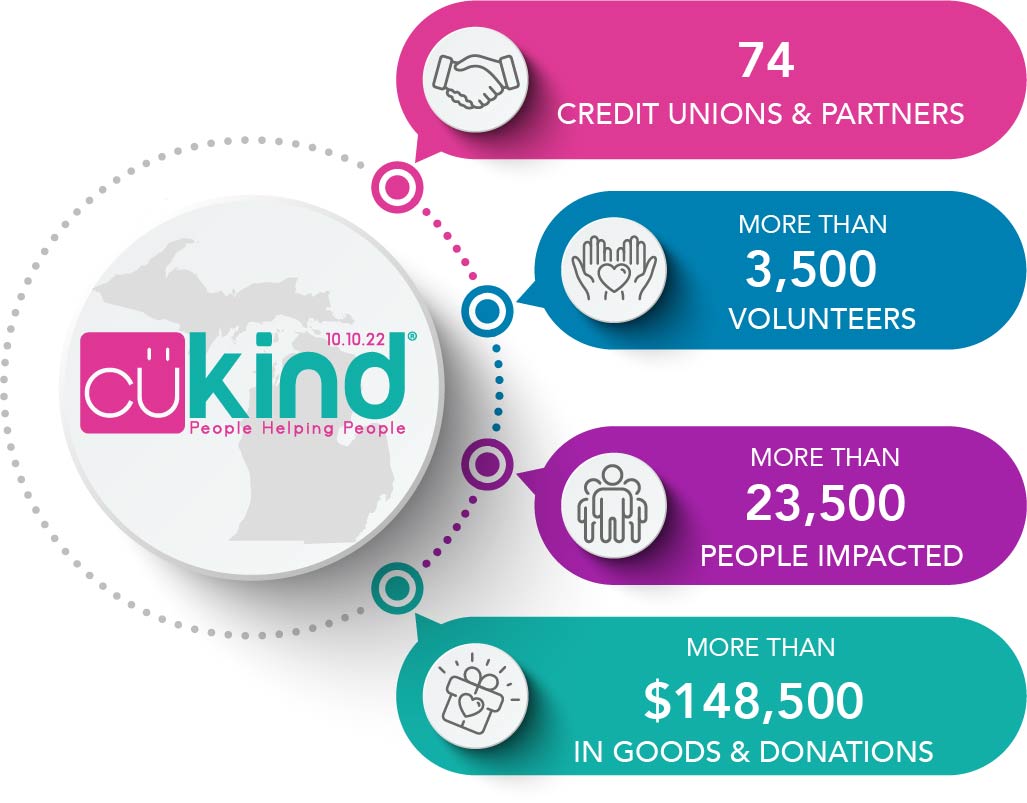 On Oct. 10, credit unions across Michigan took part in CU Kind Day, an annual tradition showcasing the credit union difference through donations and volunteering. Giving back to members, communities and beyond is part of what makes credit unions different, and this annual day of kindness is Michigan's chance to show communities throughout the state how much credit unions care.
While this is the first year Michigan credit unions have participated, CU Kind Day was founded in 2019 by the Illinois Credit Union League. Since then, the Minnesota Credit Union Network, the Cornerstone League and the League of Southeastern Credit Unions have taken part in their own statewide day of kindness. In 2021, 66 Illinois credit unions joined forces on CU Kind Day bringing together 2,700 volunteers, supporting 322 community organizations, and generating more than $80,000 in goods and donations. These huge acts of kindness inspired the Michigan Credit Union League (MCUL) to join in.

The response from Michigan credit unions was immense. The League had 74 credit unions participate, along with contributions from MCUL and CUNA. In total, more than 3,500 volunteers provided nearly $150,000 in goods and donations — all of which positively impacted approximately 24,000 people.

MCUL put together a publication to show the works that the Michigan credit union movement did for 2022 CU Kind Day. You can check it out here.
"I am incredibly proud of how Michigan credit unions embraced our first CU Kind Day. We know that our credit unions provide for their communities all year round, but it's powerful to see those efforts showcased on one day and by so many!" said MCUL CEO Patty Corkery. "Thank you to Illinois Credit Union League for starting this tradition; we can't wait to do it again next year!"
Go to main navigation