The Michigan Credit Union Movement Remembers Jordan Kingdon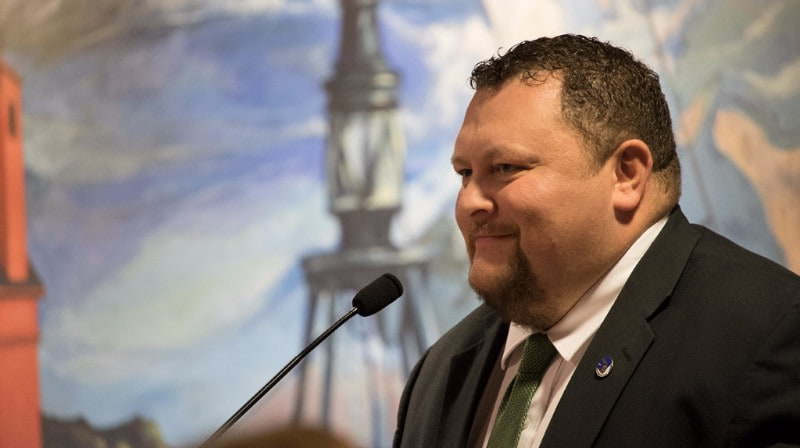 Last week, during the 2022 Annual Conference & Exposition (AC&E), MCUL's Jordan Kingdon passed away. Kingdon was with the League since 2009, and during his tenure, served as Director of Government Affairs, VP of Government Affairs, Senior Director of Legislative Affairs and Northern Michigan Representative.
He was a beloved colleague and friend throughout Michigan and had a reputation as a great relationship builder, both with credit union leaders and legislators, as well as an excellent credit union advocate.
Among Kingdon's passions was fundraising for the Children's Miracle Network (CMN). Each year, he was very involved in the AC&E's silent/live auction. Since 2009, he helped the Michigan credit union movement raise more than $1 million for CMN.
Read below as some of Kingdon's many colleagues and friends reflect on what he meant to them and the Michigan credit union movement.
Patty Corkery, MCUL CEO
"Jordan was an integral member of our MCUL family. His passion for the movement was clearly seen by everyone he connected with. Whether he was advocating on legislation or sitting in a credit union CEO's office, Jordan was passionate, thoughtful and engaging. I will miss his laugh, his sense of humor and hearing his stories. Jordan leaves behind an amazing legacy in our movement and I am proud to have known him."
Dave Adams, CU Solutions Group CEO
"I'm so glad to have known, and to have worked closely, with Jordan. I'll remember his many professional contributions. But I will especially think fondly of him for his kindness and warmth as a father, as a colleague and as a friend. Even through adversity, he projected joy and selflessness. Hopefully, we can pay that forward!"
Kieran Marion, MCUL EVP of Advocacy and Communications
"I had the pleasure of knowing and working with Jordan for over a decade. During that time, I came to know him as an incredibly dedicated father, a passionate advocate for credit unions and someone who loved all things about northern Michigan. There are too many stories, memories and inside jokes to count. He became a good friend, and he will be dearly missed."
Senator Curt VanderWall, Michigan's 35th District
"Hearing the news of the passing of Jordan Kingdon was certainly unexpected. Jordan was one of the classiest gentlemen I have ever met; a true friend and leader that cared about the people he served. Jordan will be missed by so many in the credit union industry, throughout Lansing and our state. Our hearts are heavy as we think of his children and of all those that he touched. He will truly be missed."
Renee Werth, MCUL EVP of League Services & MCULSC
"Jordan was a loving father, a fun coworker and an overall nice person. He cared deeply for his family and friends, and it showed. Every time he talked about his kids, you could feel the overwhelming pride and the love he had for them. He was a great storyteller. His tales never failed to make everyone around him laugh. I know Jordan will be deeply missed by everyone who knew him."
Eric Loehr, MCUL VP of Michigan Solutions
"Jordan was one of those unique people that you are always glad to see coming through the door. He was kind, genuine and sincere. He cared about the people he worked with and their lives outside of work. Jordan's interest was real; he connected because he was real. My heart is heavy for his family and for all of us that loved him. I will miss him."
Haleigh Krombeen, MCUL Director of State Advocacy
"Jordan taught me what it means to be an advocate in every sense of the word. Through our work together in the legislature and on too many Children's Miracle Network (CMN) auctions to count, he showed the importance of putting your whole heart into what you do. Together, we were able to grow MCUL's "Bids for Kids" CMN auctions to new heights year after year. This year, he finally relinquished the emcee role to me, and while I couldn't bring myself to take the stage, I'm honored that I get to continue growing this event and to be a fearless advocate for the credit union industry in Michigan, just like Jordan would do."
Todd Jorns, MCUL Director of Federal Advocacy
"Jordan was an amazing friend and colleague and losing him is a tough loss for everyone he touched. First and foremost in life, Jordan was a great father and he would proudly talk about Jillian and Ethan whenever possible. He loved his credit union family as well and always took the time to listen and get to know colleagues on a personal level. Jordan cared about and tried to help others on a daily basis. He loved sharing wild and funny stories and experiences in his life that would not only make you instantly laugh until your belly hurt but would have you recalling those stories and chuckling at them weeks, months and years later at random times. Jordan was one of a kind; he had a positive impact on so many people and I will miss him a lot."
Stephanie Heidt, MCUL Senior League Representative
"Jordan and I became colleagues when he started at the League back in 2009. His passion for credit unions and advocacy was evident from that first day. He worked very hard on Capitol Hill to represent our industry and help us achieve high-priority change. Jordan's relationships with credit unions and legislators was like no other and he worked hard to be a mentor for many in the industry.
"Jordan transitioned to League Representative my about two years ago and did an amazing job working with his credit unions. He was outgoing, bubbly and always stayed connected to his credit unions, making sure they were getting nothing but top-notch service from the League. He was a caring team member and will be greatly missed."
Pete Dzuris, President/CEO of Northland Area Federal Credit Union
"Jordan was such a wonderful person. He always found a way to bring you into a conversation or to make sure you were a part of the bigger picture. Jordan had such a big heart and was always kind to everyone. He knew so many people and made so many connections and always found a way to utilize those relationships for the good of credit unions. Jordan could always find a way to make you laugh — whether it was with a quick joke, a story or two or just his genuine smile.
"He loved northern Michigan for the simplicity and tranquility it can provide. To Jordan, going fishing could make any day better, and many of his stories involved fishing. He loved people, he loved life and, most of all, he loved his kids. Anyone who knew Jordan knew that his kids meant everything to him. He made sure to share this love with his friends and extended family through his Facebook connection to the world. Jordan was my friend and because I knew him, I believe it made me a better person. I will never forget him … and may he rest in peace."
Mike Palumbo, Board Chair of Northland Area Federal Credit Union
"What can I say about my friend Jordan Kingdon? Nothing that everyone doesn't already know, but from my relationship with him, I realized early on that he was the consummate professional who took pride in everything he did. He made everyone he came in contact with feel at ease. His storied career with MCUL, especially as the League Representative for northern Michigan was unparalleled when it came to taking care of our needs … sometimes on short notice. I am so happy that I knew him, and I'll miss him during future credit union events.
"Most of all, he was so proud of his children Ethan and Jillian, and he obviously loved them so much. I am so lucky to have been able to follow their lives through his Facebook page and talking to him at conferences. He also cared enough to ask about our kids and what was going on in their lives. When it came to his family, he always placed them first.
"And last, but definitely not least, the stories he would tell! I never got tired of hearing them and even was involved in one we'll call "Boyfriend material." His other stories usually included fishing and other sports with Ethan or Jillian and her schooling and horseback riding.
"RIP my friend, Vaya con Dios."
Nick Montie, CEO of Wolverine State Credit Union
"Jordan was, above all, an outstanding advocate for Michigan credit unions, but more than that he was a great friend to many of us. Whether you knew him through political affairs or as a League Representative, Jordan left a positive impression on you and always made sure to keep you up to date on the latest happenings. I will miss his calls and unexpected pop-ins to my office to discuss credit union issues, Michigan politics, MSU sports, fishing and, of course, bad jokes. Jordan was a heck of a guy who loved credit unions and he will be greatly missed by many of us."
Senator Wayne Schmidt - Michigan's 37th District
"Jordan was a close friend to all of us in northern Michigan who deeply understood, treasured and shared everything about our home. His passion and voice will be dearly missed by everyone he touched."
Meredith Anderson, MCUL League Representative
"The first time I met Jordan was in 2012; I was an intern in the House of Representatives and he took me under his wing from the first day I met him, like he did with so many others. When I came over to MCUL in 2015, he was the first person to introduce me to several credit unions and mentor me throughout the last 7 years.
"Not only was he a coworker and a mentor, but he was also a friend — to me and many others. He was well respected, a great listener and an even better talker. He will be greatly missed by all that had the pleasure of knowing him."
Nangela Piersall, Card Program Manager at Michigan Solutions
"Jordan had a beautiful heart. I recently heard him sharing a story about taking his son to Gaylord after the May 20 tornado to determine how he could help local credit unions and the community. I believe it was Awakon FCU that funded buying Subway sandwiches for those residents that were left negatively impacted by the tornado. He went into the heartfelt details about what he witnessed and how his son was taken aback and completely at a loss of words (which, with levity, Jordan said was a rare occasion)."
Robert Winkelman, Legislative Aide at Michigan Legislature
"I've been working in the Michigan Legislature for a little over 10 years. When I moved down from St. Ignace, I had no idea who Jordan Kingdon was. It was in my first legislative office that I got to experience Jordan. Fun, gregarious and consistently caring about others.
"Over time, I teased him that I met his children when they were "dime store" kids, five- and 10-years old. (If you don't know what a "dime store" is, ask your parents). Now, Jillian has finished her first year at Michigan Tech, and Ethan is about to start his freshman year at Haslett High School. His world revolved around his children. He was there for them at every turn.
"And that was the way he was with people in general. He lived and breathed MCUL. He was very invested in its mission, but especially in its members. Like anyone who has worked with Jordan, I have grown to appreciate him as an accomplished professional and a wonderful human being."
Mark Powell, Chief Risk Officer, Lake Michigan Credit Union
"I think it was late summer 2020 when Jordan told me MCUL policy had forbidden in-person contact with constituents even if he was okay with it and I requested it. I told him if he wanted to talk shop, he knew where to find me. He offered to drive out and pay out of his own pocket to have lunch with me. That's a silly story but also says so much about the kind of guy Jordan was. He knew how to listen and he knew a meaningful way to show he cared about the League's relationship with Lake Michigan Credit Union and me as a person. Jordan was credible and insightful in his work, so well connected, and all of us in credit union land will miss him dearly. He was my friend."
For service information and to read more about Jordan click here.
---
Awakon Federal Credit Union has set up a fund to benefit Jordan Kingdon's children. Those who would like to donate may do so in the following ways:
Check Made Payable to "Kingdon Memorial Fund"

Awakon Federal Credit Union
P.O. Box 420
Onaway, MI 49765-0420
Go to main navigation