AC&E 2022: Leadership Takes Center Stage on Friday
Friday morning's Center Stage opened with CUNA CEO Jim Nussle taking the stage and following up on MCUL CEO Patty Corkery's comments from yesterday, that the idea of family is integral to the credit union community.
"The essence of why we're different is because of our motivation — the why we exist … it's that person that's gonna walk through that door, that member is our motivation. That's the essence of our difference. Credit unions are asked to be motivated by something different," said Nussle, referencing the member, "And that's what makes us unique."
He talked about the special innovation of credit unions, that the industry is innovative in how we deal with members — something credit unions exhibited as financial first responders during the COVID-19 pandemic.
Nussle also mentioned the current challenges of the middle-class consumer: lack of assets, inflation, pandemic recovery. According to the national numbers, he said, 42% of middle-class consumers self-describe that they are struggling to get by, 17% of them had quit their job because of child care, 60% claimed that they lost income, 68% claim to not have rainy day funds and 44% claim they have elevated anxiety or depression.
"These are your members and they're also your teammates," said Nussle, continuing to say these are the people we meet in the world everyday. "If you believe the not-for-profit model is special, these people are the mission."
Nussle stressed the importance of data in advocacy efforts, telling attendees they need to back up the personal stories they bring congressmen with strong data.
"For the relevance of our industry and members, we need to continue telling our story and backing it up with data," he said.
Dave Adams
CU Solutions Group CEO Dave Adams followed Nussle on stage to talk about leadership and mentorship. Adams started by talking about the important mentors he's had in his own life, specifically his mother, Utah Credit Union League's former CEOs Don Bleazard and Charles Sullivan.
Adams said his mentors helped him realize career dreams he didn't think were possible, but, he said, that's what mentors do. He also mentioned the importance of continual education, humility and balance.
Giving out his own advice, Adams told attendees to commit to be more intentional. In other words, think about whom you can support. He also said that structured mentoring can be a big part of an enhanced culture and that organizations should consider implementing a formal peer mentoring program.
Fireside Chat: Dan Mulhern & Dave Adams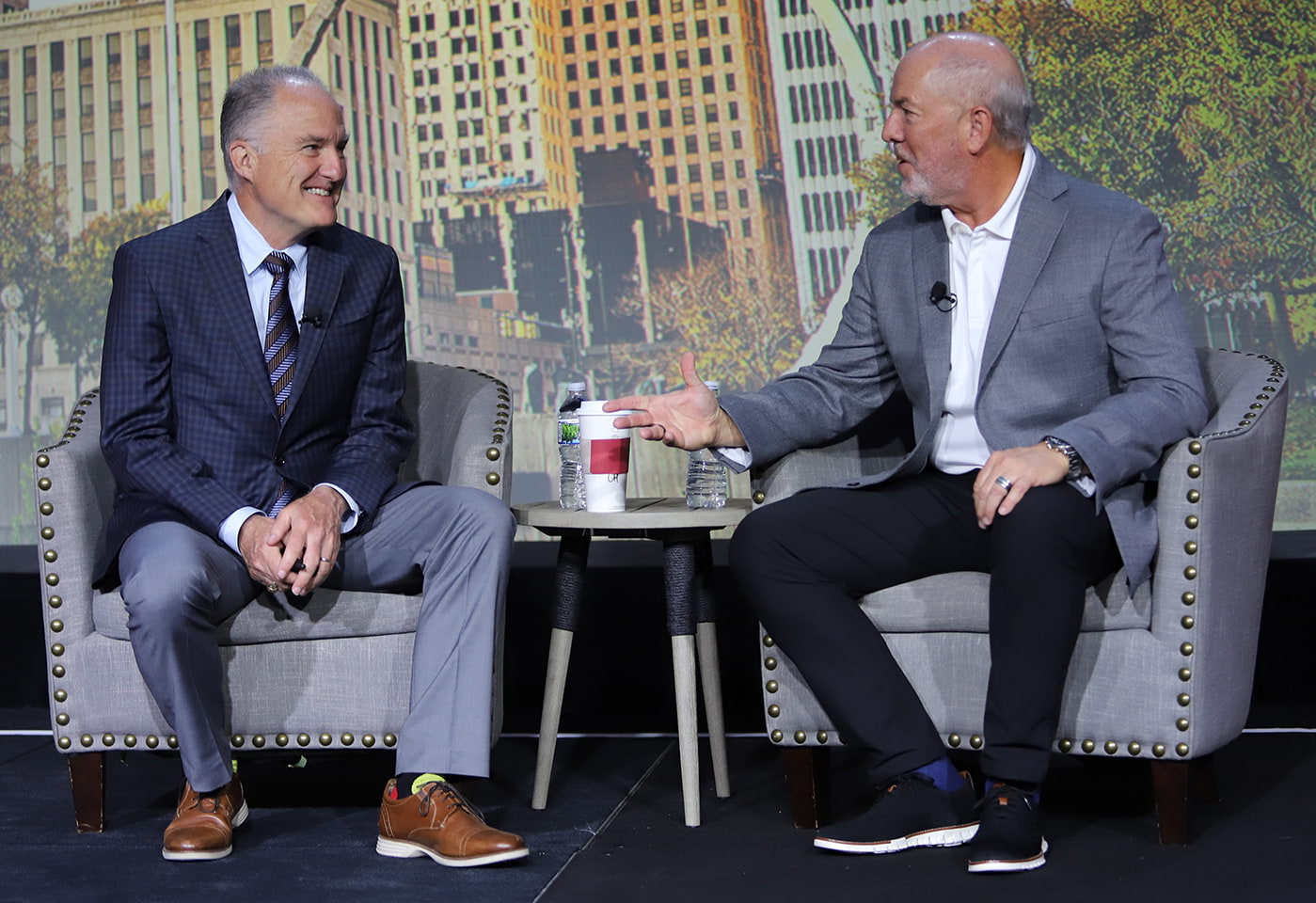 Co-founder of LeadingX2, Dan Mulhern, came to the stage to talk a little bit about leadership and mentorship before taking part in a fireside chat with Adams.
Mulhern asked attendees who the key pairs are in their life. We're obsessed with The Leader, he said, but we should be asking "Is he a superhero or a super partner?"
He said he wants to open attendees' minds to the power of leading by two, not by one. Great leaders challenge and encourage each other, he said, mentioning Venus and Serena Williams and Steve Jobs and Steve Wozniak.
Mulhern encouraged attendees to find a partner that is different in skill, style, network and culture whom you can contribute to and who can contribute to you. He also said you need to consistently express gratitude that comes from the top of your mind or center of your heart.
One of his primary points was to become a complete, caring, curious listener. The most powerful part of becoming a complete listener is to slow down, he said, and let your partner have their reality and their visions. None of us see the same world because our experiences are different.
Another, and simple, part of becoming a complete listener, Mulhern added, is to ask open-ended questions (such as "why is that important?" or just simply say "tell me more").
Mulhern and Adams then discussed the importance of a collaborative relationship between credit union CEOs and board chairs — a relationship that involves frequent communication, said Adams.
The best thing to be a good mentor is to get mentored, said Mulhern, who spoke about the importance in leadership partners to flip the dynamic at times to see what you can learn from each other, rather than always maintaining a top-down relationship based on seniority.
Go to main navigation