AC&E 2022: DEI is All about Organizational Transformation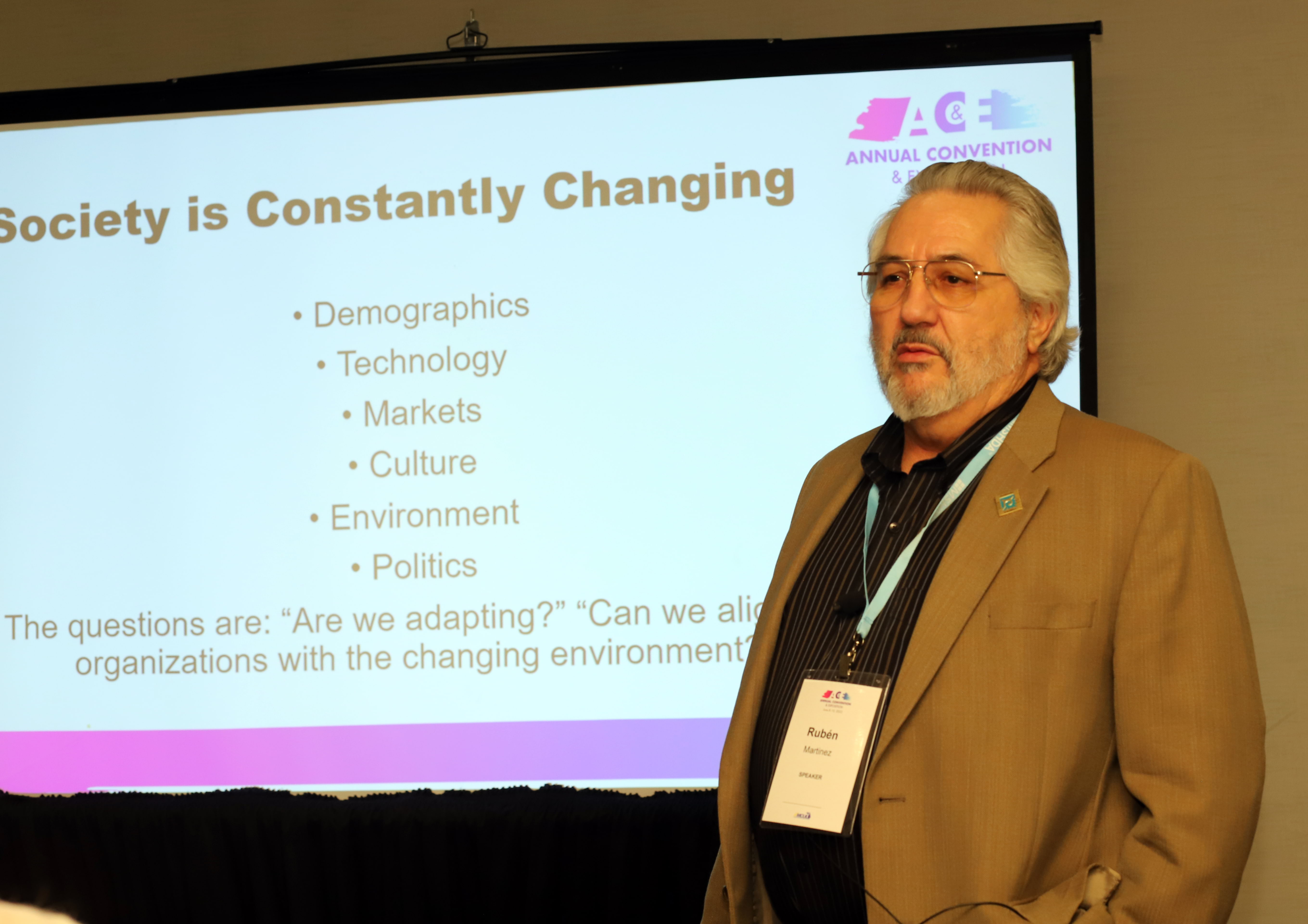 Ruben Martinez, Professor of Sociology at Michigan State University, held an education session on Thursday afternoon, "Diversity, Equity & Inclusion (DEI): It's All about Organizational Transformation."
Martinez opened by listing a number of things that are changing our society:
Demographics
Technology
Culture
Environment
Politics
Markets
"It's all about adapting to a changing environment. If you're not adapting, you'll be left behind," he said.
Martinez told attendees that an organization should be avoiding "Group Think" or creating a lack of diverse thought in your organization that comes about by a homogenous workforce.
But, he said, adapting and changing doesn't just mean adding things to our organization. Adaptation requires transformation.
Martinez said that more than 20 states last year had fewer white babies born than non-white babies born. That, he continued, is a demographic shift. Additionally, nearly half of post-Millennials are racial or ethnic minorities.
Along with these demographic shifts, technology is shifting. Particularly related to credit unions, mobile banking is increasing among all ethnic groups. Martinez said it increased exponentially during the COVID-19 pandemic.
Likewise, the competition for credit unions is changing.
How do you adapt? Martinez foregrounds putting the customer at the center. In addition, you have to address environmental, social and governance issues.
"Investors are putting their money where their values are," he said, naming environmental sustainability, climate change issues, inclusion and diverse board leaders.
Transitioning to DEI, Martinez said organizations have to be a welcoming environment where employees have a sense of belonging, feeling heard and appreciated, and not having to always explain their presence and background. That means, being treated fairly and given opportunities to contribute equally.
Organizational inertia, Martinez said, is the organization's inability to make internal changes in the face of significant external changes. It occurs gradually and allows organizations to react automatically rather than reacting with critical thinking.
"It becomes habitual thinking, and you have to ask yourself collectively what are you as an organization in terms of beliefs, values and practices and how did you get there?" said Martinez.
Therefore, what an organization needs to do, according to Martinez, is "transcend your cognitive framework."
To get to that point, he said there needs to be an organizational evaluation, which requires revisiting values, developing objectives with attendant activities and then implementing a plan that includes continually assessing your organization's successes and failures, modifying as you go along.
"It's just like a budget," Martinez said. "A budget is a financial roadmap, just like an organizational evaluation is a roadmap."
He closed the education session by describing the values of a diverse organization. Included in them is a willingness to respond to a changing social environment, provide an inclusive culture that values difference, provide development and career opportunities to all its members in fair and equitable ways and recognize de facto systems of privilege and work to eradicate them.
However, Martinez said, there is no simple recipe for you to follow. The primary goals are to promote personal growth among employees and work toward developing an organizational plan.
Read more AC&E 2022 content here.
Go to main navigation