Validation & Motivation: ELGA's Terry Katzur on Winning the 2021 Professional of the Year Award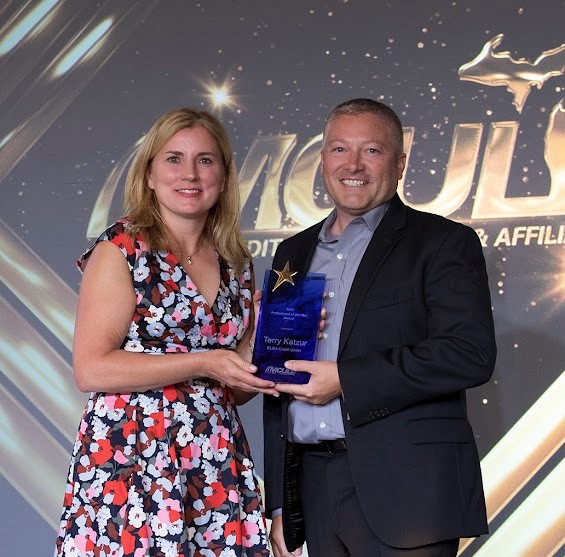 The winner of MCUL's 2021 Professional of the Year Award, Terry Katzur, was honored in person last month during the Annual Convention & Exposition's award ceremony.

Katzur, ELGA Credit Union's EVP, was recognized with the award due to his thoughtful and challenging leadership, his powerful ability to mentor and his revamping of the credit union's lending program.

MCUL recently followed up with Katzur to reflect on what the award has meant to him.
MCUL: Now that you're a week out, can you talk about what it felt like to win the MCUL Award in front of a room filled with your colleagues?

Katzur: It was an absolute honor to receive the award in front of a packed house at the AC&E. Just how much of an honor was reinforced in me as I looked into the crowd at the many other credit union professionals that were deserving of such an award.
Did it validate all the hard work you've put into this industry?
I would say that receiving the Professional of the Year Award has in many ways validated my work up to this point in my career. The award will also serve as a motivator to continually raise the bar on my contributions to my credit union, our communities and the credit union industry for the rest of my career.
What does it mean for your career, going forward?
It brought another level of recognition for me within the industry, which has fostered the development of many new connections with amazing people in the credit union movement.
Advice you would give young professionals just getting started in the CU industry?
The credit union industry has so much to offer a motivated young person that wants to be successful while making a real difference in the lives of others. Even if you don't yet know what path you are going to take at your credit union, stay patient and keep your eyes opened for opportunities that are of interest to you.
I started as a high school co-op teller. I didn't know I was going to make a career at ELGA Credit Union until later when I realized the importance of the work that our credit union was doing, and I wanted to stay around to be a part of it. The credit union industry is a great place to build a fulfilling and exciting career.

Know an organization or professional that deserves to be nominated for the 2022 MCUL & MCUF Awards? Nominate them here.
Go to main navigation