United Financial Uses MCUF Grant to Educate Local Students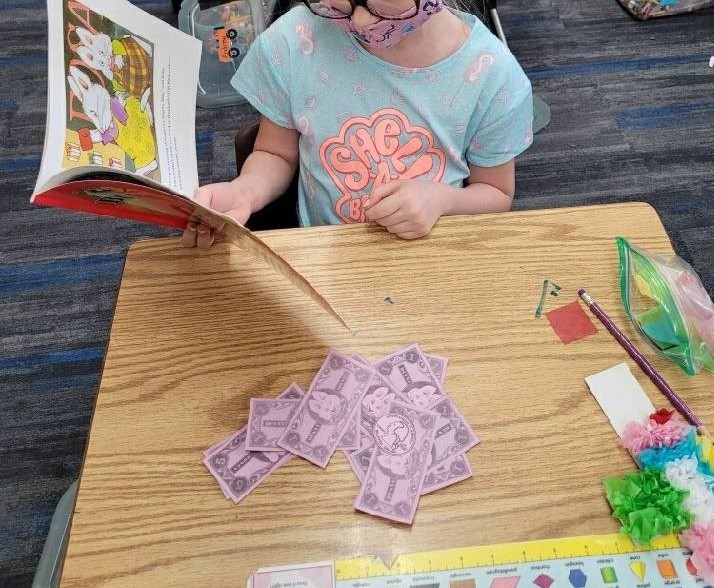 This past April, National Financial Literacy Month, United Financial Credit Union helped local schools educate students. Using a grant from the Michigan Credit Union Foundation (MCUF), United Financial donated 225 books to K-2nd graders who participated in a financial education reading and activity led by the credit union at Saginaw, Bridgeport and Auburn schools.
Robin Naugle, United Financial's Auburn branch manager, recorded herself reading the books for the students to watch (due to COVID-19 restrictions) and provided a supplemental financial education activity that the students completed in the classroom.
MCUF's $750 grant, combined with the credit union's own $650 commitment for a total of $1,400 was used to purchase the books provided to the students.
The book used for K-1st grade was Bunny Money, and Pigs Will Be Pigs: Fun with Math and Money was used for 2nd graders. Both discuss finances and give a fun, kid-friendly lesson on being able to have enough money to purchase something they want.
The credit union put together a packet with the books and an activity for each student at the local schools. They also recorded the activity that went along with the book for the students to follow along.

The kids were excited to get a book they could keep and enjoyed the activity. Some students know Naugle from United Financial's school branch, so they were very happy to see her read to them via video.
"We believe it is very important to help schools educate children about finance, a topic that is sometimes just briefly covered in the classroom," said United Financial Director of Marketing and Training Jessica Gwizdala. "If we are able to partner with a school or provide classroom visits to talk about financial education, it's a wonderful opportunity for us to be involved in the community and help share some information with the children too."
When asked why it's important to teach financial education at a young age, Gwizdala said that kids are our future and the sooner we can start to give them a little bit of this financial information, the more it will stick with them.
"We see, in our industry, so many people lacking basic financial skills and if we can help provide some financial education to kids, hopefully they will want to learn more and will be set up for financial success in the future," she continued.
MCUF works with cooperative donations to empower credit unions to increase financial wellbeing by supporting community enrichment, financial education and credit union development initiatives. The Foundation is currently accepting applications for community enrichment grants.
Learn more, donate or apply at MCUF.MCUL.org.
Go to main navigation