Michigan Credit Unions: How We Stack Up on Women in Leadership
MCUL President/CEO Patty Corkery compares Michigan credit unions to national averages.
"Women belong in all places decisions are being made." We have all heard this pronouncement on gender equality from Justice Ruth Bader Ginsburg. In meeting with our credit unions around the state, I know the spirit of this statement lives strong in Michigan. With that foundation, I was not surprised to see that Michigan credit unions are surpassing the national average at credit unions and banks regarding women in leadership positions.
CUNA recently published a report comparing women leadership numbers in credit unions to banks around the country.[1] Reading the comparison made me curious how we stack up in Michigan; are we better, worse or on par with the national landscape when it comes to women representation at the CEO and board level?
When you look to the S&P 500, women currently hold only 30 (6%) of the CEO positions at these large companies.[2] Clearly, the road to equality at our largest corporations is still fraught with detours, though the financial services industry is much further along. Within our industry, specifically, credit unions are ahead of banks, and Michigan credit unions have even more women at the top position than the national average.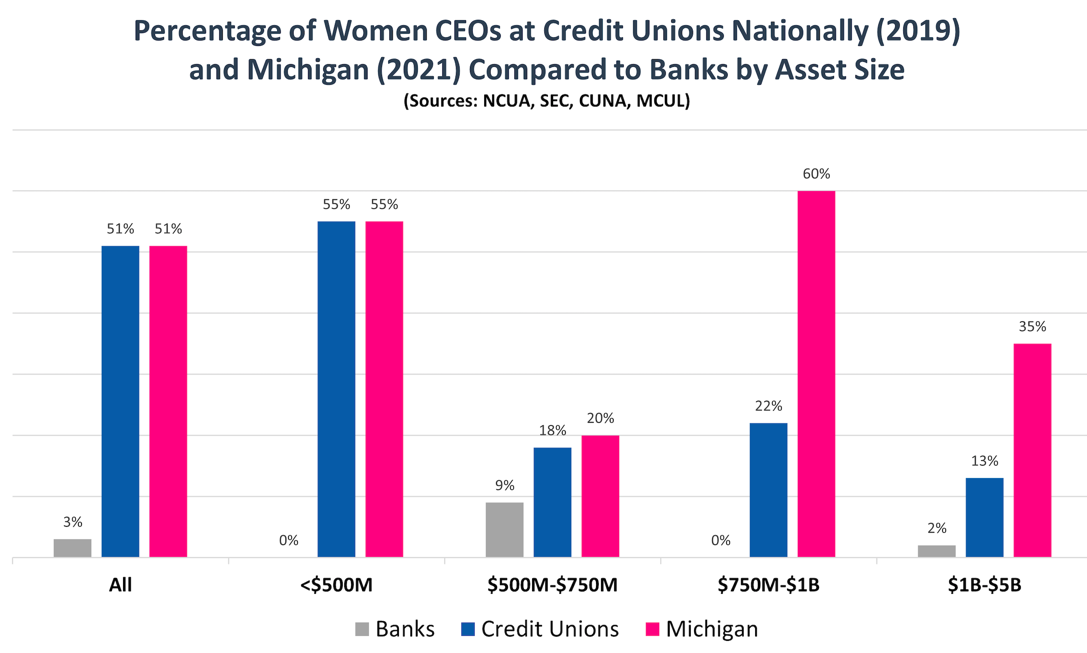 Nationally, women run 51% of credit unions overall compared to only 3% at banks. At credit unions under $500 million in assets, the percentage of women leaders is even higher at 55% for both Michigan credit unions and credit unions nationally. As asset size increases, female representation at the CEO level decreases for credit unions but increases for banks as shown in the chart above.[3]
Michigan credit unions are also ahead of the country's credit unions and banks when it comes to women leaders at large-asset-size institutions. Sixty percent of credit unions in Michigan with assets between $750 million and $1 billion are led by women. At the $1 billion to $5 billion asset size, Michigan credit unions have more than double the number of women CEOs than credit unions nationally with 35% being led by women.
Michigan State University Federal Credit Union, with assets exceeding six billion, is led by CEO April Clobes.
"As reflected in the data, our industry has been working to grow the number of women and people of color in leadership in credit unions," said Clobes. "At MSUFCU, we have a variety of leadership programs to ensure that every person has an opportunity to be prepared to move into a leadership role. We have several women on our board and supervisory committee, and the majority of our managers and leaders are women. Creating an inclusive environment for women and people of color makes our organization stronger and more successful."
In the boardroom, CUNA reports that a board member of a credit union is "twice as likely to be a woman relative to a board member of a bank," with 33% of credit union board seats held by women compared to 16% at banks. Looking at the top 20 credit unions in Michigan (in asset size), our state is better than the national average, but not by much, with only 37% of the board seats held by women.[4]
The Michigan Credit Union League (MCUL) has also helped advance the representation of women in the industry when it selected its first woman president/CEO in May of this year. Out of the 35 state credit union leagues around the country, Michigan is only one of five leagues with a woman president. Further, the MCUL Board is led by Chairperson Heather Luciani, CEO of Marshall Community Credit Union.
"Our credit unions, membership and communities benefit from the gender diversity that we bring to our board rooms and decision making," said Luciani. "The data reflects our commitment to overall diversity and inclusion for credit union stakeholders and I am proud to be part of, and help to represent, an industry that recognizes and elevates women in leadership roles."
While this article does not address women holding other c-suite positions, nor does it address general representation of women of color in the industry, it does show that credit unions are scoring better than banks at hiring women leaders. We also learn that Michigan's large-asset-size institutions rate higher than the national average.
As with any data, you can choose whether you focus on the positive or negative. As an industry, we should be proud that 51% of credit unions nationally are led by women – a significant difference between credit unions and the dismal S&P 500's only 6% women leaders.
"United Federal Credit Union values different perspectives at all levels of our organization, including the board and leadership team. With 33% of our board of directors and 43% of our senior leadership team being women, we see the positive impact that gender diversity brings and are making investments credit union wide to embed a larger focus on Diversity, Equity and Inclusion (DEI) across the organization," said United CEO Terry O'Rourke. "Working with a DEI consultant as our partner and guide, we recently launched a Diversity Council that includes employees from several locations and all levels of our team to incorporate and embrace DEI in everything we do."
There are several reasons to celebrate credit unions, and strong female representation and DEI initiatives are chief among them. Kudos to our Michigan credit union boards and the MCUL board for setting the standard for women leadership moving forward. While we have some progress to be made, not only on female representation but also diversity in general, we are heading in the right direction.
Patty Corkery, President/CEO of the Michigan Credit Union League
---
1. CUNA article published in CU Today, May 11, 2021.
2. Catalyst, Women CEOs of the S&P 500 (April 1, 2021).
3. It should be noted that CUNA is reporting CEO data from 2019 and the Michigan data is as of March 2021. Therefore, the comparisons may have changed slightly.
4. NCUA 3-31-21 Profile data at www.ncua.org
Go to main navigation