MCUL Meets with Gov. Whitmer, Shares COVID-19 Response Efforts on Behalf of Hardest Hit Consumers and Small Businesses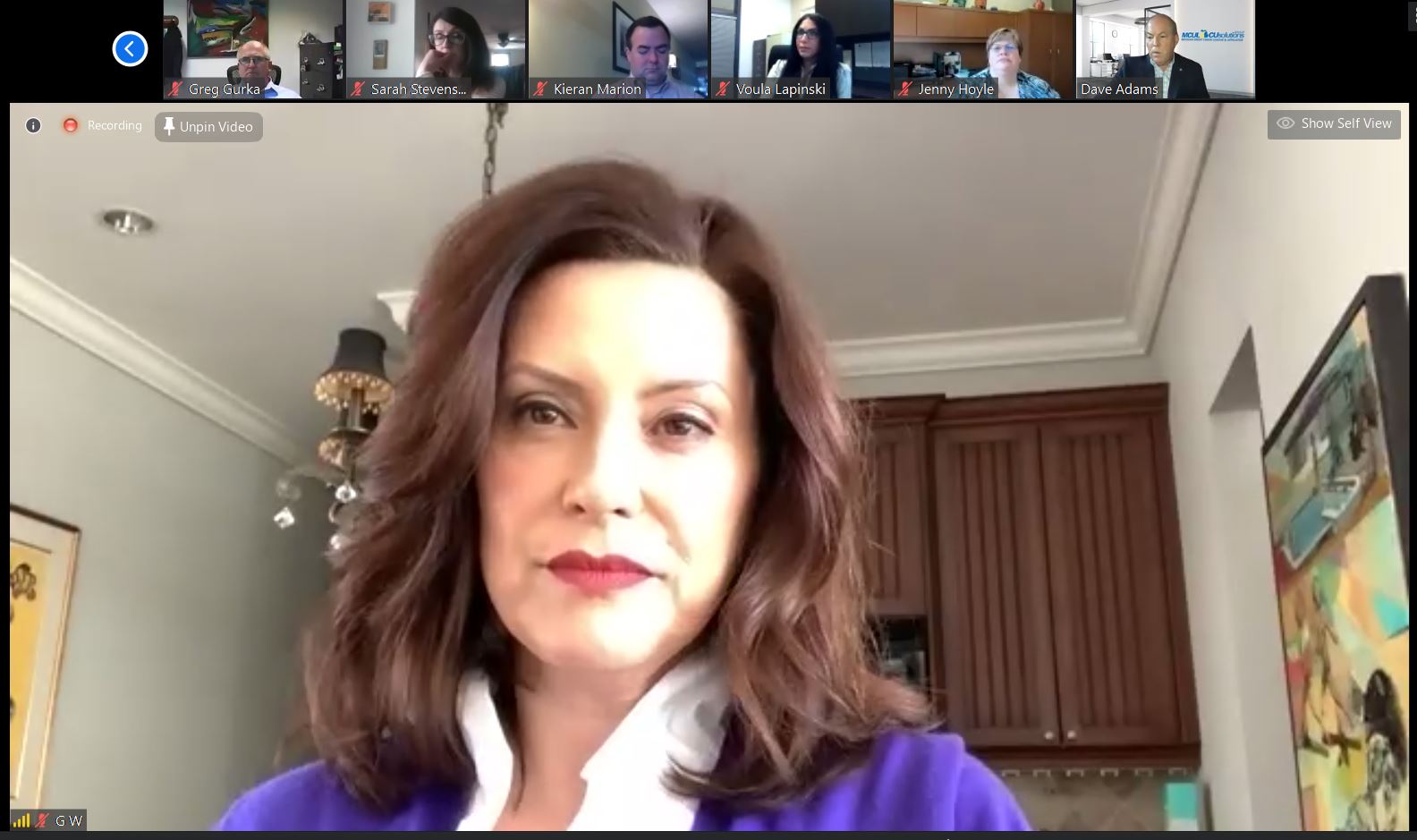 Today, more than 400 credit union professionals and volunteers met with Michigan Governor Gretchen Whitmer and Department of Insurance and Financial Services (DIFS) Director Anita Fox. The Governor and Director Fox shared insights regarding the impact of the COVID-19 health and financial crisis on Michigan's residents and business community.
The Michigan Credit Union League (MCUL) CEO Dave Adams said Michigan credit unions' primary focus is on providing for the consumers and small businesses hardest hit by the pandemic. Adams asked Whitmer and Fox, as they give legislative and regulatory guidance, to help credit unions serve those hardest hit, without creating undue financial stress for lenders themselves. Strong, healthy credit unions will be most able to serve these hardest hit members.

Gov. Whitmer thanked the League for inviting her and remarked that Michigan credit unions have truly shown themselves to be an essential part of helping consumers through this crisis. Fox echoed Whitmer, recognizing that Michigan credit unions have been finding various ways to step up to uniquely reach those currently in need.

Whitmer and Fox then took questions from Michigan credit union leaders and expressed interest in working with MCUL in the near future to engage lawmakers and provide the best legislation for credit unions and their members.
Prior to the discussion with the credit union industry representatives, MCUL shared highlights regarding credit unions' financial service relief efforts, including the following:
As essential service providers, credit unions have stayed open for business, serving their 5.5 million members statewide, while restricting most branch operations to appointment-only for the safety of employees and members.
While more than half of Michigan's 10,000 statewide credit union workforce has had to work remotely, this has not hindered their ability to serve members and businesses via call centers, drive thrus, ATMs and mobile banking services, offering new loans, income-saving refinanced loans and access to emergency services for cash needs.
MCUL reported to the Governor that since her March 24 "Stay Home, Stay Safe" order was issued, Michigan's credit unions have been voluntarily reaching out to hardest hit members to help delay mortgage and other loan payments, waive fees, provide emergency cash, help small businesses access SBA paycheck protection loans and respond to other extraordinary needs.

From member credit union data surveying the seven weeks from March 24 to May 12, MCUL reported these statewide highlights:


An estimated 10,000 Paycheck Protection (PPP) loans have been made to very small businesses with an average of fewer than 5 employees. Median average loan sizes were $20,000 and one in ten businesses got financing from a credit union after being turned away by other lenders.
Virtually all Michigan credit unions have been voluntarily assisting financially impacted homeowners by delaying foreclosures and offering payment delay (forbearance) arrangements. More than 140 credit unions and support organizations signed on to the Governor's April 23 MiMortgage Relief Partnership that sought to broaden these efforts to all mortgage loan servicers in Michigan.
For the seven weeks measured, an estimated 6,000 homeowners owing $400 million in mortgage loans have received assistance with their mortgage payment delays (forbearance), and more than 100 foreclosures have been postponed due to financial hardship related to temporary income loss.

On auto and other consumer loans, credit unions have allowed more than 170,000 skipped payments on loan amounts totaling over $700 million. In virtually all cases, the normal skip-a-pay fees were also waived.
Also, on auto and other consumer loans, more than 40,000 loans, covering $450 million in outstanding loans, have had payment terms modified to provide financial relief.
Emergency cash loans, usually carrying a zero-percent loan rate and deferred payments, were made to more than 4,400 financially impacted consumers on an estimated $15 million in loans, providing an average of $3,500 per borrower — essential funds for paying rent, other critical bills and just putting food on the table.
Credit unions are providing impacted members with more than 300,000 fee waivers for late payments, early CD withdrawals, Insufficient funds fees and ATM and overdraft fees, saving impacted members more than $6 million.
Credit unions are also stepping up their normal community service efforts, expanding support to nearly 3,000 organizations statewide with over $1.2 million in contributions, including an estimated $200,000 in support for first responders. These efforts have included the donation of gloves and masks, pizza lunches and snacks for healthcare workers, small grants for local restaurants and partnering with local radio stations to recognize and reward healthcare heroes.
MCUL renewed its support for Gov. Whitmer's efforts to protect hardest hit consumers while understanding the need to keep credit unions and other providers strong.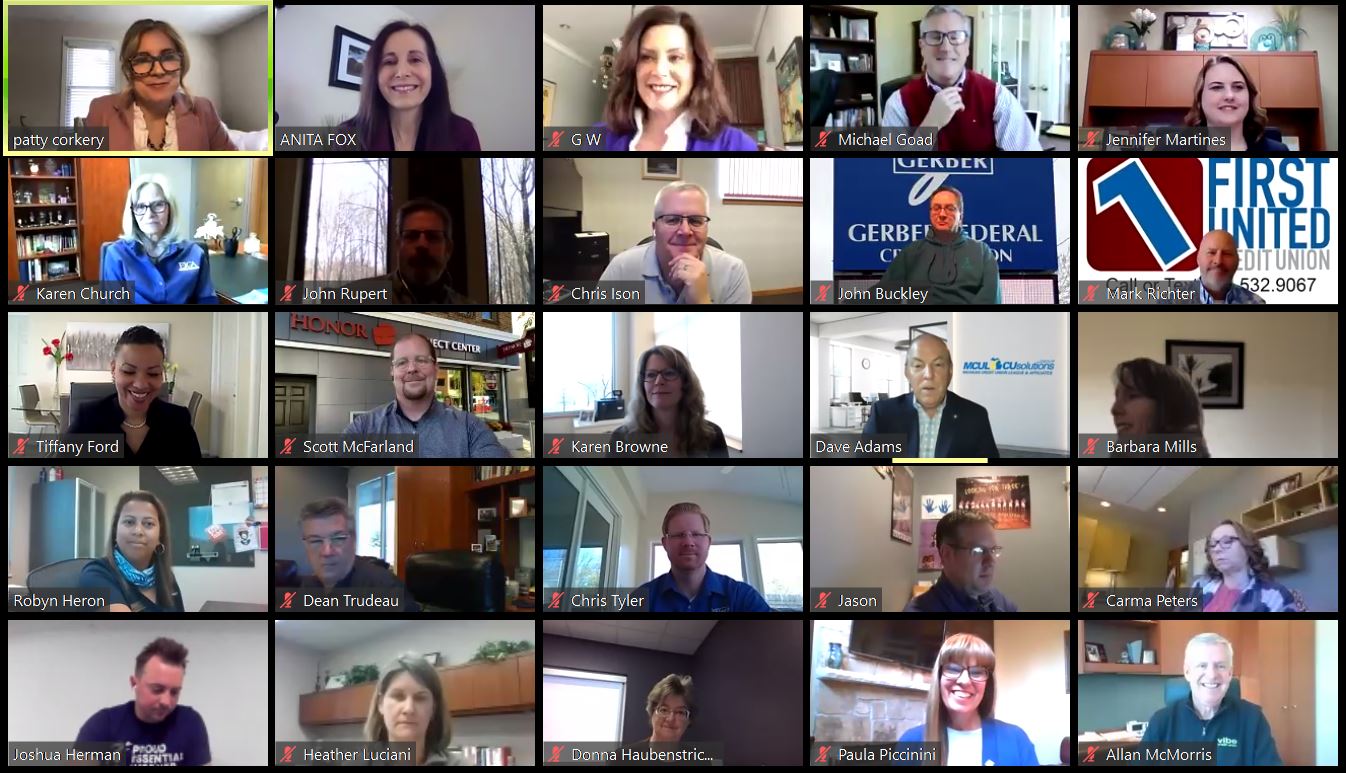 "The support, flexibility and assistance Michigan's credit unions have provided to Michigan homeowners and small businesses has been critical to helping Michiganders navigate the financial challenges caused by COVID-19," said Gov. Whitmer. "Michigan's financial institutions will be key to our efforts to restore and grow Michigan's economy going forward."
"Michigan's financial institutions have remained open, accessible and available to help their customers throughout this crisis," said Fox. "We are proud to partner with Michigan's credit unions as they work to help the communities they serve during these challenging times."
"Michigan is fortunate that Gov. Whitmer and regulators understand that federally insured financial institutions are also under financial stress in this climate. Our Governor has provided welcome and helpful guidance to encourage consumer-friendly banking practices," said Adams.

"As we work together to come out of this unprecedented health and financial crisis, credit unions will use their not-for-profit, service-driven ethos to make an impact on those hardest hit, always in close cooperation with our Governor, lawmakers and regulators," continued MCUL's CEO. "Credit unions' financial strength and member-ownership structure drives their ability to stretch further during the toughest of times for their members."
Go to main navigation