Community Choice Donates $2,550 to Gleaners Food Bank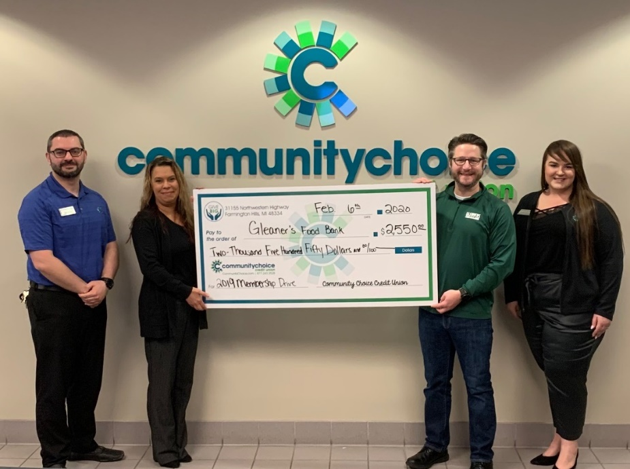 Community Choice Credit Union recently made a $2,550 donation to Gleaners Food Bank, an organization determined to end hunger and empower people who live in Southeast Michigan. The charitable funds were raised in connection with a successful new member promotion, Give Big $50.
In total, the special promotion, where new members who opened checking accounts were given a $50 deposit and a matching $50 was donated to a local charity, raised $8,700 for five local charities. The amount designated for each charity was determined by the number of new accounts local member centers opened. Gleaners was the recipient of funds matched at the Warren, Eastpointe, Shelby Township, and St. Clair Shores member centers.
Community Choice is proud of its affiliation with Gleaners and is delighted to have raised such a significant donation for the charity. "We've had a great relationship with Gleaners over the years and are honored to play a role in helping them distribute nutritional food options to people in need," said Jeremy Cybulski, Community Engagement Manager at Community Choice. "These types of promotions fit perfectly into the culture at Community Choice. We like to use the expression 'Give Big,' because we're always looking for ways to support the community while giving back to our members."
The four other charities receiving donations were Rainbow Connection ($2,750), Wayne Metro Action Agency ($1,100), Jackson Friendly Home ($1,300) and Grant Me Hope ($1,000).
Go to main navigation