Michigan Legacy's Carma Peters Talks New Mobile Video Technology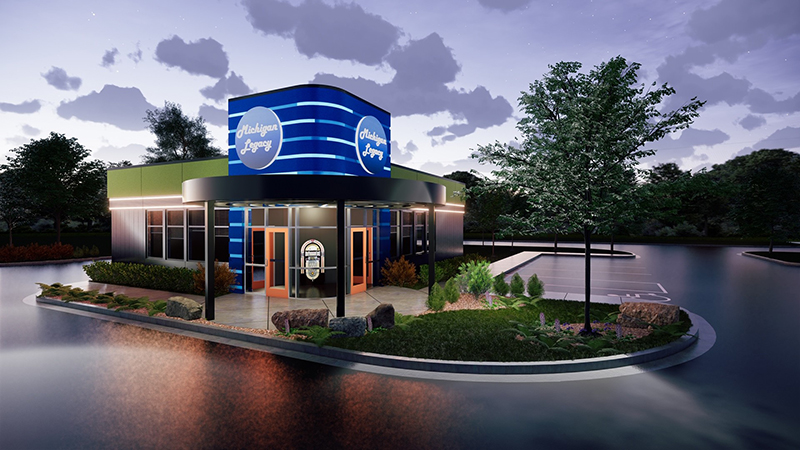 Michigan Legacy Credit Union recently announced its adoption of POPi/o Mobile Video Cloud (POPi/o), the industry's first interactive mobile video banking solution. This makes Michigan Legacy the first financial institution in Michigan to deliver video-enabled assistance in-branch and across web and mobile channels.

"Michigan Legacy's new strategic vision provides that ideal blend of physical and digital branch services, not just for embracing the future of banking but helping create it as well," said POPi/o founder and CEO Gene Pranger, who created the concept of video banking with the Interactive Teller Machine (ITM), and now POPi/o as the completion of that vision. "POPi/o is thrilled to be part of the groundwork for such an endeavor, utilizing custom-built mobile video technology to reimagine the branch network by making virtual yet in-person banking experiences a reality."

Merging mobile video chat with real-time digital collaboration between consumers and financial institutions, POPi/o's patented platform provides face-to-face, video-enabled support with experts and representatives while simultaneously facilitating complex banking tasks, including in-video deposits and transactions, document approvals and applications, secure document exchanges, ID verification, consultations, account management and more.

In addition to implementing video banking services through POPi/o, Michigan Legacy's new business plan includes selling up to four existing branches and building four new branches, all with inviting features for serving member-owners in the current vicinity of the existing branch footprint. The credit union has also launched a Community Development Team for providing assistance by mobile branch staff members at a business site, delivering services to those who are unable to visit a branch during normal business hours.

To help financial institutions best serve customers and improve internal performance, POPi/o's Executive Dashboard and Support Center provides detailed call histories, analytics and advanced management functions, including an industry-first application for emotive recognition. POPi/o is also easily deployed within existing systems and allows smooth presentation of LOS (loan origination system) documents and incorporation of other current customer service applications.

MCUL talked with Michigan Legacy CEO Carma Peters to hear more about their adoption of POPi/o.

What was the primary idea behind adopting POPi/o?
This has been a three-year strategic planning discussion with the Michigan Legacy Board and Leadership Team to look at the future viability of the credit union and our branches. The teams looked at a vast array of data to look at and understand the credit union's branch and transactional trends and points of contact with our owners. By the time we are done, over a multi-year plan, with all of our six current branches, we will reduce our square footage overhead by 35,000 square feet and provide new branches to old tired branches, and provide more service that the owners need.

How is this technology different from ITMs?
First of all, it's less expensive and provides much more integration than we could find with credit unions currently utilizing ITMs as an option. When our leadership team looked at ITMs, it would have cost us more than $2.5 million dollars for 10 ITMs. This would, in essence, require us to send out more than 20,000 owners to 10 ITMs that may or may not have been convenient and may or may not have been able to do everything the vendors promised.

As the team looked at different technology, this was the solution for us. With our updated ATMs and the video platform, we can do 99% of our current branch/owner transactions for a fraction of the cost and no replacement costs or building costs.

What does POPi/o give the credit union that it didn't have before, and what types of services is this technology built to accommodate?
We are currently working with our Core Processor CU*Answers to integrate a link into our existing mobile app that will not force our owners to download a separate app, thus making the video platform available to all of our more than 20,000 owners with the mobile device in their hands or their desktop computers, iPads, etc.

The platform allows our owners to directly connect to Owner Connect (general questions), Loan Connect (loan apps and closings), Card Connect (card service questions and resolutions), Mortgage Connect (application) and Recovery Connect, our financial assistance for owners experiencing financial hardship or difficulties.

Can you talk more about the Community Development Team, the logistics of how the team works and the motivation to start the team?
The Community Connect Team will be able to go to a place of business and or a community event and assist owners where they are. As we looked at the declining number of in-branch transactions, we knew it was time to take an Amazon-type approach and go to owners and potential owners where and when it is convenient for them.

The Community Connect Team is mobile with surfaces to assist any owner or potential owner at any established place of business (there is no cash with this team) account opening, loan application and closing, maintenance on an existing account or teach them to utilize Remote Deposit Capture, Person to Person (P2P) payments and more.

The credit union believes this could be the fastest growing part of our business. With a car and staff, we can schedule or respond to an owner's text for service in the geographical communities we serve.

How do you think members will respond to this new service?
How can you go wrong with utilizing technology without the frustration of bots? Rather, this gives them live experts willing to assist and educate; no more "I am sorry I do not understand your request."

The team and board learned from studying that the demographic of owners older than 55 years of age are the fastest growing adaptors of technology. Helping them with personalized service seems quite logical. We have owners who have adopted bill pay and mobile banking so that when they are unable (health reasons or travel reasons), the owners know their bills are paid as they have set that up and no longer have to worry about insurances being cancelled or many other things.

To learn more about how financial institutions like Michigan Legacy Credit Union are using POPi/o to improve financial services, visit popio.com.
Go to main navigation