In Brief, Dec. 20
Advocacy Update: Min Wage / Paid Sick Leave "Non-Decision" by MI Supreme Court
The Michigan Supreme Court issued a "non-ruling" this week stating they will not issue an opinion on the legislative procedure used to adopt and amend the two ballot initiatives, MI Time to Care and One Fair Wage. The opinion was 4-3. More information regarding the ruling can be found here.
MCUL 2020 Spring Leadership Development Conference
Credit union CEOs should watch their mail the first week of January for information to share with directors and committee members about the MCUL & Affiliates 2020 Spring Leadership Development Conference. The event will move to the Grand Traverse Resort and Spa in Traverse City, May 1-3. Registration is $469 per person.
Mortgage Lending Made Easy
MCUL will deliver a Mortgage Loan Originators workshop focused on Mortgage Lending Made Easy: The 4 Steps to Originating a Compliant Real Estate Loan. The training will be held March 19 at LAFCU in Lansing. Registration is $299 per person.
American 1 Opening New Branch in Downtown Jackson
American 1 Credit Union recently announced that they will be opening their 16th branch in early 2020 in downtown Jackson. Their new location will be on the first floor of One Jackson Square in the space formerly occupied by Huntington Bank. The branch will house the new American 1 Contact Center as well as a banking space.

"Downtown Jackson is on the upswing with new businesses and residential buildings," shared American 1 Credit Union President/CEO Martha Fuerstenau. "This new location will allow us to serve our current and future members who live and work in the heart of our home city."

The downtown branch will be open Monday through Saturday and will feature three universal banking stations and a convenient no-fee ATM.

This will be the third branch American 1 has opened in Jackson County in one year, making a total of eight branches in the county and deepening American 1's roots in Jackson, which began in 1950. American 1's home office and corporate offices are located on East Michigan Ave., less than one mile from the new branch.

KCCU Celebrates New Metro Health Village Branch Opening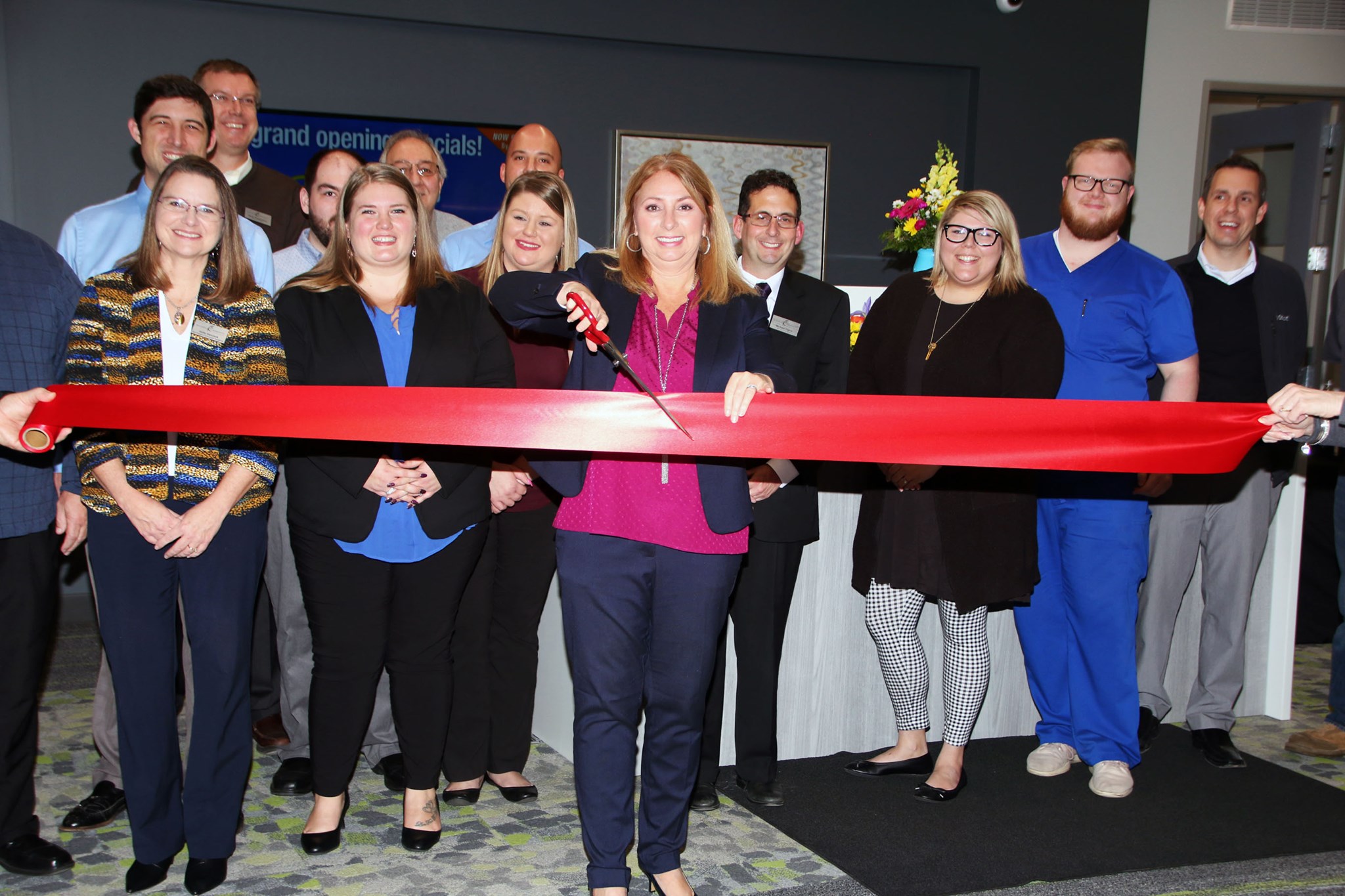 Kellogg Community Credit Union (KCCU) recently held a ribbon cutting celebration at their newly built branch located at 2270 Gezon Parkway SW in the Grand Rapids Metro Health Village near the Family Fare and Metro Health Hospital in Wyoming.

KCCU elected to pursue U.S. Green Building Council's (USGBC) Leadership in Energy and Environmental Design (LEED) green building certification program for this branch location. The new branch was designed and built using many sustainable design attributes such as: location & transportation, sustainable sites, water efficiency, energy savings, materials & resources, and improved indoor environmental quality. Over the next few months KCCU will be working on obtaining their LEED certification.

"We are excited to have our beautiful new branch in the Metro Health Village open – ready to serve both new and existing members," stated Kellogg Community Credit Union CEO Tracy Miller. "Everyone has been so welcoming to us over the past year when we opened our temporary branch here, and we look forward to building those relationships for many years to come."

"We welcomed Kellogg Community Credit Union to the Wyoming-Kentwood chamber a year ago when they first moved into their temporary location around the corner," stated Bob O'Callaghan, president of the Wyoming-Kentwood Chamber. "Since then, they have been very involved with the Chamber and community events, and we look forward to working with them as they grow and expand in the Grand Rapids market."
The new branch offers a full array of financial assistance with daily transactions, checking and loan services, mortgages, investment services, commercial accounts including lending, drive thru service and a 24-hour drive up ATM.

Motor City Co-op Credit Union Employees Volunteer for 750 hours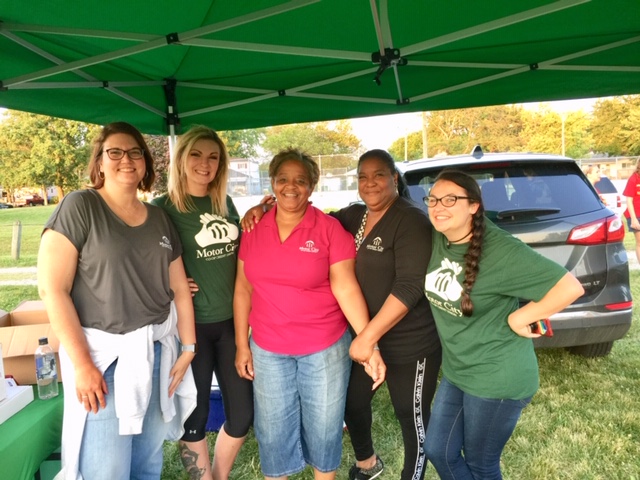 Each year, Motor City Co-op Credit Union has asked their employees to look within their communities for Helping Hands opportunities. And each year, employees step up to help those in need.
Since 2014, Helping Hands, Motor City's volunteer program, has provided more than 4,000 hours in schools, churches, neighborhoods, shelters, local community and charity events. The needs vary from coaching a baseball team or registering runners, to raking leaves and providing assistance to seniors.

"It's always rewarding to work with a team of Motor City volunteers on a project," commented Motor City Co-op Credit Union President/CEO Steven Andrews. "I'm proud to say, each employee is committed to this program and volunteers their time on evenings and weekends".

Lori Hickey, program coordinator since its conception, manages the program. She has added enhancements over the years that include special incentives for those who meet or exceed their 10-12 hour obligation. Organizations and charities can contact her with their needs at lahickey@motorcitycoopcu.com

Honor Credit Union Voted the Herald-Palladium's 2019 Readers' Choice
Honor Credit Union is grateful to be voted the best local bank/credit union by the Herald-Palladium's 2019 Readers' Choice survey.

According to the Herald-Palladium, the contest was held in two steps; first, people were asked to nominate their local favorites in a variety of categories. After the nomination period ended, the nominees with the most votes moved to the second round of voting for the top winner. A total of 137,553 votes were cast by 5,269 voters.

"It is truly the greatest honor to be chosen by our members and our communities," commented Honor CEO Scott McFarland. "The annual Readers' Choice survey captures the voices of our communities and makes it possible to shine the spotlight on so many great businesses in Southwest Michigan. We're humbled to be named the top choice in our category, and we want to thank each person who took the time to vote for Honor. Each one of our members make us who we are."
No Credit Union Consortium Meeting in January
The Credit Union Collection Consortium will not be meeting in January. They will reconvene on Wednesday February 12, 2020 from 2-4 p.m. with an always-popular roundtable discussion on collection practices and policies at Genisys Credit Union in Auburn Hills. This is a unique opportunity to compare the operational norms at other credit unions with yours. The discussion will be moderated by the group's president Peggy Dombrowski.
Go to main navigation