Genisys Awarded Auburn Hills Chamber of Commerce Excellence Award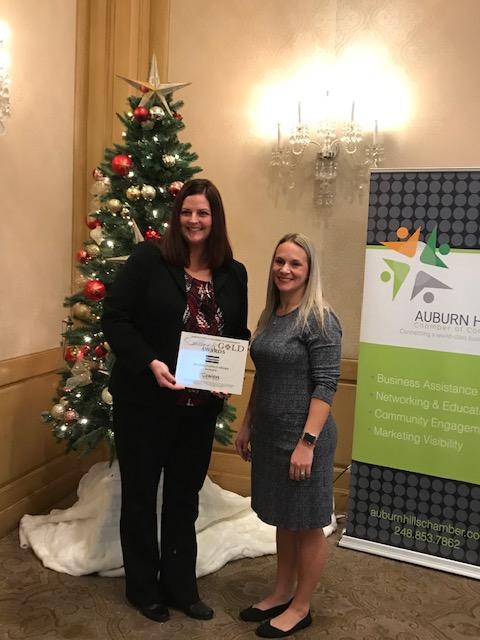 On Dec. 9, the Auburn Hills Chamber of Commerce recognized individuals and companies for their achievements in the areas of innovation, leadership and community involvement at the Silver & Gold Awards Holiday Brunch. Genisys Credit Union was awarded the Atlas Copco Excellence Award.

"We are honored to be awarded the Atlas Copco Excellence Award," said Jackie Buchanan, president/CEO of Genisys Credit Union. "We are proud to have many talented team members share their expertise with industry committees to ensure the financial industry continues to move forward."

The Atlas Copco Excellence Award recognizes companies that not only meet industry standards but have gone above and beyond to improve their company and industry expectations. In a highly regulated industry, Genisys has found a way to not just meet standards, but to move the bar higher and challenge the entire industry to follow suit in areas such as community giveback, technology and financial education.

Each year, Genisys' team members contribute nearly 5,000 volunteer hours and sponsor more than 975 events to benefit everyone who lives or works in their communities. The credit union has expressed its pride in partnering with the Auburn Hills community across a variety of events and business-focused initiatives designed to empower and teach upcoming professionals how to position themselves for success.

"In the spirit of improving our communities and giving back, Genisys is proud of everything we are able to give back to make our neighborhoods enjoyable places to work and live," said Buchanan.
Go to main navigation