MSUFCU Hosts Lansing SAVE Night for Families in the Lansing School District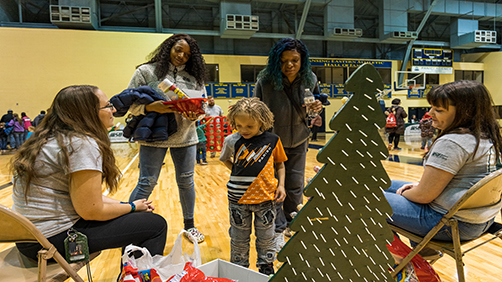 MSU Federal Credit Union (MSUFCU) sponsored Lansing SAVE night on Nov. 26 to introduce families with children in the Lansing School District to the program. The Lansing Student Accounts Valuing Education (SAVE) program is a school-based initiative free for students in the district. The program provides each kindergartener in the district with an MSUFCU savings account to be used for post-high school education as well as financial education in classrooms through high school offered by credit union employees.

"The goal of Lansing SAVE is to encourage families and students to engage in their Lansing schools, improve academic performance, and increase enrollment in post-secondary education and training," said MSUFCU Chief Community Development Officer Whitney Anderson-Harrell. "The MSUFCU savings accounts opened for each kindergartener gives the students and their families opportunities to save for their future education. We want to support youth in our community, and this program enables us to do this by providing age-appropriate financial education as they progress through their school careers."

Lansing SAVE and MSUFCU's Desk Drawer Fund have also partnered with Kroger. Kroger Rewards cardholders can now elect to have 1% of their quarterly grocery spending designated to the Desk Drawer Fund who will then divide these rewards equally among Lansing SAVE accounts.

If you have a Kroger rewards card, you can help by creating or signing into your Kroger.com account, clicking on "Community Rewards," searching for RN620, and clicking on "enroll now."

The City of Lansing has partnered with the Lansing School District and MSUFCU since 2013 to provide the Lansing SAVE program. Parents, guardians, and students can contribute to the MSUFCU savings accounts throughout elementary, middle, and high school at any Credit Union branch. After high school graduation, students use their Lansing SAVE accounts for any post-secondary education, such as college or skilled trades training.
Go to main navigation