What CUs Should Know About Overdraft/NSF Fees to be Discussed in Webinars
MCUL will host an Overdraft Issues webinar on Dec. 12 from 1-2 p.m. (EST).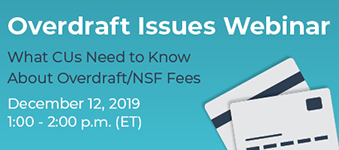 The webinar will bring together credit union CEOs, compliance officers and in-house counsel to discuss recent lawsuits surrounding overdraft protection programs and get participants up-to-speed on the type of allegations being made that may potentially expose financial institutions to significant losses.
The session will address the need-to-know information on overdraft and NSF fees, and provide insights into the state of the law and regulatory landscape on this topic. Best practices on policies, account agreements and waivers will also be addressed.
Presenters will include Patty Corkery, EVP/COO and general counsel for MCUL & Affiliates and Chuck Holzman, attorney and founder of Holzman Law, PLLC. Registration is $29.
Go to main navigation