2019 Capitol Day: Attendees Discuss Credit Union Priorities on Lawmakers' Turf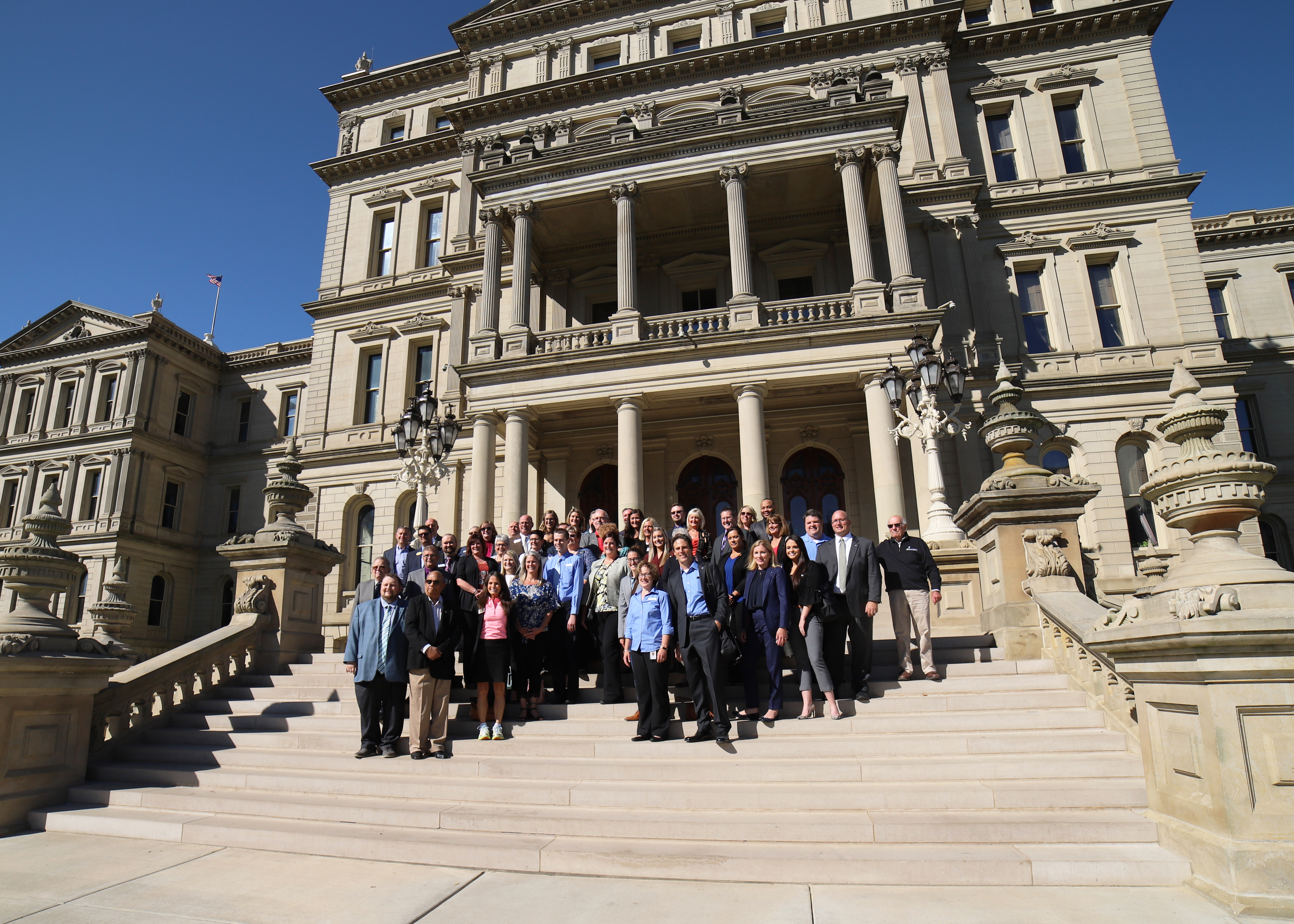 On Tuesday, Michigan Credit Union League (MCUL)'s biennial advocacy event, Capitol Day, brought approximately 60 credit union leaders to Lansing. This event is a chance for the statewide credit union community to discuss industry priorities with state lawmakers and staff in an effort to further push and advocate for the issues at the forefront of the movement.

This year, the Michigan credit union community marched from MCUL's office to the Capitol, where lunch was hosted for legislators and their staff. In years past, the event was held in the House building. This change of venue made it easier to meet with a larger percentage of legislators.

Additionally, this year's Capitol Day happened to land on the day of the state's budget passage, which made an even larger amount of legislators present for meeting with members of the credit union community.

Throughout the afternoon, more than 400 legislators and staffers visited with Capitol Day attendees to discuss credit union priorities.

Scott Pauly, president/CEO of Awakon Federal Credit Union, said Capitol Day is about "being able to connect with our lawmakers from Northern Michigan, and to meet them on their own turf. It brings a whole new perspective on the commitment that credit unions have."

Pauly continued to say that coming together to present a unified message is "what it's all about," and said one of the credit union's current hot topics that he came to discuss was financial elder abuse and exploitation. "We've seen a couple [elder abuse] situations recently and some of the legislations out there could assist credit unions in that regard."


Also representing Awakon Federal Credit Union was Bernie Schmeltzer, the credit union's president of the board. He stressed the importance of discussing data security and cannabis banking, the latter of which he hopes to see movement on the federal level in the coming year.

When asked how this event inspires change in the past, the returning guest said, "When they see you on a personal level and see that you came to see them, they appreciate it."

Kris Lewis, CEO of Allegan Community Federal Credit Union, said the event gives smaller institutions like his a chance to share their story with lawmakers so the credit union can get opportunities to continue to grow. "Regulations tend to make it difficult for us to survive, so if we can talk about things that help put money back into our members' pockets, that's always a good thing."

Like Pauly, data security was also top of mind for Lewis, who expressed frustration at a lack of legislative action in recent years. "It would be great if we could finally get something moving down a path because we lose tens of thousands of dollars a year just trying to work through card fraud. Being a smaller institution, it would be nice to put that movie money back in our members' pockets rather than taking it out."

While the credit union leaders in attendance regularly speak with their district representatives back home, Lewis pointed out that Capitol Day offers them a chance to catch legislators stationed in other districts — ones that don't come to their credit union.
Go to main navigation