In Brief, Sept. 13
MSUFCU Earns Awards from Marketing Association of Credit Unions
MSU Federal Credit Union (MSUFCU) is pleased to announce it has received two awards from the Marketing Association of Credit Unions (MAC): one in the category of Direct Mail Series, and the other in Marketing Segment Program.

In the Direct Mail Series, the Credit Union team created and sent mailers to incoming Michigan State University (MSU) and Oakland University (OU) students and their parents promoting a $100 offer to those students opening new checking accounts. For MSU, the response rate was 22.47%, and for OU, the response rate was 16.71%. The average response rate for direct mail campaigns is generally .5% to 2%, according to JWM Business Services.

For the Marketing Segment Program, the MSUFCU team appealed to new MSU and OU students with an introduction to the Credit Union. The combined response rate for the mailers was 20.64%.

"We are excited to receive these awards in recognition of our team's work in promoting our products and services to prospective members," said Deidre Davis, MSUFCU's chief marketing officer. "It is rewarding to connect potential members in a way that resonates with them. These mailings also inform them about a great opportunity to establish a partnership with a financial institution whose mission is to help them achieve their dreams."
Public Service Credit Union Unveils New "Open your Eyes" Window in Downtown Detroit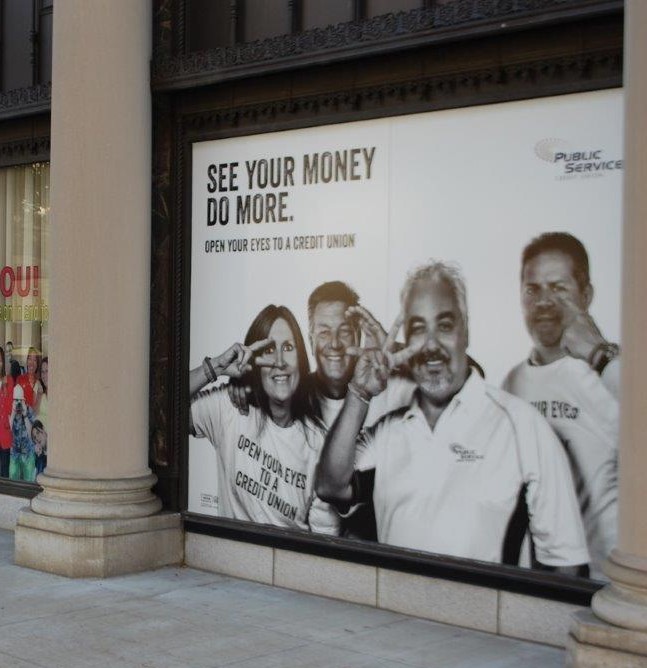 MCUL has recently launched a state category-level brand campaign "Open Your Eyes to a Credit Union®" to help consumers consider credit unions for financial services. In an effort to show the unity and partnership that the credit unions have with the league, Public Service Credit Union took this campaign a step further and unveiled a larger than life window in their downtown Detroit Cadillac location.

The new window features a part of the PSCU leadership team representing their campaign t-shirts with the caption "See your money do more. Open your eyes to a Credit Union." "We wanted to do something different and really capture the attention of the people walking by every day." Nadine Hohnke, Marketing Manager at Public Service Credit Union explained. "This is such a great campaign that highlights all of the good that credit unions have to offer." Members can already be seen taking "selfies" with the giant window and having fun with it.

To learn more, visit PSCUnow.com.

MCUL & Affiliates 2019 Contact Center Conference
The MCUL & Affiliates 2019 Contact Center Conference will take place Oct. 29-30 at the Delta Hotel by Marriott Kalamazoo Conference Center. New this year the event has been expanded to two days and a vendor showcase has been added to the first-day agenda. Registration includes dinner, networking and a tour of the Member Service Center at Consumer Credit Union for $399 per person.

MCUL & Affiliates 2019 Lending School
The MCUL & Affiliates 2019 Lending School at The James B. Henry Center for Executive Management in East Lansing will feature Don Arkell, a consultant with CULendingAdvice. Frontline topics will be the focus of the event on Oct. 22, with management topics being covered on Oct. 23. Registration is $219 per person, per day. The two days of insightful information will empower credit union staffers and management to make great loan decisions and earn more of their member's business.
Go to main navigation