In Brief, July 12
Credit Union ONE Supports Beaumont Children's Walk for Miracles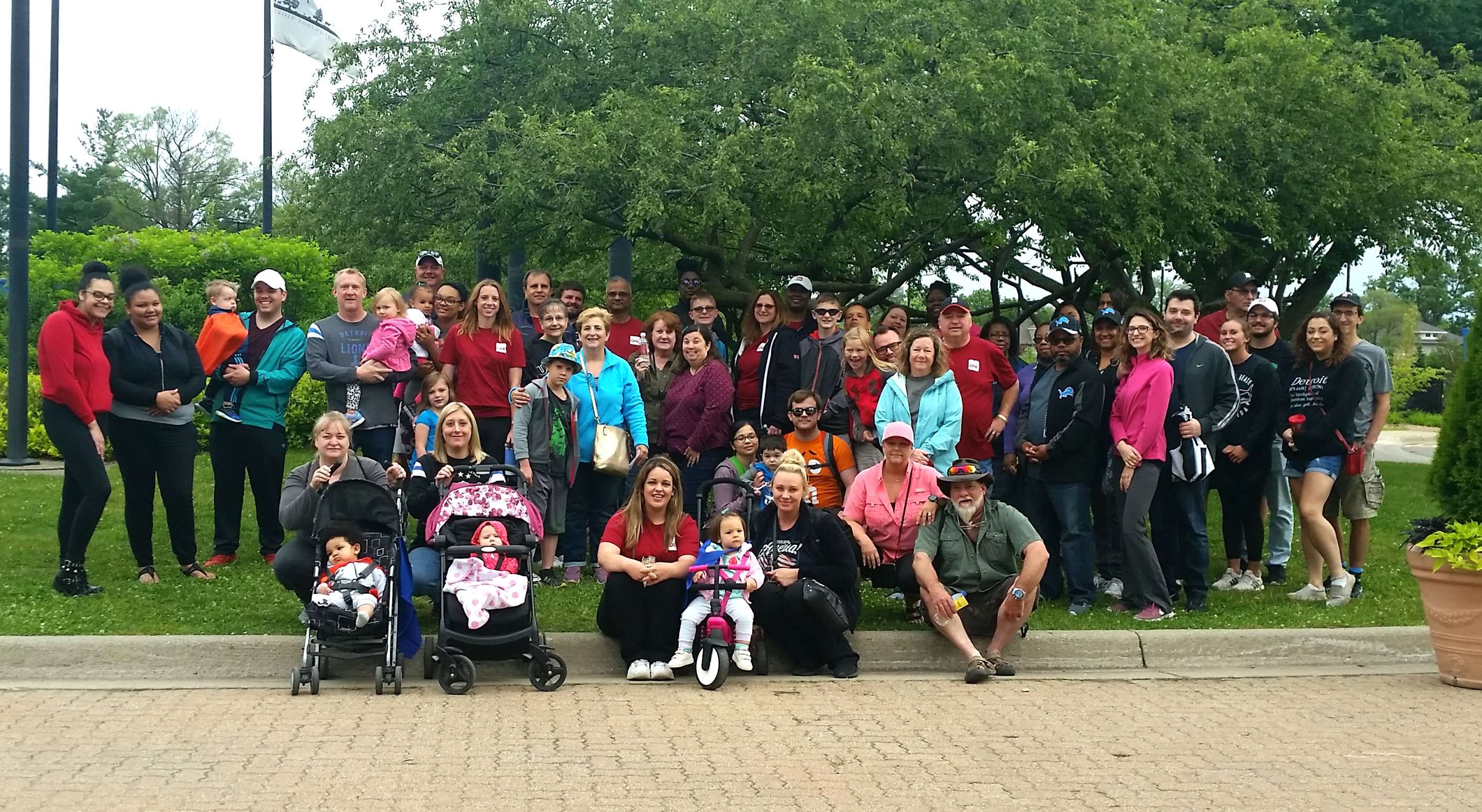 A Credit Union ONE Team of over 80 walkers participated at the Beaumont Children's Miracle Network fifth annual Walk for Miracles at the Detroit Zoo last month. Credit Union ONE, for the fifth consecutive year was also the $5,000 refreshment sponsor for the day.
Over 1,200 walkers with numerous pledges and corporate sponsors enjoyed the brisk morning and numerous other activities taking place during the morning. The 8:30 a.m. walk started on time with the goal of raising money for a very worthy cause, and for all participants to enjoy their morning at the zoo.

"I appreciate being a part of such a worthwhile event, and as an organization we are happy to provide a sponsorship and team of walkers to help make this day a success," said Credit Union ONE VP of Community Relations John Kozich. "I want to thank our employees and family members for helping to make this a great day."


PFCU Partners with the Portland District Library to Provide a Little Library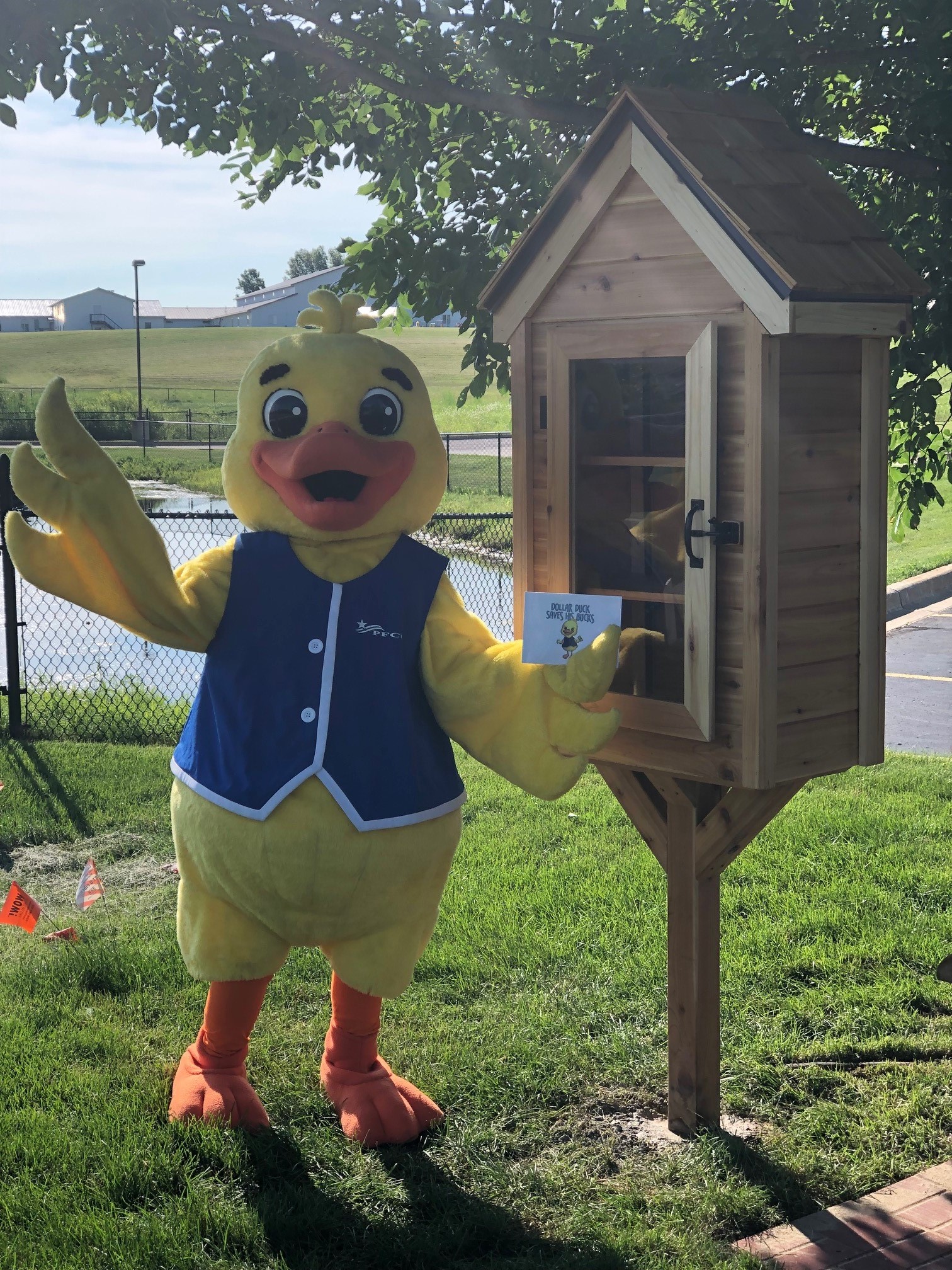 PFCU has partnered with the Portland District Library to provide the first Little Library in the Portland community. The Little Library will be accessible year‐round and community members are encouraged to take a book, leave a book or just sit and enjoy a story on the PFCU lawn. The library is hopeful that PFCU's location between Parkers Landing Apartment complex and the River Walk will be convenient for Portland residents to visit. While reading is always encouraged for kids they aren't the only ones who can benefit from the Little Library; there will be adult fiction, non‐fiction and teen books available as well.

The Little Library got its first book donation from PFCU's own, Dollar Duck. He left his story "Dollar Duck Saves His Bucks" for the community to enjoy.

"We are happy to support this great community collaboration," said PFCU President/CEO Harvey Hoskins. "I hope this helps encourage healthy reading habits for Portland residents".


Michigan Legacy Credit Union Surpasses Goal with Book Drive Campaign
Michigan Legacy Credit Union, a financial institution and proponent of supporting the communities of their owners gave back to schools in need with a book drive.
With six branches serving five counties, Michigan Legacy understands the critical importance of early reading. National statistics show that children not reading well by the third grade are four times more likely to drop out of school — (Students First, Statistics About Education in America).

"In our continued mission to support our young ones, we found a need in our surrounding communities for books in elementary schools," said Michigan Legacy CEO Carma Peters. "As part of our Legacy Impact program we decided to focus on doing what we could to supply books to local schools and the support we received was overwhelming!"
With the generosity of staff and owners, Michigan Legacy donated 2,099 books to ten schools within Southeast Michigan that surround its branch locations.

"We are extremely proud of this campaign and the smiles and gratitude we received from the students and teachers was overwhelming," continued Peters. "We are dedicated to improving the lives of our owners and communities. Legacy is about providing and contributing all types of tools and education, beyond just financial and we are so proud of this initiative."

Genisys Credit Union's Chesterfield Branch is presented the MI Parks & Rec Community Service Award
Genisys Credit Union's Chesterfield Branch was awarded the Michigan Parks and Recreation Community Service Award, which is granted to individuals or groups who show outstanding support to public recreation and park programs in the communities they serve.

The credit union was nominated by Chesterfield Township Parks & Recreation.
"We are so excited and honored to receive this award from MI Parks & Rec and thankful to the Chesterfield Township Parks and Rec for the nomination," said Genisys Credit Union President/CEO Jackie Buchanan. "Being able to support the communities we serve and help them be prosperous and fun places to live and work is what makes us, Genisys."
MI Parks & Rec held a Community Service Award Ceremony this past spring in East Lansing to celebrate the winners of the award.

MCUL & Affiliates 2019 Executive Summit
C-suite executives will find sessions on "Crucial Conversations," "The New Board/CEO Dynamic: Collaborate and Motivate," "Credit Union Spotlight: Grow Credit Unions by Always Doing What is Right for Members," "Strategic Issues Discussion for LAS and SAS CUs," "The U.S. Economy: Past, Present and Future" and "Destination Dark Web: Experience the Unknown Layers of the Internet" at the MCUL & Affiliates 2019 Executive Summit.

The agenda also includes "The C-Suite's Role in Creating a Safe and Positive Culture" and "A Practical Approach to Simplifying CECL: What CEO's and Board Members Need to Know." Online registration is now open for the event, being held Sept. 11-13 at The Inn at Bay Harbor, near Petoskey.

MCUL & Affiliates 2019 Telephone Collections School
"The Best Methods of Telephone Collections," "Skiptracing," "Negotiating Skills," "The Fair Debt Collection Practices Act," "Top Twelve Collection Tips," "How To Use The Internet in Collections" and "How To Handle Bankruptcy In Collections" are all topics being covered at the MCUL & Affiliates 2019 Telephone Collections School. The session will be facilitated by Steve Peterson, a well-known collections authority, on Nov. 13 in Novi. Registration is $219 per person.

MCUL & Affiliates 2019 Lending School
Don Arkell, a consultant with CULendingAdvice will be the facilitator of the MCUL & Affiliates 2019 Lending School taking place at The James B. Henry Center for Executive Management in East Lansing. Frontline topics will be the focus of the event on Oct. 22, with management topics being covered Oct. 23. Registration is $219 per person, per day. The two days of engaging and entertaining information will empower credit union staffers and management to make great loan decisions and earn more of their member's business.

MCUL & Affiliates IRA Essentials
The Hotel Indigo in Traverse City is the destination for three-days of training being offered by MCUL & Affiliates this fall. IRA Essentials takes place Sept. 25, Advanced IRA topics covered Sept. 26 and Health Savings Accounts the focus on Sept. 27. Registration is $219 per person, per day and includes a fun networking event at the H&L Social at The Hotel Indigo on the Rooftop the evening of Sept. 26.
Go to main navigation