AC&E 2019: MCUL CEO Dave Adams and Panel on Disruptors and Credit Union Adaptation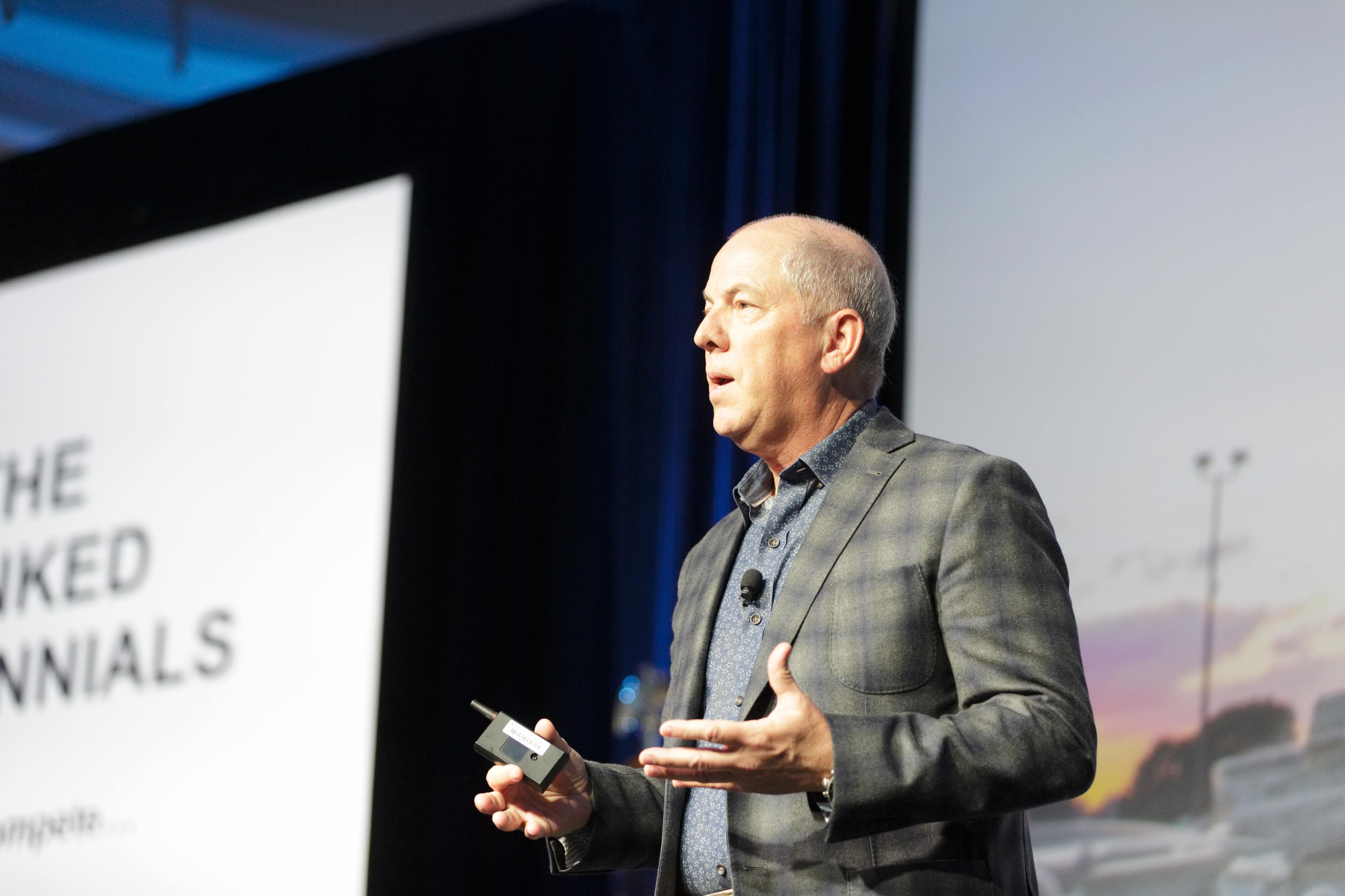 Friday morning, MCUL CEO Dave Adams delivered the keynote "Serving the Underbanked and Millennials." Managing money has become very complex, he said, speaking specifically about the choices that the underbanked and millennials have — a population that is targeted by so many companies offering options that may seem to be the right choice.

"When they're coming out of college, they need to find a way to finance their life and protect the nest egg," said Adams. "And these new 'disruptive' banking products seem appealing. And during this, credit unions are trying to stay relevant."

Adams mentioned the event's location, Detroit, and the economic hardships it's gone through and the challenges it continues to see, especially regarding an underbanked population, "At least 25% of U.S. households are still underbanked, and too often they're using alternative payday options instead of credit unions."
Trust is a big differentiator, he said. Statistics have shown that consumers are likely to trust credit unions, so the challenge is becoming aware so that our industry can serve the underserved.
Adams then cited current examples of alternatives that credit unions can offer consumers, such as Washington State Employees Credit Union's (WSECU) Q-Cash loan program — a $50-700 low-fee product — and One Detroit Credit Union's MyPay Today loan product.
"It can't be about ROI, it has to be about our not for profit tax exemption," said Adams regarding the mindset credit unions will need to properly create effective payday loan alternatives.
One Detroit CEO Hank Hubbard reiterated that point in a video, saying MyPay Today is a "break-even" product, but it's sustainable and 20% of their membership uses it. "Save them money, yes, but also help them get out of the rut of payday lending cycles."
"Credit unions need to fight the negative stigma associated with these loans and be firm in their convictions behind the 'why' for serving this market," said Adams. "More visibility of offerings is needed."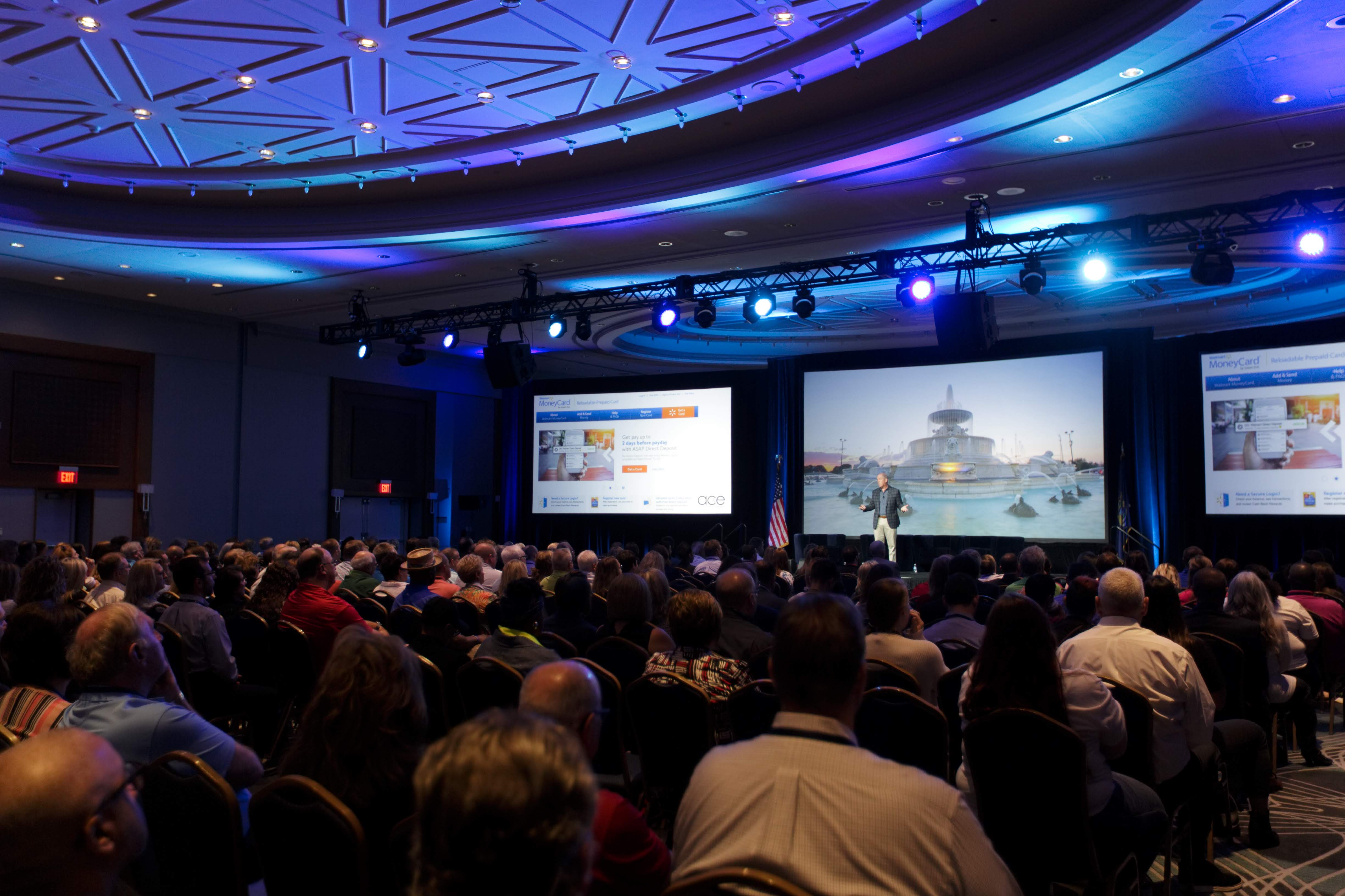 But payday lenders are credit union competitors in more than just product offerings. As Adams mentioned, the largest payday lender, Advance America, like credit unions, is also working on customer experience and satisfaction, creating welcoming physical spaces and easy-to-use digital ones.
Switching to neo-banks and challenger banks, Adams talked about the company Capway — a mobile app company and credit union competitor that has marketed themselves well to underbanked consumers. Credit unions can learn from the way they market themselves to be able to connect with consumers looking to have their needs met, he said.

Adams made note that these needs are not just urban needs, but payday lenders are also preying on people in rural areas, such as Niles, Michigan, where eight payday lenders have popped up.
"Why are we letting these other providers pop up without competing with them?" he asked before inviting three speakers on stage for an expert panel: author of The Unbanking of America, Lisa Servon, WSECU CEO Kevin Foster-Keddie and FinTech consultant Sean King on stage to discuss these issues.

Servon talked about her research banking millennials and spending time at payday lenders. She said to most of the millennial population, money means security for them, and they spend more time on their personal finances than perhaps given credit for in the media.

Millennials are stressed about money. Sixty-seven percent report that financial stress interferes with their ability to focus and be productive at work — a rate twice of the previous generation. A large part of this financial stress is the college debt load as tuition continues to rise past the rate of inflation, reported Servon.

She also found that seventy-three percent of millennials would be more excited about financial services from brands they trust, like Apple and Google. Brands are very important to them, and credit unions need to know this as they try to make themselves more aware to this population.

Echoing Adams' earlier thoughts, Servon stressed the additional need for credit unions to differentiate themselves from banks, which millennials don't trust.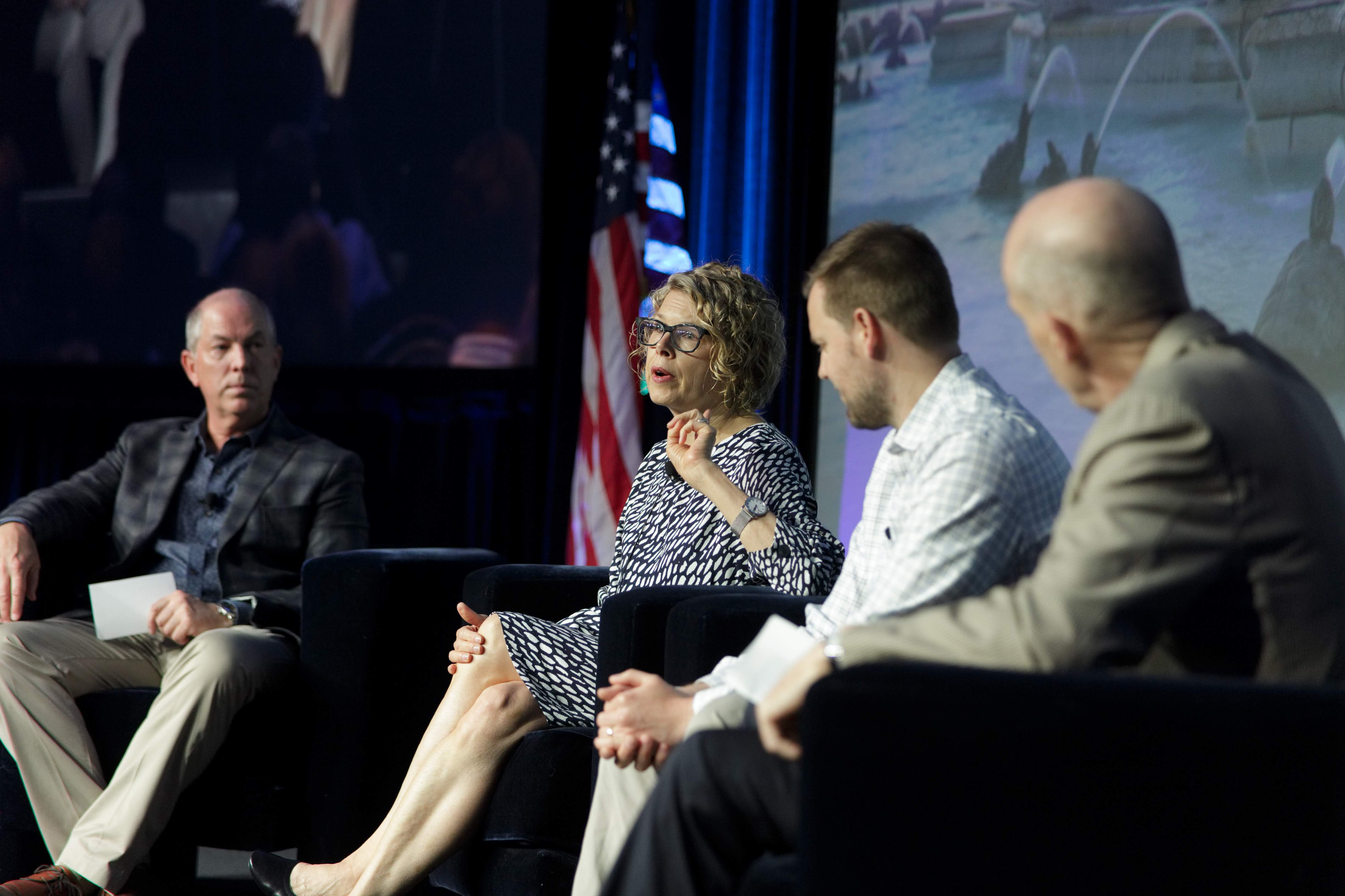 When Adams asked what her main message to credit unions is, she reported the most common reasons she heard when asking why someone chose a payday lender over something like a bank or credit union. They said cost, transparency of cost and service.

Foster-Keddie brought to the stage a CEO's perspective, primarily speaking on strategy and brand and the need to marry them successfully.

He mentioned adapting and evolving and how WSECU has branded themselves as "caretakers" while most credit unions have long branded themselves as the "regular guy," which Foster-Keddie said worked for a long time, but needs to change now.

Credit unions can do this, he said speaking about his payday loan program. It's becoming mainstream and credit unions will need to adapt in order to do it, but they can compete.

"Technology can help anyone self-manage their finances and get a better hold on their finances," he continued.

Coming from the FinTech side of things, King spoke from the aspect of user experience.

"There's nothing that neo-banks are offering today that any credit union can't also offer their members," he said. "Many credit unions are already offering objectively better value than popular neo-banks and challenger bank startups and are already focused on understanding members. Now there is just the need to develop and adapt to new trends and technologies."

King pointed out that credit union members are younger than those of community banks, but significantly older than the customers of top national and regional banks. He also brought up the national credit union demographics, which are not the underbanked.
And there is a large attrition, nationally, from consumers who don't see credit unions as savvy enough for their needs once they turn a certain age, "and this is happening at the same time that so many other digital options are exploding," said King.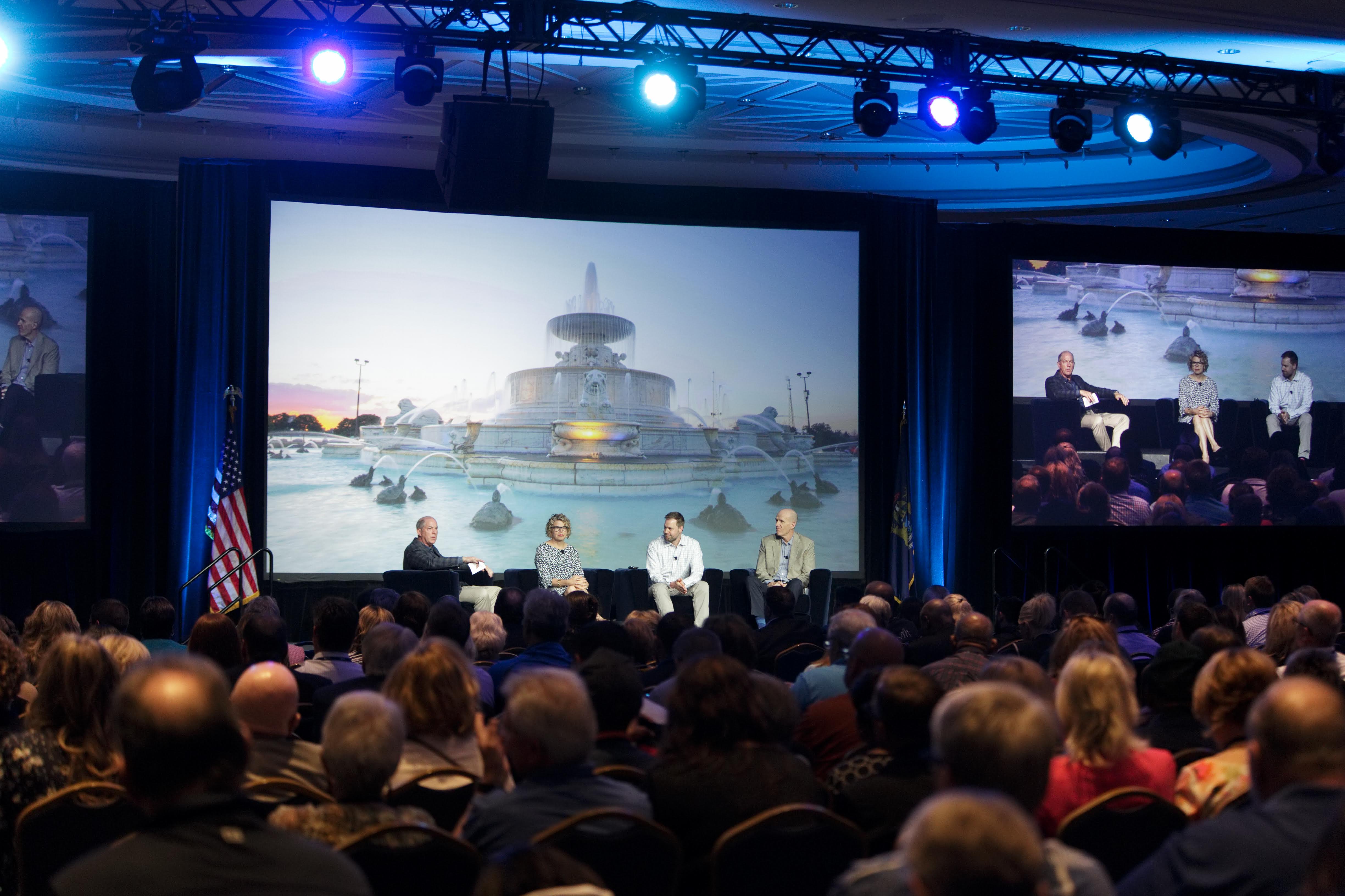 His main mantra for credit unions was to "Identify, analyze and borrow the best ideas," whether that means modifying existing programs or developing entirely new programs that members could get elsewhere.
Similarly, Servon said you can borrow some of the messaging that successful companies like TOMS are doing — marketing that cultivates faith and goodwill in their mission — in order to make members aware of products and programs credit unions already offer.
Foster-Keddie said there's no magic wand when it comes to marketing to millennials, but what has been successful for his credit union is stressing themselves as a community partner.
"Along with the modification of products, the messaging needs to change," said Adams. "We can't do the same things we've always done while new companies are sneaking in with more relevant messaging."

You can view the entire session here.
Go to main navigation