Spring Arbor University Unveils Partnership with American 1 Credit Union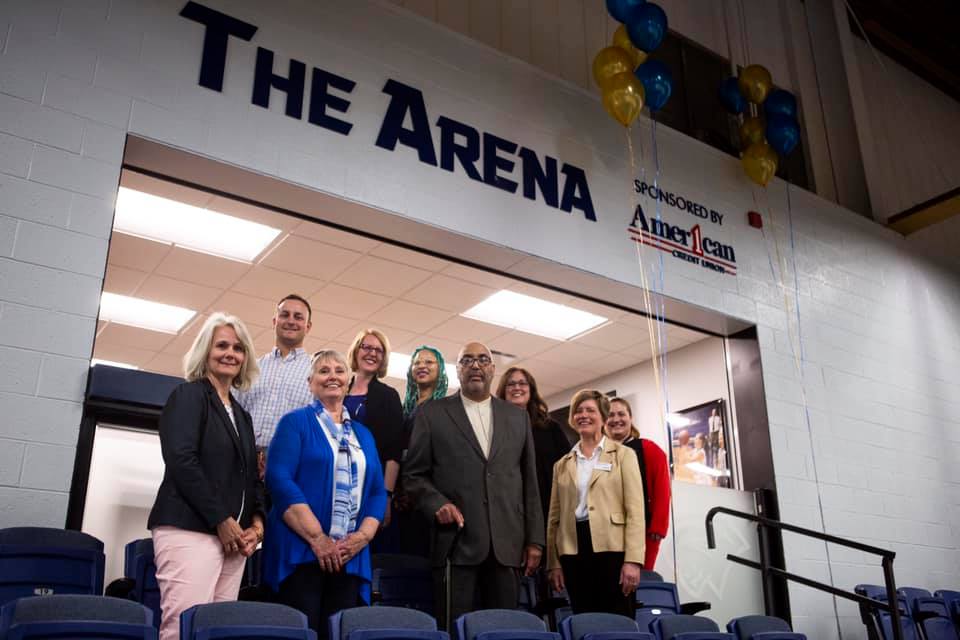 At a ribbon cutting ceremony earlier this month, American 1 Credit Union and Spring Arbor University unveiled a new partnership for the naming of their primary sports venue inside the newly christened McDonald Athletic Center.
A $250,000 gift to Spring Arbor University by American 1 Credit Union was approved by the American 1 Board of Directors for the renovation of the McDonald Athletic Center and naming of the arena. The $1.9 million renovation project focused on increased safety and functionality of the 42-year-old facility, which is a center of activity on the Spring Arbor University campus.
"We are excited to partner with the University on this project because we think it's a good idea to support what Spring Arbor University supports; that is, a community of intellectual curiosity, critical thinking, and a passion for ethical service," remarked American 1 CEO Martha Fuerstenau. "SAU graduates are perfect hires for American 1 Credit Union because we need big thinkers and lifelong learners. We need people who are ethically minded and have a servant's heart. For decades, American 1 has enjoyed success recruiting quality team members whom are Spring Arbor University graduates and students."
The announcement of the contribution to the university coincided with the beginning of site preparation for a new American 1 branch on M-60 in Spring Arbor Township.
"Spring Arbor the University and Spring Arbor the Township are uniquely intertwined, unlike other university towns," continued Fuerstenau.

"Our investment in Spring Arbor University demonstrates our commitment to the community as we simultaneously make another significant investment in Spring Arbor just down the road, building a new American 1 branch location," said Chairman of the Board Philip E. Hoffman Jr.
The renovation of The Arena Sponsored by American 1 Credit Union included converting old-style bleacher seating to arena seating, modernization of the sound system and updated video capability. The renovations will make the facility more usable for athletic and non-athletic functions, and more comfortable and safer for guests of all ages. University officials estimate that more than 25,000 guests visit the facility each year.
Go to main navigation