In Brief, May 24
MCUL & Affiliates 2019 Lending School
Register now for the MCUL & Affiliates 2019 Lending School, taking place Oct. 22-23 at the MSU Henry Center in East Lansing. Don Arkell, a consultant with CULendingAdvice, will lead the two day event, with the first day geared toward frontline topics and the second day focused on management issues. Registration is $438 per person for the full conference and $219 per person for one day. Accommodations are being held at the Candlewood Suites East Lansing, which is connected to The Henry Center.
Saginaw Medical Federal Credit Union Celebrated Annual "Cases for Kids" Campaign
Saginaw Medical Federal Credit Union collected Cases for Kids during the month of April for the CAN Council Great Lakes Bay Region in recognition of Child Abuse Prevention Month. This campaign was incredibly successful by having over 120 backpacks and suitcases donated by credit union employees and members. The donations will benefit the CAN Council for the children in the Saginaw and Bay county court system to transfer their personal items.

"Partnering with the CAN Council to collect Cases for Kids supports our credit union philosophy of people helping people," said Laura Crase, SMFCU CEO. "Being able to provide these children with their very own suitcase is heartwarming. I'm so pleased with the outpouring of donations the credit union has received each year."

As a leader in children's advocacy, the CAN Council provides a multitude of programs and services to aid in ending child abuse. Each backpack and suitcase donated to them will make its' way to a child that was removed from their home due to abuse and neglect, and ultimately making an incredibly positive impact.

Genisys Credit Union Ranked as Top 200 Healthiest Credit Unions
Genisys Credit Union was named one of the Top 200 Healthiest Credit Unions in the United States by the 2019 DepositAccounts.com study. Out of 5,460 credit unions evaluated, Genisys Credit Union was one of 11% to receive an A+ health rating, making Genisys one of the healthiest credit unions in the United States.
"We are proud to receive this recognition from DepositAccounts.com once again," said Jackie Buchanan, Genisys Credit Union President, and CEO. "Genisys is committed to maintaining a sound financial foundation for our members."
Each quarter DepositAccounts.com assesses over 10,000 federally insured banks and credit unions in the United States. A comprehensive health score is calculated, as each institution is graded on several factors including deposit growth, capitalization, and loan-to-reserve ratios.
"We believe it is important to give consumers a way to evaluate the financial health of their institutions," said Ken Tumin, founder of DepositAccounts.com. "Our list empowers consumers to make informed decisions when selecting a financial institution."
FreeStar Financial Credit Union Adopts Shelby Township Roadway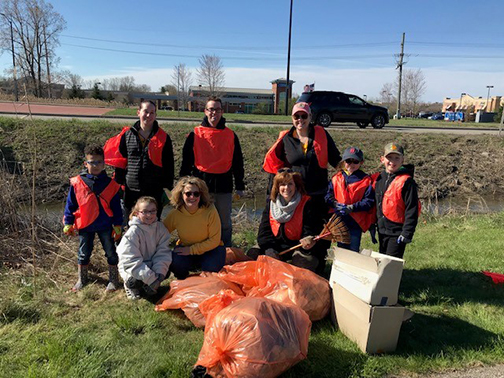 On Saturday, April 27, a team of FreeStar Financial Credit Union employees and their families donned orange safety vests and removed litter on 26 Mile Road between Van Dyke Avenue and Jewell Road in Shelby Township as part of the annual Adopt-A-Roadway program organized by the Shelby Township Beautification Committee.

In advance of the August opening of FreeStar Financial's fifth branch in Shelby Township, the team wanted to get involved in the community by helping beautify the roadside.

"We were surprised how many plastic grocery bags were caught in the weeds and ditches," said Maria Teno, one of the volunteers. "It opens your eyes to the importance of disposing of trash properly, so it doesn't become an eyesore to the community."

"Credit unions are known for volunteering, and the roadside clean-up was a perfect opportunity to embrace our new community," said Paula Rose, Vice President of Marketing and organizer of the clean-up effort.
Go to main navigation