In Brief, May 10
Credit Union Collection Consortium Closes its 27th Season
The Credit Union Collection Consortium culminated its 27th season of education and networking with an all-day collector training seminar on May 7 at the MSU Management Conference Center in Troy. Steve Kreitlow of CU Recovery facilitated the session with a focus on telephone strategies when dealing with delinquent members. Approximately 120 people attended and several vendor booths were also present. Bonnie Bileti, the wife of the consortium's founder Al Bileti, was in attendance as the guest of honor. Consortium President Peggy Dombrowski has a surprise speaker on tap for the 2020 school and said the 2019-2020 agenda of monthly speakers will begin in October.

Lakes Community Credit Union CEO Celebrates 45th Year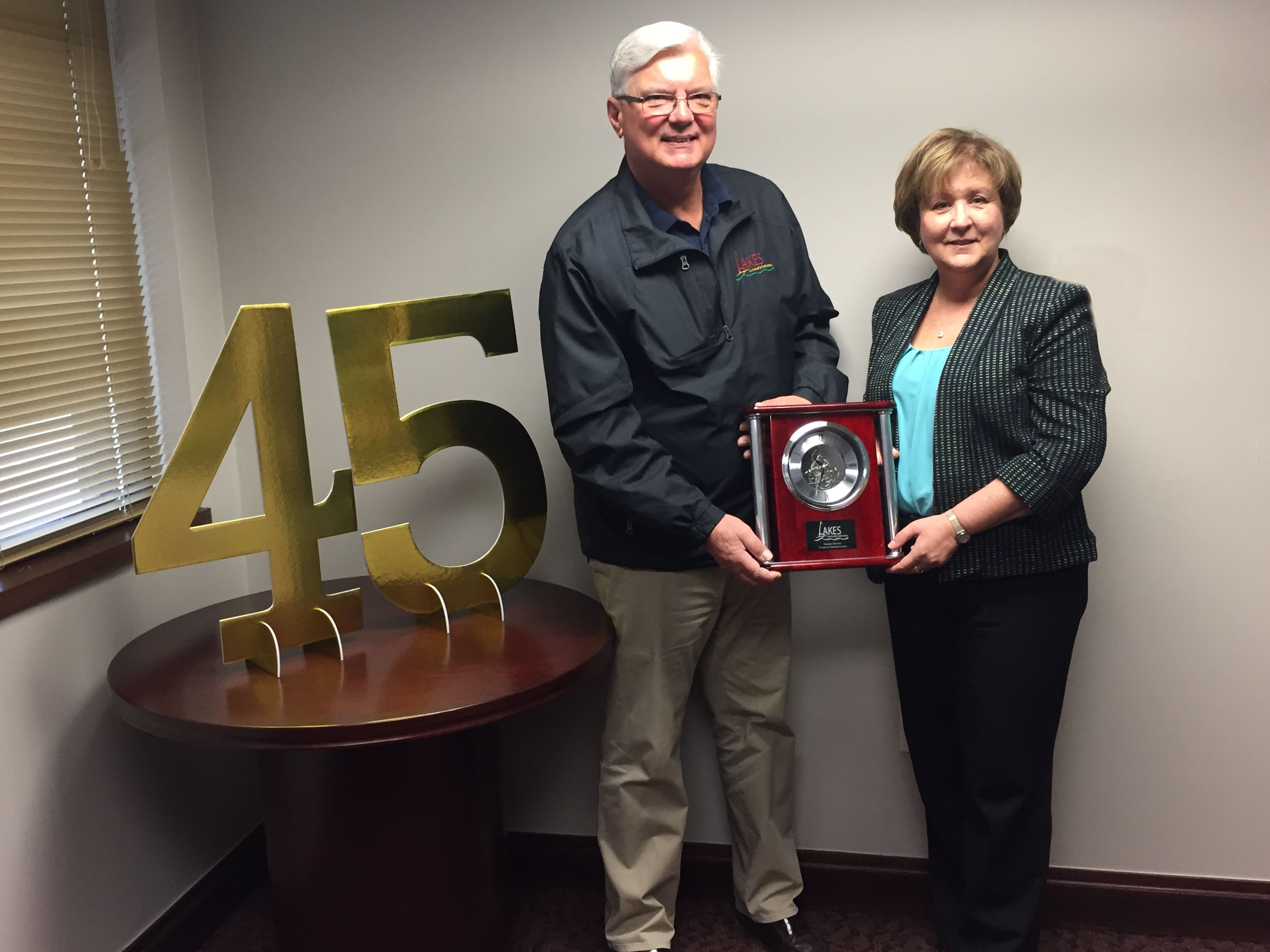 On April 18, 2019 Lakes Community Credit Union (LCCU) recognized its President/CEO Carolyn Chevrier by celebrating her 45th year with the organization. Carolyn started at LCCU previously known as Pontiac Telephone Employees Credit Union, in April 1974 as a co-op student from Lake Orion High School. During her tenure she has worked in every department in the credit union. In 2002 she was named President/CEO. At the time her stewardship started, the credit union was $63 million in asset size. Today LCCU has now reached $100 million. Her motto over the years was "I'll do it." This great attitude allowed her to learn the financial services business and allowed her to introduce many products and services while moving the credit union's technology offering forward. Congratulations Carolyn on reaching a great milestone!

NAFCU Donates to NIE Program in local Schools
Northland Area Federal Credit Union recently stopped by Besser Elementary School with representatives of the local newspaper to make a generous donation and hear more about the Newspapers In Education (NIE) program. The class is one of 13 in the local area that receive free daily copies of newspapers as part of the national NIE program.
Gretchen Rea, teacher of a 4th grade class, and other teachers receiving newspapers utilize the paper to compare and contrast, identify parts of speech and learn about different sections that make up the newspaper – including financial news. Northland held a one-day donation campaign at a business expo and NIE book fair to put towards this program.

"It provides the students with a real, tactile and trustworthy news source," Marketing Director Matt Duthler said when asked why Northland Area contributes to this program. "When so many young people are accessing their news online, there is a real possibility for fictitious financial sources that look credible but aren't. It is important to help students establish a baseline for trustworthy news."

New Hires at Meijer Credit Union
Cathy Ellis, president/CEO of Meijer Credit Union (Meijer CU), announced the hiring of Sandy Siedlecki as Meijer Credit Union's VP of member services & business development, and the promotion of Matt Yanoschik to senior VP of lending and information technology.
Siedlecki will be responsible for member services, marketing, business development and payment solutions. Siedlecki brings with her more than 25 years of financial institution and branch management experience, with her latest role being operations vice president – Greater Grand Rapids at Macatawa Bank. Her extensive sales and service background will be a complement to the team and she is excited to be a part of the culture. Siedlecki holds a BSBA from Central Michigan University with a major in finance and a minor in accounting.
Yanoschik will be responsible for consumer and mortgage lending, operations and information technology & systems. Yanoschik joined Meijer Credit Union in 2018 as VP of operations and business development. During this time, he had responsibility for member services, operations, marketing, payment solutions and IT. He also has a combined total of 15 years on the Meijer Credit Union Board of Directors and Supervisory Committee. Yanoschik previously worked for Meijer Stores for 33 years. At Meijer Stores he held many management roles in retail operations, finance and asset protection.
Alpena Alcona Area Credit Union Sponsors Oscoda Area School Therapy Dog
Alpena Alcona Area Credit Union (AAACU) is proud to partner with Oscoda Area Schools in the purchase of "Chester," a therapy dog.

AAACU is excited to help in bringing this new resource of a therapy dog to students at Oscoda Area Schools. Chester will be available to start engaging with students in February 2020 with hopes of increasing attendance, increasing student confidence, decreasing student anxiety, improving student motivation and enhancing relationships among students, teachers and administrators.

AAACU has made a donation to fund the initial purchase of the dog, room and board with a trainer and 300 days of training.
Go to main navigation